5 days Writing Challenge - Meet a genius ALIKO DANGOTE by @tripplem
Hello everyone and welcome to the day two of Genius contest powered by @steemalive community.
Like I said before, i wouldn't want to bore us… so for the rest of the contest, I will try as much as I can to minimize my writing so that my post doesn't become too boring.
So for my day 2, I will be taking about the SUCESSFUL BUSINESSMAN - ALIKO DANGOTE!!!
My source for this post.
ALIKO DANGOTE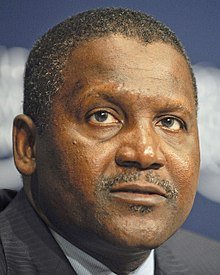 | Questions | Answers |
| --- | --- |
| Name | Aliko Dangote (1957–present) |
| State of origin | Kano state |
| Country of origin | Nigeria |
| Education | he attended Government College, Birnin Kudu and Graduated from Al-Azhar University. |
| Family | Dangote has been married and divorced twice. He has three daughters – Mariya, Halima, Fatimah – and one adopted son Abdulrahman Fasasi.His first wife was Zainab, and second wife was Maria. |
| Area of specialization | Aliko DANGOTE is a SUCCESSFUL BUSINESSMAN he Is the Founder and CEO, Dangote Group |
ALIKO DANGOTE'S CAREER HISTORY
From my research I can only say that DANGOTE started early, he found himself very early..,, to the extent of selling his sweets and goodies just to make profit from them
ALIKO DANGOTE'S CAREER ACHIEVEMENT
I believe his major achievement is becoming the CEO of DANGOTE Conglomerate..
OTHER PROJECTS HE EXCELLED IN INCLUDES
ALIKO DANGOTE pulled through and cut across several projects and products, ranging from mining, to food, to equipments etc….. you can't spend a whole day without using one of his numerous product
AWARDS AND RECOGNITIONS
Dangote was awarded Nigeria's second-highest honour, the Grand Commander of the Order of the Niger (GCON) by the former president, Goodluck Jonathan.

Dangote was named as the Forbes Africa Person of the Year 2014.

For six consecutive years, 2013, 2014, 2015, 2016,2017,and 2018Forbes listed him as the "Most Powerful Man in Africa".

In 2014, he was listed CNBC's "Top 25 Businessmen in the World" who changed and shaped the century.

In April 2014, Time magazine listed him among its 100 most influential people in the world.

In October 2015, Dangote was listed among "50 Most Influential Individuals in the World" by Bloomberg Markets.

He won "The Guardian Man of the Year 2015".[37]
He won the "2016 African Business Leader Award", organized by the Africa-America Institute (AAI).

Dangote was cited as one of the top 100 most influential Africans by New African magazine in 2015, 2017,2018 and 2019.
WHY I CHOOSE DANGOTE
I chose him because his impact is glaring to the sight, there is basically no day that you live your life without making DANGOTE richer by patronizing one or more of his products…. His products cuts across all works of life and are cheap and affordable.
QUALITIES i would love to take form DANGOTE is the quality to be ubiquitous and still be impactful..
That's all for my day 2
Thanks for reading