SteemAlive Presents: Your role model - tell us who influenced your life the most. (60 Steem + additional prizes)
Introduction
We have been humbled by the number of engagements we record in our contests. It shows that our little effort to add value to this platform is being appreciated. For the first time ever, we hit and surpassed the 200 engagement mark in our last contest. Take a look at the screen grab below: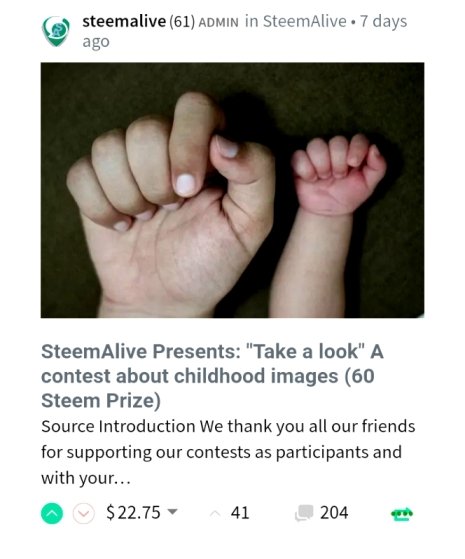 We are really encouraged by this number and we say a big thank you to all our members and friends that support us in this way. We believe that stronger and active communities will drive growth on Steemit as a whole. We will continue to count on you as you support us in this amazing journey as a community.
Our next contest is also one we hope will interest you. This contest is entitled Your role model.


The contest - Your Role Model
A role model is someone we want to emulate because of their success, fine character or good example. Many people have taken their role model from outstanding family members, exemplary religious figures, or successful career personalities. We want to be like, or even be better, than our role model. Almost everyone has a role model because they help shape our lives in more ways than one.
In this contest, we want to learn about your role model. You will need to do 3 things for us. Kindly tell us:
(1) Who is your role model?
(2) Why is he/she special to you. Or how have they influenced you. Or how will they influence you?
(3) W hat is a favorite quote from your role model or any other special persons you admire?
(4)Then to encourage engagement, you MUST reply at least one entry from other participants. That is all

The rules
Submit your entry as a comment on this post. Answer the 3 questions above.
You must reply at least one other participant's entry
Kindly Subscribe to our community (Not compulsory)
You must upvote and resteem this post to help create awareness
Your entry must be at least 300 characters long
A picture of your role model will make your entry more interesting, although it is not compulsory

The Prize
We have up to 60 Steem available for this contest. Each entry will earn at least 1 Steem. However, We will reward the first 10 entries with additional 0.5 Steem. We may also give additional bonus to entries that include role model picture or other additional details. So here is the prize sharing formular
Entry numbers 1 - 10 = 1.5 Steem Each.
Entry numbers 11-45 = 1 Steem Each.
Additional bonus for exceptional entries = 0.5 steem (Given at our discreetion)
This contest will end as soon as the contest post pays out (7 days from now)


Support this contest.
You can help us increase the prize of this contest by donating Steem or SBD. Send your donations to @steemalive and indicate its for "Your Role Model Contest" You can also give a valuable vote. Or join our curation trail. Thank you so much in advance for supporting this initiative.
Once again, we thank @steemitblog, @steemcurator01, and @crypto.piotr. For their continued support. We are grateful.



Subscribe:::Discord.
:::Whatsapp :::join trail