HAPPINESS LEVELS AROUND THE WORLD; CREDIT TO VISUAL CAPITALIST 🕵🏽‍♂️
Hi guys, It's Rezzy, and I think it would be nice to educate some of y'all about the Happiness levels in the World, which is based on Countries and Continents.
So, the Picture and Data gotten From Visual Capitalist is well detailed and the countries are ranked based on their income levels, generosity, corruption rates within top officials, security and health facilities available.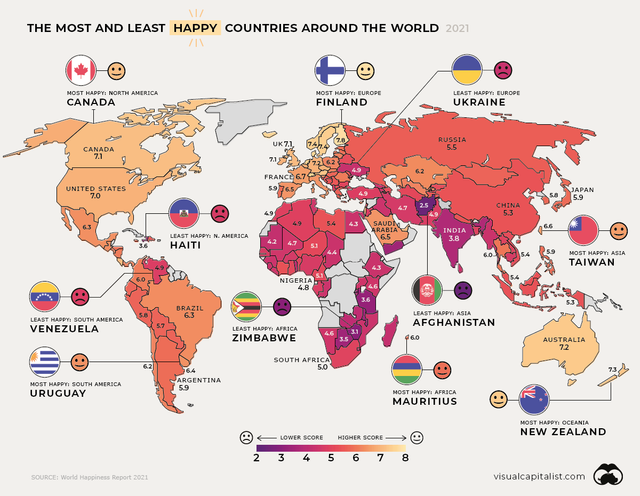 VISUAL CAPITALIST
LETS START FROM THE HAPPIEST COUNTRIES OF ALL
AMERICAS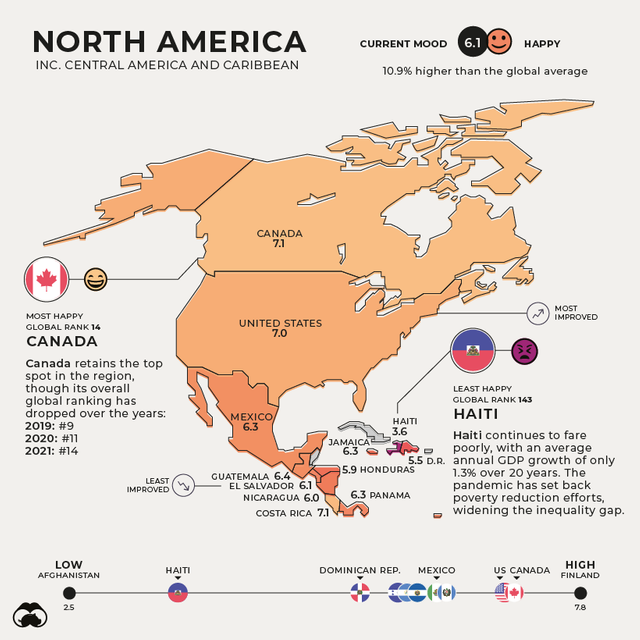 VISUAL CAPITALIST
The South and North Americans hosts most of the happiest people on Earth, this is due to the better levels of security and economic policies. The Americans were largely hit by the pandemic across 2020 with the Northern part handling it a bit well, South American countries didn't have it that easy with the pandemic and are still in a bit of struggle.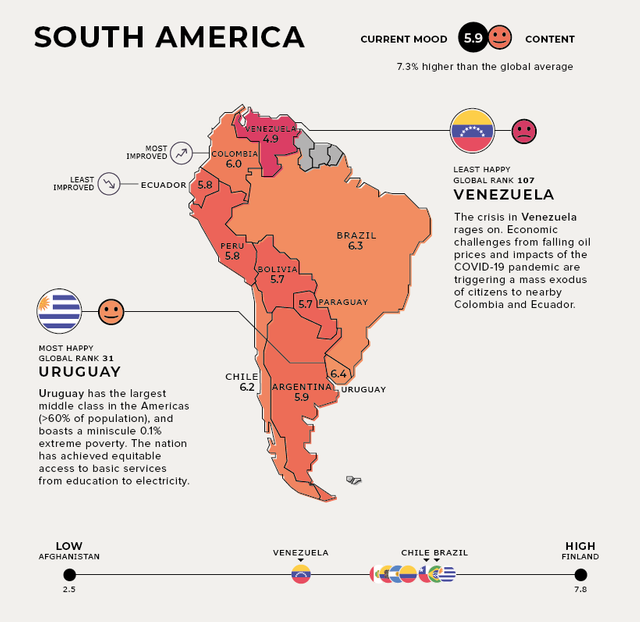 VISUAL CAPITALIST
Countries such as Brazil are still under pressure from its residents as the Top Officials seem to be taking the Pandemic too lightly. Venezuela is the least happiest country in South America and America as a whole.
EUROPE
According to Visual Capitalist, Europe has a average happiness level of 6.4 and includes the Happiest country in the World which is Finland, quite surprising uh? Before making this post I had the belief Canada were the happiest but thats what research does🤗..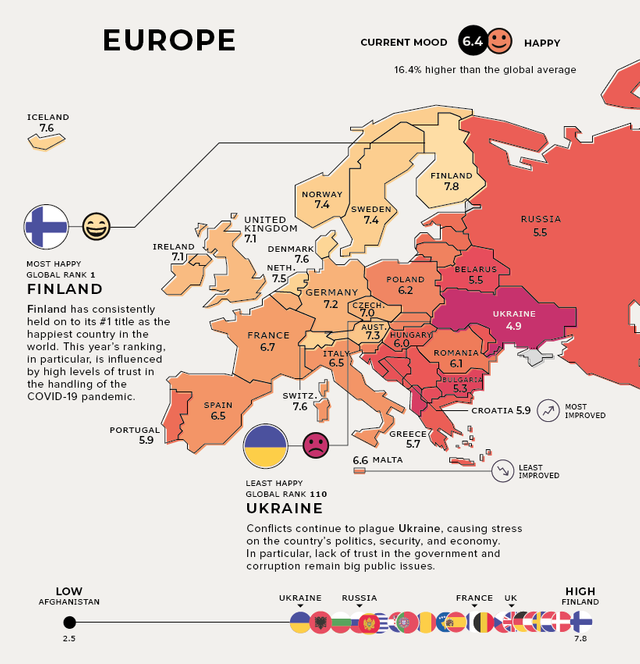 VISUAL CAPITALIST
Other countries with high Happiness levels in Europe as Per Visual Capitalist are Sweden, Norway, Germany, France etc... These rankings were influenced by CoVID-19 in the past year and Croatia had an impressive increase in happiness levels due to better handling of the Pandemic.
"In the unhappiest country of Ukraine, conflicts continue to cause stress on its politics, security, and economy. In particular, government corruption remains a big public issue" -Visual Capitalist
MIDDLE EAST AND CENTRAL ASIA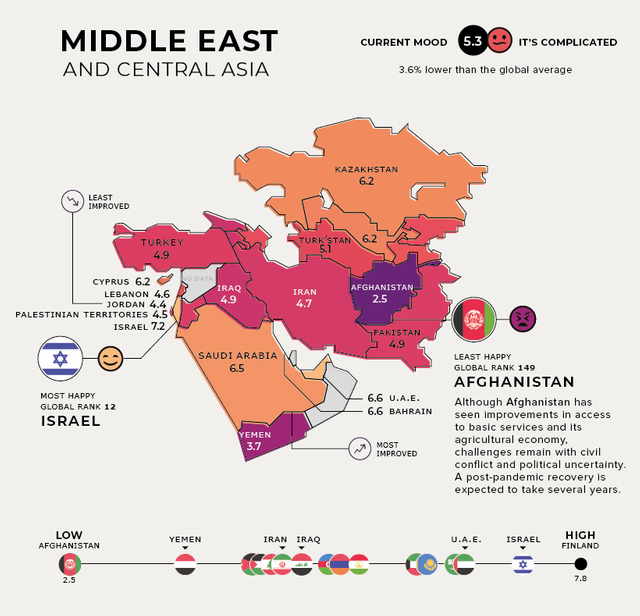 VISUAL CAPITALIST
Saudia Arabia boasts in this region due to its high economically diverse activities, including less dependency on there oil and much more agriculture. It also made some moves in improving Gender Equality as we saw Saudi Arabia hosts some events with women as star participants such as WWE Crown Jewel, WWE Royal Rumble Etc.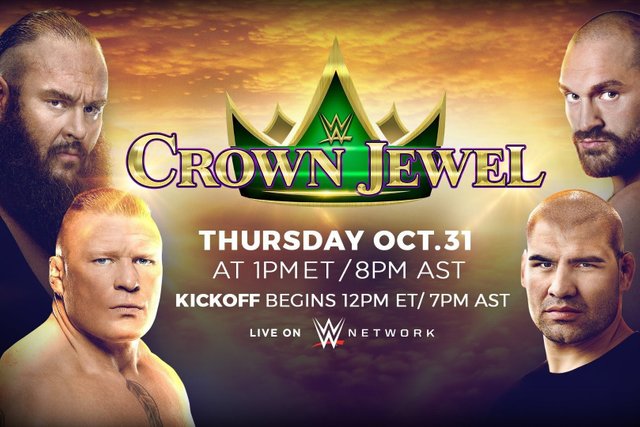 Source
Countries such as Afghanistan are still having lower happiness levels due to politically driven conflicts.
EAST ASIA AND OCEANIA
Australia is the happiest country in this region, boasting a total score of 7.2, with Taiwan and South Korea not far behind. These countries had quicker response to the pandemic and the results shows effectively on their happiness levels. According to Visual Capitalist, Australia is the only non European country to make it into the top 10 of the World's most happiest Countries.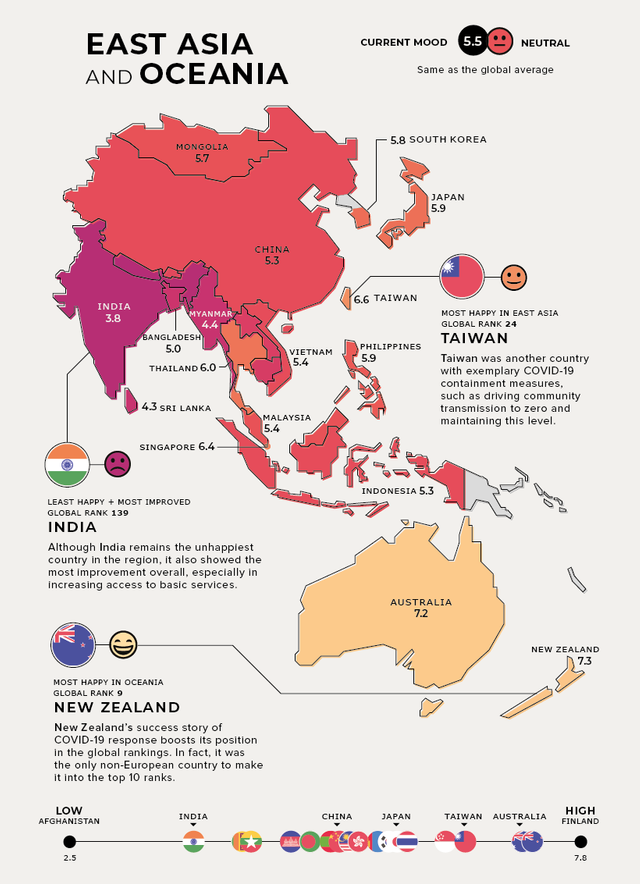 VISUAL CAPITALIST
India is the least happiest Country in the Region and this is because of their recent economic recession. India also had a good fighting chance against the pandemic and this made them improve a little on happiness levels.
AFRICA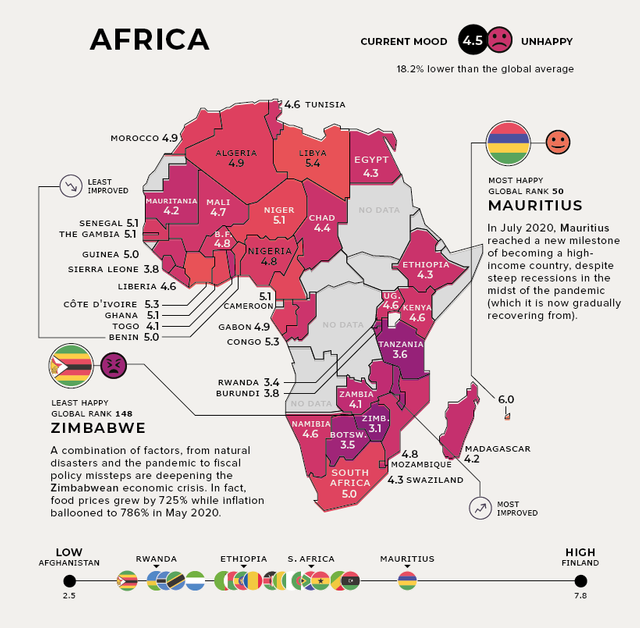 VISUAL CAPITALIST
The least happiest continent on Earth. Mostly incapable governments, high poverty levels, poor infrastructures, low quality health facilities, Low employment rates, and unabling environments for investments and youth development. All these accumulated over the years and was greatly shown during the Pandemic, although Africa was expected to be devastatingly hit by CoVID-19, some parts still were able to maneuver. After the pandemic, most African countries live on less than $2.20 a day which is too low to make ends meet and other expenses.
According to Visual Capitalist, Zimbabwe is the least happiest country in Africa and this is due to the hyperinflation in 2020 which caused rise on food prices and other important materials accompanied with the pandemic which only made things worse.
Africa is a blessed continent, it just needs the right government and I believe it's within the young people, and this sheos due to our high involvement in cryptocurrency.
Thanks you for Your Time 🕵🏽‍♂️
SPECIAL MENTIONS
@aniqamashkoor
@boomerang01
@damithudaya