First day Steem Road Show Of Lagos State| Saturday 02/10/2021. Promoting Steem! Day 1
Introduction
Hello everyone I am glad to write about how the first steemit road show in Lagos State went. It was simply successful and overwhelming.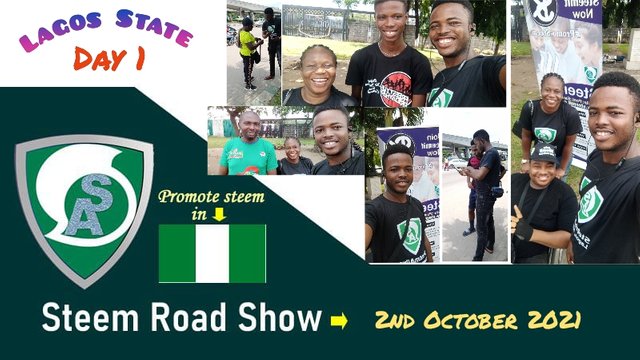 How it all started :
I was thrilled to be part of Steem Alive community where the promotion of steem is a priority in recruiting new members. I saw many posts about road shows in Aba, initiated by @focusnow, road shows in Uyo, initiated by @ngoenyi and also in other cities of Nigeria.
I was optimistic about the favt that we've never been able to have a road show in Lagos, where I stay.
At a point, me and @beautybb talked about it and contacted @focusnow to get tools ready for us to engage in a road show in Lagos. I traveled to Aba to pick the items.
While I was in Aba, I joined the road show there and gained enough field experience to carry out a road show in Lagos. I took our own tools including the banner, the fliers and the branded polo for the road show and promotion. I really enjoyed the company of Aba Steemians.
I came back to Lagos and we were set for the road show. Me, @mikemm and @beautybb. We scheduled it to be today which is Saturday.
In the morning, I woke up early, got ready, and went to their house to give them the clothes and the fliers so that we can go from there. We had breakfast there together, organized how we will go, and picked a location.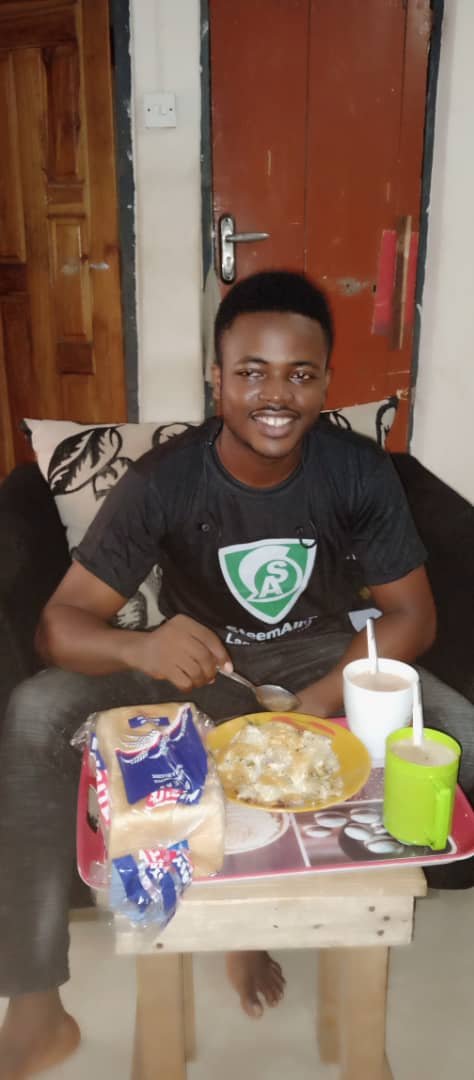 Having breakfast with them
Our efforts:
We decided to go to the National stadium in Surulere, Lagos, since crowds of people converge there for sports on weekends.
Before 10am, we were ready and left.
When we reached our location, we mounted the banner, took some pictures and started talking to people. I made use of the experience I got when I joined Aba team while talking to people and my colleagues learnt from it. Many people were eager to see the banner and what exactly we were talking about. We enaged with many passersby and introduced them to steemit. Many of them were not with their phones and could not sign up at the moment. But we collected their whatsapp numbers, gave them the fliers and promised to follow them up via chats and call. Many young ones we met found it interesting to know that they can earn on steemit by creating posts and participating in different activities in steemit communities.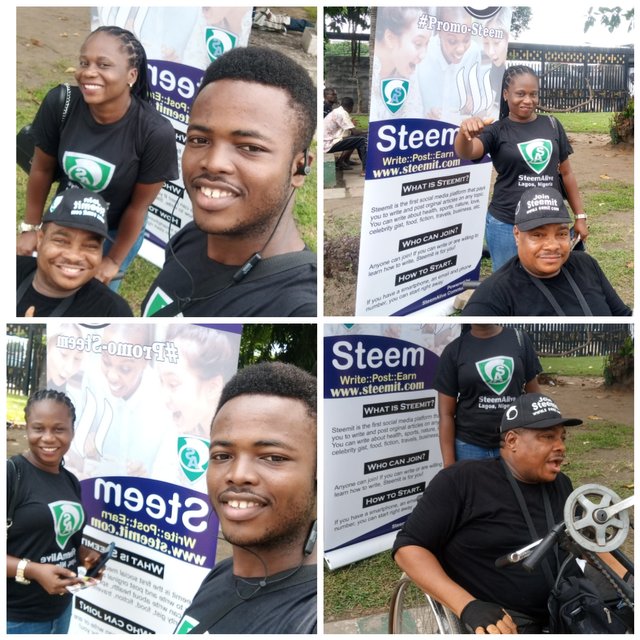 My steemit promotion/Lagos road show team.
My personal efforts
I met a woman who was very interested in knowing more about steemit. Though she wasn't with her phone, she patiently listened and asked questions about steemit and she was satisfied with the answers I gave her. She was the first person I talked to and I took her contact.
I also met a man probably not a Nigerian. He was amazed at the offer and requested to sign up immediately. His Android phone was not really advanced so I used @beautybb phone to sign him up as @mrmene50.
I forwarded his keys to his email address and gave him his login link. He was very happy. I told him about joining communities and making achievement posts and he said he will follow up with those things when we chat on whatsapp.
Lastly, I talked with a very intelligent guy who understood how steemit works. Talking to someone who understands you is very easy and fun. He appreciated the opportunity and I helped him sign up immediately on his iPhone as @dharmmy123. He was lively and excited as we took pictures together. I also took his contact and promised to give him feedbacks and follow ups to help him get along.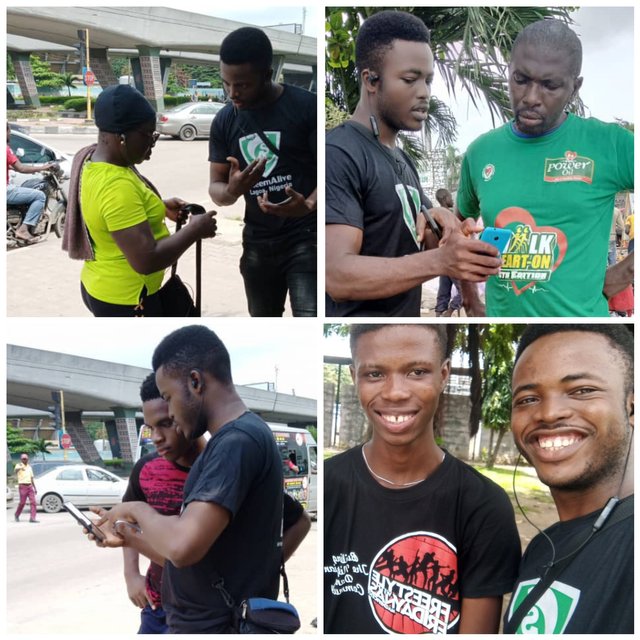 Conclusion
Finally, it was time to go and we felt accomplished. I talked to a total of 9 people and personally recruited three people. The remaining will soon be followed up and recruited too. Immediately I reached my street, I saw a friend who has been asking me about steemit for a while. He saw me wearing the steemit branded polo and he approached me and wanted to complete his sign up process. He has already signed up as @cozzyrex with the link I gave him but wanted to ask me the use of the keys he received. I helped him understand them. He also got determined to be active and earn on steemit.
The volunteers for the day's road show were :
@misterfab
@beautybb
@mikemm
And the new recruits are :
@mrmene50
@dharmmy123
@cozzyrex
My photo gallery of the day :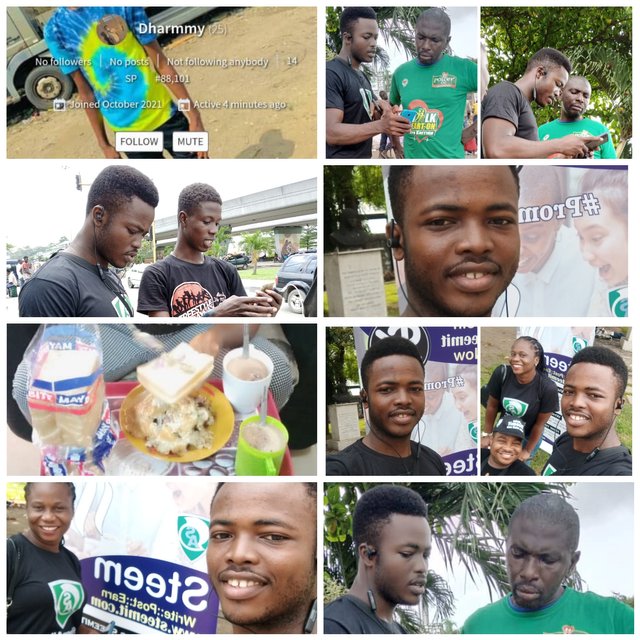 Its a joy to promote steemit, and it gives more joy to see my efforts converted into positive results. Thanks to @steemalive and @stephenkendal for this wonderful opportunity and thanks to @focusnow for the inspiration from him.
Cc: @stephenkendal
Cc: @ngoenyi
Cc: @talktofaith
Cc: @focusnow