Local Business Review: Let's go Plaza market square at Oron road Uyo Akwa Ibom State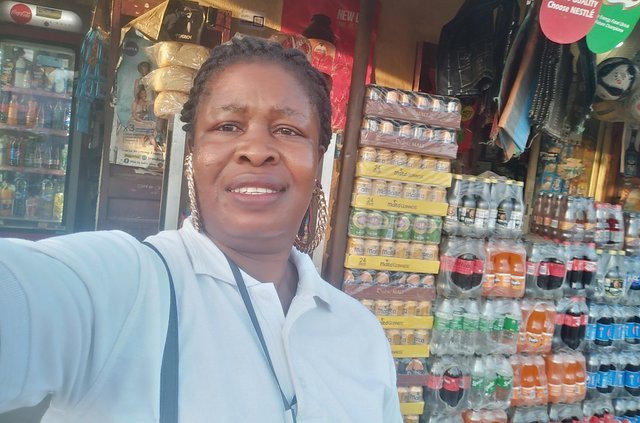 what3words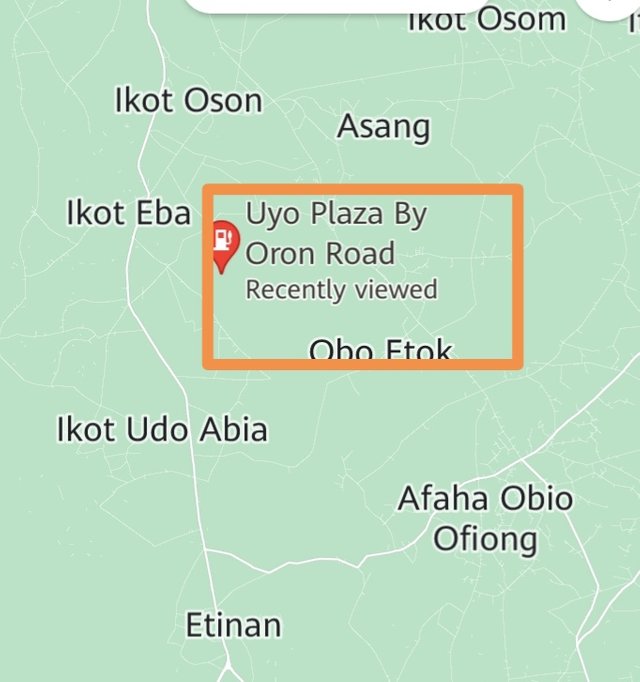 [google map](Uyo Plaza By Oron Road
https://maps.app.goo.gl/P9K8pD8vnHfAaHUEA) physical address
Introduction
Good morning great minds of steemit, i bring you greetings from Nigeria, how are you doing this morning, it 5:40 am in Nigeria. I want to share with a business review I did at Plaza yesterday as i went to plaza to buy palm Silpas.
Plaza is known in Uyo city as a very busy area from 5:am till 10:pm every day, plaza do not know days but busines, it is a place where you can see original and fake Products and fake people too. The heart of the town where a lot of busineses is there, infact whatever you need you will buy it there only that you need to be extremely careful.
In this business review I will also tell you short story of what happened between a bus driver and a Keke driver and agboro people. Just be patient to read from the start till the end.
Canvas shoes(1)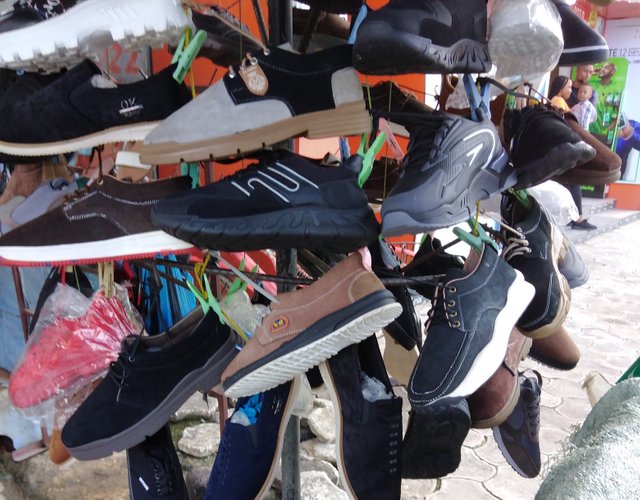 canvas shoes
Why canvas shoes? This is because is a fitting shoe that goes along with Jean and chinos trousers, when you wear jean and Polo or with t-shirt, the truth is that you will look for fitted canvas. The fitting for both male and female is the same, infact for children, canvas make them look big and give them shakara step. Each time my last born dress on canvas, he will be happy and proud of his outfit. No wonder all the schools encourage all students to wear canvas on sport day.
all the canvas you see here is 4k per one, only for adults and that is 40 steem. The truth is that it will serve you for years and make you look young.
Men shoes (2)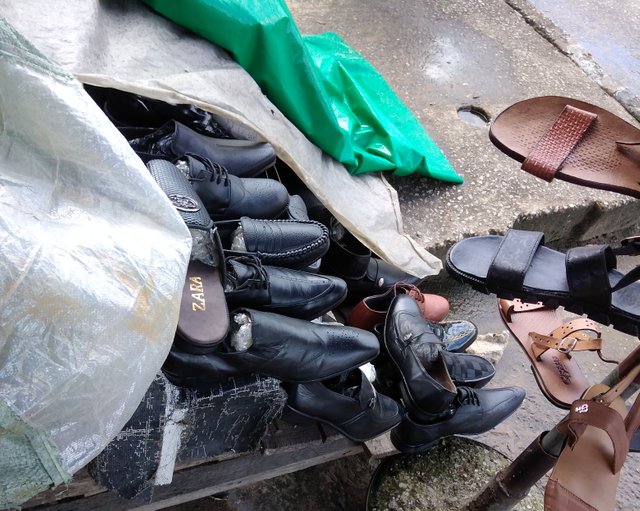 Men quality sheos
The weather was not favourable when i went there so the owner covered it with nilion. During the interview, he said he has some of 5k and 7k that is between 50 steem to 70 steem. He assured me that if i buy it and within 1 year the shoe peel i should return it that he knows what he is giving me because i told him that I want to buy it for my Son.
Men Sandals (3)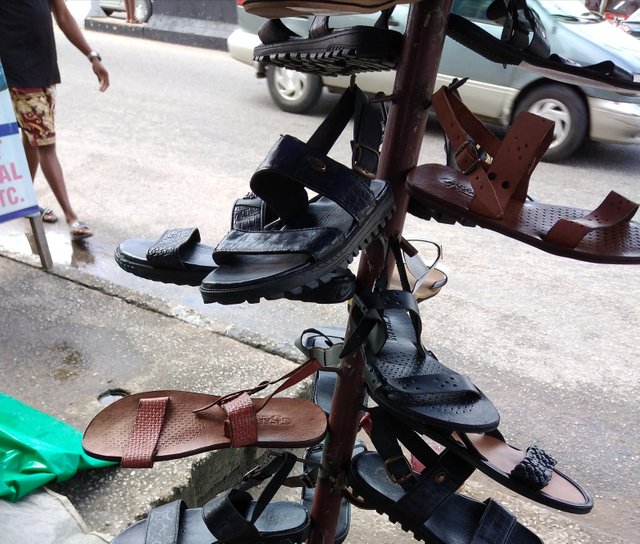 Men Sandals
When it comes to Men sandals, it is easy going, you can wear it plain trouser and t-shirt, you can also wear it with senator or native attire. The price is friendly 4k or 40 steem.
Men clothes and palm (4&5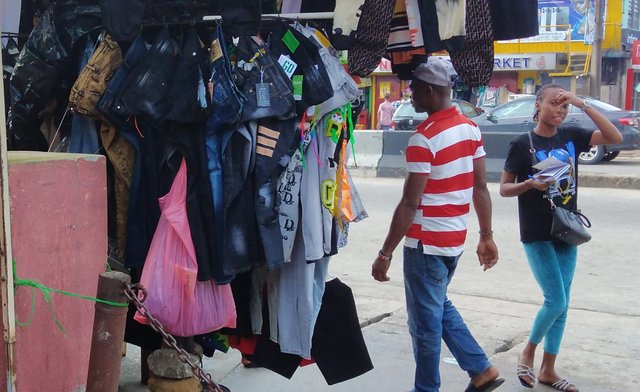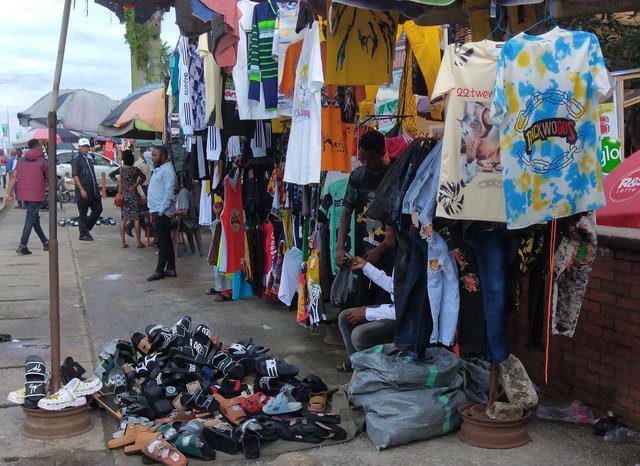 This goods owned by Aniebiet
What we have her is known as Aba clothes and shoes, it is for youn guys, they love it so much because it helps them look good as they claim, as for the palm Silpas, it is a casual wear anytime anywhere.
Jewelry showcase by Akpan(6)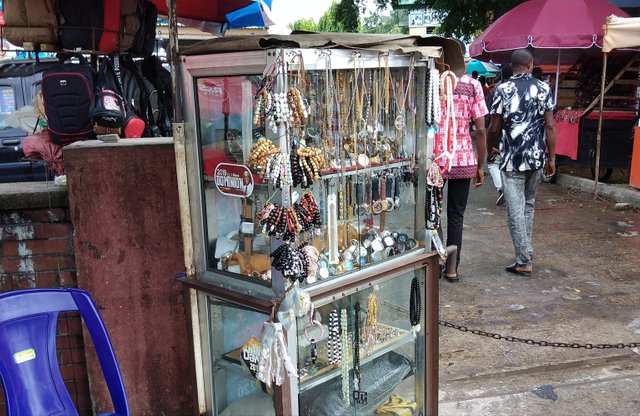 jewelry showcase
Here in plaza, if you want to buy jewelry, you need to be very careful so that you will not buy imitation and call it original. This guy's can decieve you front and back honestly. Again your bag need to be handy so that you not look for money to buy things after pricing it.
Silpas I bought for my Son (15 steem)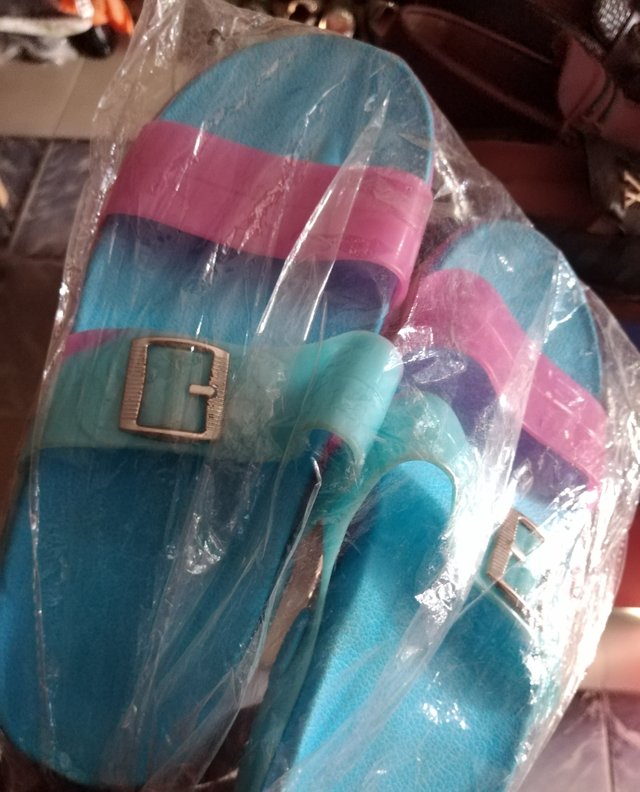 You know i will not just pay my way to plaza without buying anything, i bought Silpas for my Son with 15 steem.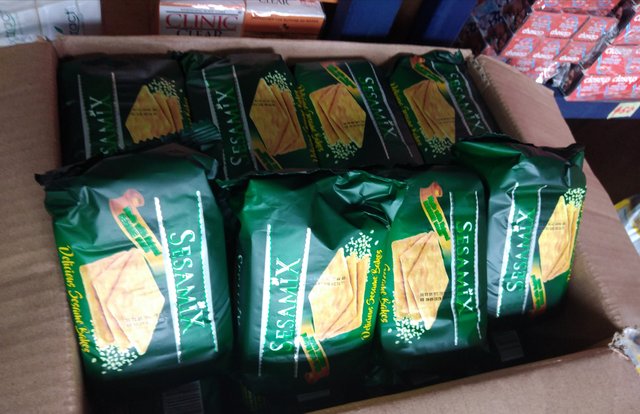 Biscuits by a young girl who is hawking
Bus driver and Keke and agboro guys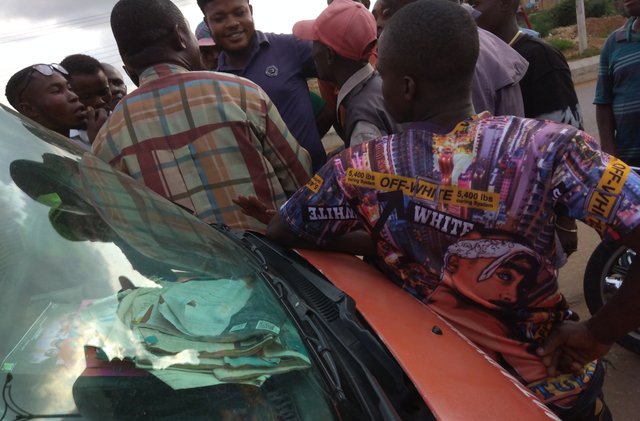 An Interesting story
It was really a funny situation the bus driver wanted to ease himself so he removed all the money he has and put it in his bag not knowing that the money did not go down inside the bag that it was hanging you know when somebody is pressed so he stepped out and the money dropped on the ground.
A Keke driver who also parked there saw the money and pick it up he did not call the bus driver to say sir see your money he hold the money, as the man came out he called him and said, Sir, this is your money so the man now look at the man and said yes is my money he handed the money over to him he confirmed it and it was this money.
As he turned to greet the Keke man thank you so much, agboro guys gathered. do you know what happened? they ask the Keke driver why do you hand the money over to him? how are you sure the money is his own? take the money back from him. The money is not your money how many 500 naira is inside tell us how much it is and how many one 1000? It became another story before you know it some even carry plank some want to fight the man.
so when we look around, I noticed that the bus driver is somebody I know I have to go close and ask him what is happening? Seeing how those guys were behaving, i asked him to give me his bag, phone and his car key. As he handed over those things to me they now turned to me and asked, is he your husband, is she your wife but we did not answer any of them and they did not allow him to step out until one tall huge guy came and asked, what happened?
The bus driver explained and he asked the Keke driver what happened? I need only the truth from you. Immediately the Keke driver said the truth and he said.
The bus driver is the owner of the money, Oga enter your bus and go and he told all the agboro, oya you guys should hide immediately.
What you need to know about business at Plaza
Location:The location is one the best in Uyo because it connects all the major roads in Uyo which Oron road is the biggest.
Pricing:The truth is that what ever you are buying that has to do with clothes, phones, laptop etc, going to plaza is always the best option.
| Things youcan | buy at Plaza |
| --- | --- |
| Sim card | laptop |
| Phones | shoes |
| Bags | clothes |
| Watch | food |
| Fruits | charger |
This and many more you will buy at Plaza.