The City of Osogbo SteemAlive Contest | The First Edition | How would you define Voting and Curation on Steemit? (Reward Pool: 20 STEEM)
Dear friends, it's an honor to be writing my first post as a SteemAlive co-ordinator for Osogbo city and I hope you all doing great. Without further delay, I'd like to make this a contest that tests your knowledge of Steemit after you've received several lectures organized by the community
@steemalive
. We want to see how far you've digested the lectures and at the same time show us some creativity. Let's go into it!
The Contest- Voting and Curation
In this contest, we want to know how well you are getting along on Steemit. As members of this community, you should have been familiar with the platform knowing a few things about Voting and Curation since your rewards pass through this process.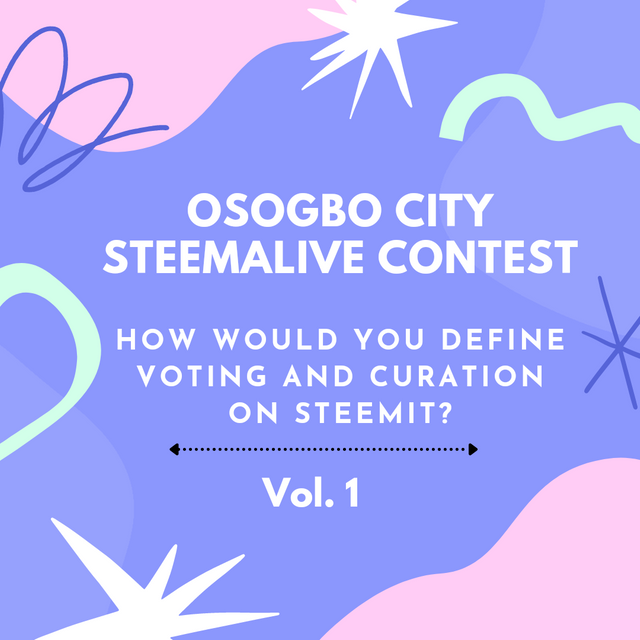 This contest requires that you highlight the distinctive difference between Voting and Curation which requires some level of creativity and that's exactly what we are interested in. Explore the two terms to the best of your ability which involves telling us the definition of each, how it works on Steemit and how one differs from the other with illustrative examples.
Knowing that we only have 7 users in the city at the moment of writing this article, I have decided to make it a win-win contest where everybody wins at the end of the contest no matter how small it is. But, the overall best, second-best, and third-best authors take the larger percentage of the rewards.
Contest Reward Distribution Schedule
| Rank | Reward (STEEM) |
| --- | --- |
| First | 5 |
| Second | 4 |
| Third | 3.5 |
| Fourth | 2.5 |
| Fifth | 2.5 |
| Sixth | 2.5 |
Contest Rules
Articles must be at least 200 words.

We are so concerned about the Proof of Brain, therefore, don't plagiarize your article.

Explore the contest topic to the best of your ability.

Tag @fredquantum somewhere in your post and make sure you include the tag #osogbocity-contest01 in the tags section.

Contest runs for 1 week, it expires when this post pays out.
It's my pleasure to cook this up and I will be expecting to see your entries. Thanks for reading and we look forward to having this often, as frequent as weekly. May God help us.

Sponsored by;
@fredquantum