Weekly Report As a CR of BANGLADESH + Greeter Report [ 18 October - 24 October ]
---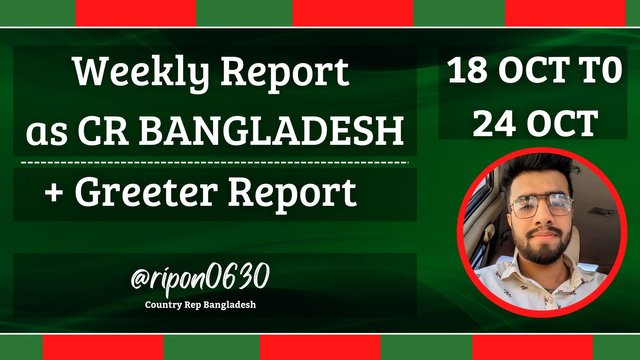 ---
Hello Good Peoples,
It is my honor to publish my weekly report as Country Representative. I try to fulfill my duties with honesty and integrity. In this post I will report my activities for the last 7 days, I will try to cover as much as possible.
---
ACCOUNT STATUS
---
| My Steem Effective Power | 14,926.08 SP ( 13,902.10 + 5,038.14 - 4,014.17 ) |
| --- | --- |
| CLUB | 100 |
| Voting CSI | 14.7 ( 0.00 % self, 126 upvotes, 72 accounts, last 7d ) |
| Upvotes | 126 Post |
| SP to Vesting | 350 sp |

---
My Activity In this Week:
---
A terrible storm hit our coast yesterday. In the middle of the night, flood water entered people's houses. We were very worried because the flood water was very close to my house. But due to the ebb of the sea, the water started moving slowly. For the last two days, we coastal residents were very worried. There was a power crisis. But I tried to fulfill all my duties properly as long as there was electricity.
All the responsibilities as Community Manager in Steemit Travel have been done well.
I'm trying to spend more time in the communities I'm in charge of. Also, I'm helping many new users who are trying to join Steemit From our country to get verified.
The whole week worked as a Greeter and verified some new members and supported them with my voting power.
Working regularly to grow our native community Steem For Bangladesh.
Being selected for the Individual Curator Competition for October, I worked as a curator of @ steemcurator05 on selected days given to me by Team-2. At the same time, I am constantly submitting my personal blogs.
---
Greeters Report
---
I have been working as a greeter for the last 8th weeks. I have been given the task of verifying the users of my country. I am personally verifying new users by talking to them and trying to guide Bangladeshi users. Helped new users to understand the Steemit platform. Here, I will be summarizing my activities as a Greeter in the newcomers' community for the time period 15-10-22 to 24-10-22. Below is the list of those whom I have verified:
---
---
---
Steem For Bangladesh
---
I announce a contest about Recycled plastic craft. Plastic is one of the leading causes of environmental pollution. It also pollutes the soil, water, and air and has a negative effect on the balance of our atmosphere. It not only destroys the balance of the environment and at the same time spreads various diseases among people. Through this contest, I asked users to create crafts made of unused plastic.
Through this post, I try to present all the activities in detail of the last week in the Steem For Bangladesh community, my curation report, the curation report of the community account @ steem4bangladesh, and all the ongoing activities are included in the report.
Trying to provide booming support to all qualified users of the community. Helping to grow the profile of new users through the proper use of booming support. We both admins check community user's posts daily basis and give suggestions for booming support for quality posts. All the details of this support are published from the community account through weekly booming report posts.
BOOMING support (12 October to 18 October 2022) and has now reached the report for Week #03.
---
My Activity In Steemit Travel Community
---
As an admin(community manager) of Steemit Travel, I try to take appropriate steps for the progress of the community. Take special care to support each user. Meanwhile, users are being suggested to get booming support for quality posts. Using @ hive-163291 account for curating posts.
I monitor users through the comment review system according to the quality of the post. This week I have reviewed many users' posts and graded them. If I see any kind of problem in any user's post then I have mentioned it in the review comment.
Like every week, this week I published the Steemit Travel Community Weekly Report. Weekly reports include community contest announcements, food theme , contest updates, active users, active posters bd, total delegation to community accounts, delegator lists, and more.
Best quality post suggestion for booming.BOOMING support 10 October - 16 October 2022) and has now reached the report for Week #13.
---
---
My Power Up
---
In the last 7 days from 18 October to 24 October, I power up a total of 36 STEEM. Basically, I set my rewards to pay out 100% Steem. So my payout is directly credited to Steem Power. This week 350 STEEM Power accumulated in my vesting. From the beginning, I was more interested in power-ups. When there was no club project, I have been doing power. Because I believe that I did not come to work on steemit Platform for one or two days, I want to work here for a long time. So I power up my whole earnings daily.
---
---
Post Curation Report
---
As a CR of Bangladesh, I am giving regular support to the posts of my Bangladeshi users with as much voting power as I have. Throughout this Week I have curated 126 posts. I have curated a total of 72 authors' posts. I always try to curate the active posts of more users so that they are more interested in posting and identify users if they are real or not. Because of my less voting power, I can't curate all user's posts. But according to my voting power, I tried to curate as many posts as I can.
---
---
Weekly Totol Post In Different Community's
| No. | Post Name | Number of Post |
| --- | --- | --- |
| 01 | Steem For Bangladesh Weekly Report | 01 |
| 02 | Betterlife - Diary Game | 02 |
| 03 | Steemit Travel Weekly Report | 01 |
| 04 | Steemit Engagement Challenge Week-2 | 04 |
| 05 | Application for Community Curator | 01 |
| 06 | 📢 Contest - Recycled plastic craft | 01 |
| 07 | Other | 02 |
| = | Total | 12 |
---
---
As a country representative, I testify that I will try to fulfill my duties properly. If someone needs any kind of help, I will not despise him. I will try to solve any problem of all users. I will not do any kind of bad thing to anyone. I will take appropriate steps to grow Steem. Thank you.
Regards,
@ripon0630
CR of BANGLADESH
---
---
Thank You So Much For Reading My Blog