Weekly Report as CR Indonesia (September 22, 2022 to September 28, 2022)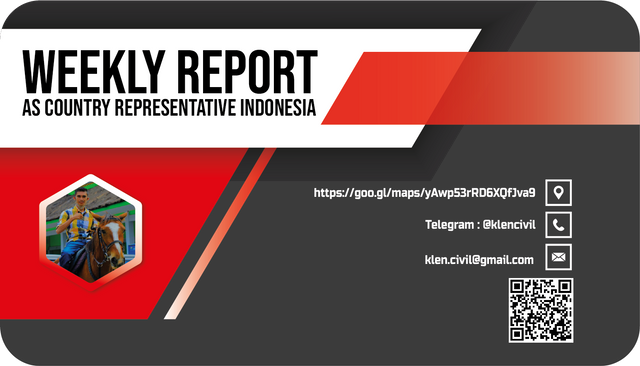 This week I have started various efforts in carrying out my duties as one of CR Indonesia, my various activities are related to the growth of steem in Indonesia both in terms of community development, mentors for steemian and my personal activities which are contained in various posts. Apart from that I also as one of the core team of WSP have made various efforts to promote steem through charity. Well, to be clearer I will describe it in a weekly laparon as below :
As a Steem For Betterlife Community Moderator
As one of the moderators of the Steem For Betterlife Community, I made various efforts to increase active posters through the provision of two contests with different themes, where the presence of this contest also had a positive effect on fundraising for the world smile project (#solarsteem20pc). The [CONTEST] - SHARE LESSONS YOU KNOW and the Contest Environment : Save The World have spawned dozens of additional entries to increase the activeness of posters in the community. Apart from the above, my job as a moderator in the community is also to provide member labels or delegator labels and to search for top posts every day in submitting to the booming curation account.
As World Smile Project Core Team
As the World Smile Project Core Team who is in charge of charity and of course according to my ability to supervise every construction project whose source of funds is from steem on the steemit platform whose output is expected for the steem promo, this week i carry out routine supervision of the free education center building in east aceh. Where according to current conditions, the free education center construction has reached 22% progress or can be seen in my post entitled Official Report WSP : Contruction Progress of Free Education Center East Aceh 75% [September 25, 2022]
As an Indonesian steemian guide
Routinely every week I communicate with cross-community steemians both in whatapps groups and have direct meetings with them, in the discussion I describe every time I interact with cross-community steemians in Indonesia I always emphasize the importance of doing power ups and following every rule which is described by the steemit team for example about burnsteem25 which is very useful for our common interests on the steemit platform. And I offer them to join the relevant community according to their expertise.
As a personal account manager
In making a personal post this time I took the initiative to display a post regarding information about Indonesian dolphin candidates, where I hope this post can spur every Indonesian steemian in competing in doing power ups, this post is titled Latest Information About Strong Candidates for Dolphins in Indonesia.
Apart from posting personally on this steemit platform, I will also describe or report on the current condition of my personal account in accordance with the steemworld.org data which can be seen in the account information table or screenshot results which means I have made various efforts to maximize upvotes and other interests in steemit through my personal account.
Personal Account Information Table
| Information | Status |
| --- | --- |
| Effective Power | 28,409.27 SP |
| Voting CSI | 13.9 |
| Self Vote | 0.00% |
| Upvote Amount | 144 upvotes |
| Account Amount | 109 accounts |
| Number of Posts | 6 Post |
| Status Club | club75 |
---
In addition to the explanation above which is the realization in the weekly report and my personal account information as a CR, I have also prepared an activity plan as CR Indonesia for the future in order to advance steemit, steem and tron ​​in Indonesia, both in terms of steem growth, promos and other things that can advance it. Below I attach various activities for the future in carrying out my duties as CR Indonesia.
Organizing contests in the Steem For Betterlife Community on a regular basis
As a MOD and community verificator of Steem For Betterlife
Supervise the construction of the East Aceh Free Education Center (WSP)
Conducting guidance and meetings with Indonesian steemian across communities
Prioritizing voting power for Indonesian steemians
---
Indonesia, September 28, 2022
@klen.civil
Country Representative Indonesia