Weekly Report Curation @steemcurator05 by CR Argentina @graceleon // 25 August 2021
Hello, Steem POD Team!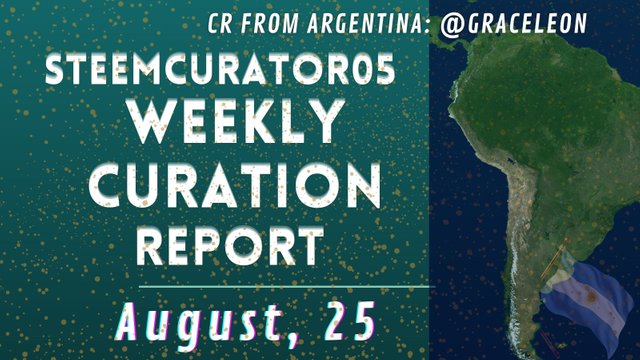 I send a cordial greeting to my dear colleagues of the Latin American Country Representatives team in Steemit.
I serve to give you a report, reporting the vote held on August 25 with the account @steemcurator05.
I had the opportunity to reward with the account to 21 users who are faithful participants of the platform, using the program of @steemitblog, A better life with steemit, using the tags #thediarygame, #betterlife.
Below I detail the rewarded users and the link to their publication.
I reviewed 87 user blogs in the list order and cast vote and comment to 21 users with the account.
---
| Day | Vote | Comment | Reviewed |
| --- | --- | --- | --- |
| 25/08/2021 | 21 | 21 | 87 |
Below is the list of those who received support from the @steemcurator05 account. August, 25- 2021.
---
It should be noted that I have been updating the list of Latin American users, adding the new users that join the platform in this month of August, indexing their blogs in our curation system, so that the search can be more comfortable and optimal when reviewing their blogs and bringing curation to their active posts.
I am glad to be part of this wonderful team of Country Representatives in Latin America.
Curation support has been provided to users of different nationalities in South America, including: Argentina, Perú, Brasil, Colombia, and Venezuela.
I appreciate the support and trust given to me by the @steemitblog and @steemcurator01 team, as well as the support given to me by my colleagues @ tocho2, @ anasuleidy, @ edlili24, @ inspiracion, @ belenguerra, @ fendit, @ wilmer1988 @ adeljose @ albenis @ saracampero, @ nahela, @ rypo01 and @ miyexi.
Thanking you for all the support and trust you have given me within the platform;
I bid you all a fond farewell;
---
Cc.- @steemcurator01 @steemcurator02 @steemitblog
---