Weekly Report CR Argentina September 16Th to September 22th
Best regards;
I present to you my management of September 16 to September 22, 2022 as Representative in Argentina.
---
From September 16th to September 22th, I report the following tasks.
---
My activities as CR Argentina are as follows:
Commenting and voting for publications that are generated on the blockchain.
Reviewing authenticity, combating plagiarism and content recycling.
Designing the RECREATIVE STEEM community contests; commenting and voting.
Administration of the community account @hive-141434 giving manual votes and comments.
Administration of Discord, Telegram, and other community social media channels in order to encourage participation and help guide users.
I host contests from the community account and from my personal blog.
Creation of a contest for the Steemit Engagement Challenge s4w4
---
This week I have made 13 publications from my personal account; I have also published thediarygame and other contests Steemit engagement challenge.
Relevant publications:
Voting CSI: 23.3 ( 0.00 % self, 204 upvotes, 145 accounts, last 7d )
Tools created @steemchiller steemworld.org/@graceleon
Effective Power @graceleon 20,875.29 SP ( 30,698.96 + 5,225.24 - 15,048.90 )
---
RECREATIVE STEEM @hive-141434: POST PRODUCCTION ACCOUNT COMMUNITY
I have hosted report in RECREATIVE STEEM.
---
---

This weekly September 16th to September 22th I have promoted contests on RECREATIVE STEEM.
With the RECREATIVE STEEM COMMUNITY that is @hive-141434 promoting the participation initiative in each of their contests.
TOPS 8 DAILY:
We have expanded the moderator staff of the Recreative Steem team to give them better attention and performance in the Engagement Challenges of this 4th season.
I hope you can support us and in this way we all contribute to the growth of Steemit in the world.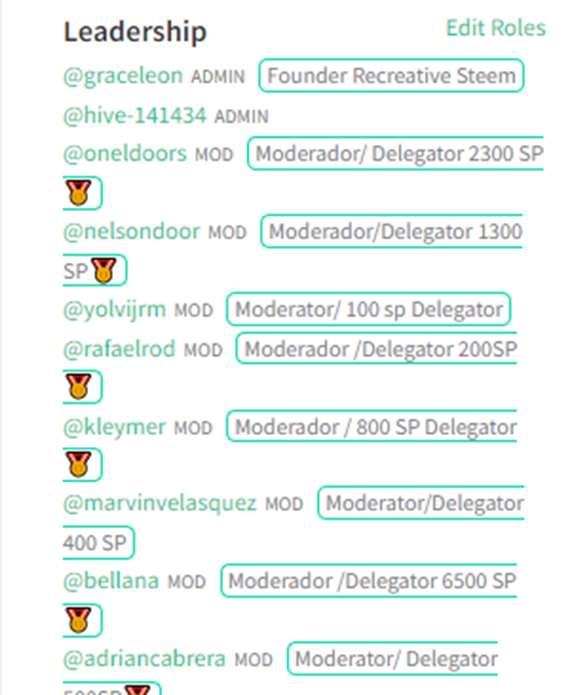 Moderators: @bellana, @oneldoors, @rafaelrod, @kleymer, @nelsondoor, @marvinvelasquez, @adriancabrera, @yolvijrm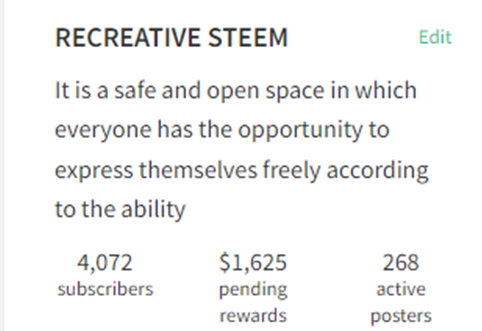 Effective Power 101,872.13 SP ( 22,051.95 + 79,820.18 )
Tools created @steemchiller Account community RECREATIVE STEEM steemworld.org/@hive-141434
Voting CSI 21.3 ( 0.00 % self, 459 upvotes, 160 accounts, last 7d )
---
TELEGRAM OF RECREATIVE STEEM: https://t.me/joinchat/KBDRe0y6ELQwYWNh

---
I am encouraging the creation of tutorial content for new talented bloggers to join these areas.
I support other communities with my content creation and relevant comments.
We currently have active contests within the community and support users from diverse cultures around the world who create quality content within RECREATIVE STEEM.
---
---

---
CC.- @steemitblog @stemcurator01 @steemcurator02
---