Weekly Report 23/09/2020 - 29/09/2020 Italy Country Representative - Steem Greeter Team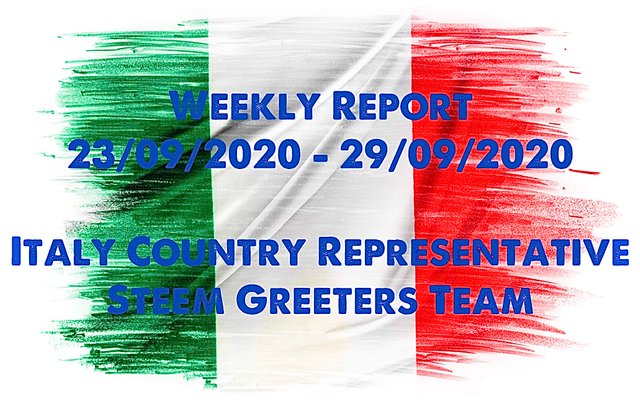 This is my weekly report concerning the activities of Country Representative for Italy and member of the Steem Greeters team in the Fairy section.

Steemit Italian Community: the situation
This week I have talked a lot with my Italian colleagues on the platform, to try to find some ideas that can help us achieve our two main objectives:
Recruit many valid Italian users so that we can create a community that best represents our nation on the platform.
I emphasize valid, because the qualitative aspect is very important and, in my opinion, significantly exceeds the quantitative one.
We also want a certain harmony and communion of purpose to be maintained, which currently happens 100%.

Try to convince foreign users to write their posts in the Italy Community, to populate it and make it a reference point for everyone.
We know that this is a very difficult and very ambitious goal, because ours was born as a community in some way territorial and not multi-thematic like other very popular ones (World of Xpilar, GEMS, Project HOPE for example).
Despite this, we are trying to set up something that favors the interaction and participation of even non-Italian friends.
There is already a draft that I am evaluating together with @mikitaly and @famigliacurione and soon, when we have reached the end of the project, we will present it to you.
Right now, we have to forgo the important contribution of @sardrt, who will be absent for a while due to some personal issues.
I take this opportunity to greet her, to wish her a big good luck and to let her know that we are waiting for her return as soon as possible.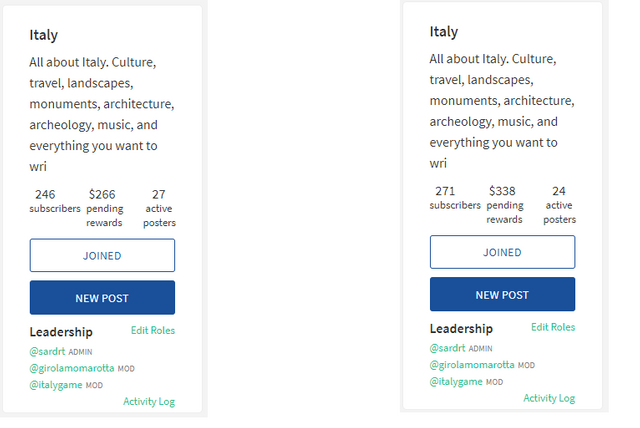 The community is continuing to grow well in membership.
We went from 246 last week to 271 this one.
A trend of 10% more, with 25 new members, is certainly a good sign...now these members must be loyal and something must be done that motivates them to publish in the community.
As mentioned before, we are working on it.
In fact, the weak point is precisely on the number of active users, which went from 27 last week to 24 this one.
@actionmirk @stefano.massari @mesyco @nowmirida @claudiog74 @photoblockchain @abeda @emilycorvo @gigafra @marcybetancourt @fendit @mister-omortson @belenguerra @famigliacurione @wawak71 @clintonariri @mirixhin @amico @girolamomarotta @sardrt @ilnegro @mikitaly @mad-runner @sashagonta @haseebasifkhan @italygame
About Rewards we performed well, rising from $266 to $338, thanks above all to the passage of @steemcurator01, who curated some of our posts, but also to our supports and our curation trail that constantly support us.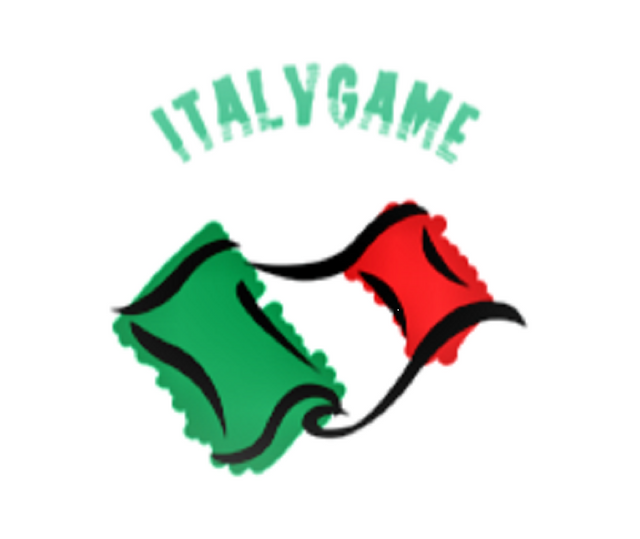 The fourth week of the BEST USER OF THE WEEK CONTEST is ongoing. This is the initiative where every week the best user of the community is awarded with 5 SBD.
In addition, the team dedicated itself to the translation of an important post from @steemitblog (1000 DAYS OF STEEM : Il Gioco del Diario - la Stagione 2 finisce, Stagione 3...) in order to keep all participants up to date and to provide clearer and more understandable information to newcomers.
Italygame participates to the @shortsegments Country Curator Project as the Italian reference account.

Curation
I continue to curate the best content published by Italian users.
I do this with my personal account, with my curation trail top.rewards.club and as a curator of @symbionts - @ecosynthesizer.

Translation
I translated the @steemitblog post 1000 DAYS OF STEEM : A Better Life with Steem - new Content and Curation Project by steemitblog which explains the new project divided by themes.
Here the italian version

The Diary Game
Currently are participating in the Diary Game:
All posts are of excellent quality and fully respect the rules of the game.

Steem Greeter Activity
I was assigned by @cryptokannon to the Greeters Fairy Team, which in addition to me is composed by @tocho2, @belenguerra and @besticofinder.
The goal is to welcome newcomers by carrying out specific searches on #introduceyourself or similar tags.
Once new users have been identified, we invite them to join the Newcomers'Community and the Achievement Program, so that they can acquire all the skills necessary to undertake their adventure.
Also, to encourage new users, we have the ability to support the most deserving posts with the @steemcurator03 account.
This week I want to congratulate my colleagues who have worked really great, I have intercepted and welcomed the following users:
They are few users, but I want to emphasize that I was careful not to comment on the posts of those who had already been contacted or of those who continue to abuse the #introduceyourself tag.
Also I want to report with pleasure the user @demimac135, whom I invited last week and who wrote a nice post for his Achievement #1.
I drop you the link if you want to welcome him.
---
Thanks for reading
---
This post is set to Power Up 100%
cc: @steemitblog, @steemcurator01