Weekly Report as CR Pakistan and Greeter in Newcomers' Community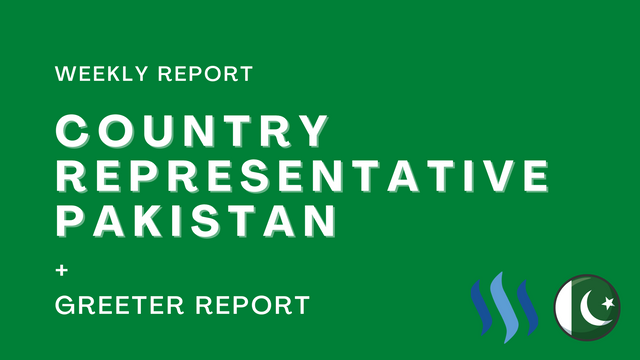 ---
The role of a country representative has proven to be very daunting. As much as I want to initiate constructive projects in Pakistan to proceed forward, I have to take two steps backward to clear the mess created in the past.
I was again notified about multiple users being involved in abusive activities. Therefore, my whole week was spent in investigations. I didn't share my findings publicly this time. The last time I spoke up, I was bashed for speaking up against my own country people. However, that's not the reason for not speaking up because I am not biased and always follow what's right. I was thinking for a better solution.
My Proposal for Eliminating Farming Accounts
I am not sure it can be implemented in Newcomers' Community, but I have decided to not consider the verification of users that were verified prior to March 2022 in Steemit Pakistan. I haven't made an official announcement in the community yet because I am still figuring out the new verification procedure. As soon as it is finalized, I will make it official.
For a steady and fruitful growth, we must need to cut the dead/diseased parts. With this re-verification procedure, I am hopeful that most of the multi-accounts will be discouraged. I am prepared for the decrease in activity in Steemit Pakistan because the baddies will sneak out and find their way in other communities.
Sooner or later, Newcomers' community will have to adopt something like re-verification. Or I hope @inspiracion and @cryptokannon have better ideas in their minds. For the accounts that have been wrongly verified in the past are playing a major role in the present corruption. Those accounts are numerous. It's impossible to trace back all so all I can think right now is to cancel the verification and ask everyone to re-introduce themselves. Perhaps, this activity should be carried out every year to make sure the accounts are still in the hands of their original owners.

Weekly Contest
This week, I have resumed the weekly photography contest. For now, it is theme free to encourage more participation. Soon, I will incorporate interesting themes and challenge the creativity of members.
---
I have decided to run two contests every week now to keep the members active. I distribute all the liquid rewards of contest announcement posts among winners and don't keep anything with me.

Quality Authors - Hall of Fame
It's not a complain but I think after the powerdown of previous CRs and many abusive accounts, the decent authors from Pakistan are being ignored. I am really putting an effort in brining creative people to Steemit. I am supporting the good content with 100% upvotes from me and from @steemit-pak and with booming once or twice a week if it's in Steemit Pakistan.
I hope it's okay, if I highlight best authors in my report or best posts from the week sometimes. It will be a sort of recognition for those authors and might get them some exposure. If the readers of my report want, they can support those authors / posts as well.
I don't want to spam this section in my report so it will appear only when I have some really great content to highlight.
For this week, I would like to highlight @mycupoftea. She's new here and started with a bang. She's learning fast and adjusting well to the community rules. Do check out her blog.

Greeter Report
Here, I will be summarizing my activities as a Greeter in the newcomers' community for the time period 14-09-22 to 21-09-22. I verify the introduction tasks and guide the newcomers from Pakistan and try to cover other countries in South Asia as well. I also verify other achievement tasks that are in English or Urdu.
This week the overall activity was less in Newcomers' Community specially from Pakistan.
| usernames | country | Achievement Links | Task Number | Status |
| --- | --- | --- | --- | --- |
| rabia1 | Pakistan | Post Link | 1 | suspicous |
| miftah884 | Pakistan | Post Link | 1 | Verified, Expired |

Until next week,
event-horizon