Lucky Simisage and Scrafty Pokédex Registries during recent events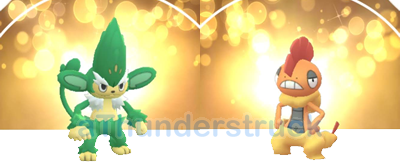 Ahoy! During the Bug Out event Pansage was spawning globally as I mentioned in the blog post about it. During the event I've been trading some Pansage with friends until I got a Lucky Pansage. Then I was able to evolve that Lucky Pansage into Simisage and have Simisage's Pokédex registry. Along that Pokédex registry I also immediately have it in the Lucky Pokédex. Here are photos of that.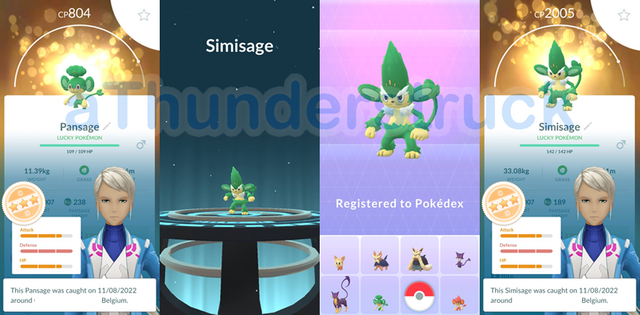 After the Bug Out event there has been a World Championship event to celebrate the Pokémon GO PvP World Championship which took place in London. During that event some Pokémon were spawning more in the wild, some of which are frequently seen in the Great League format in PvP. One of these Pokémon was Scraggy, a Pokémon that you can normally never find in the wild. It's only rarely in the wild during events. A great time to trade it and get a Lucky! I do believe I already had a Lucky Scraggy before from another event or by sometimes trading the Scraggy that I hatch from Eggs with friends who also have some.
Anyway I did trade some Scraggy with friends during the event and got a Lucky there as well. Then I evolved that one to finally have Scrafty registered in the Pokédex, and have Lucky Scrafty in the Pokédex as well. Here is a screenshot of it and the Pokédex registry.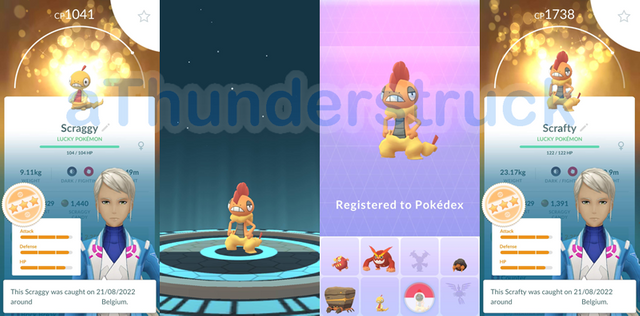 How have those events gone for you? I haven't been posting much so I decided to include both of these Lucky evolves and their Pokédex registries in this post together.
This Saturday the 27th of August the finale event of GO Fest will be taking place. The 3 Ultra Beasts, Pheromosa, Buzzwole and Xurkitree that were featured throughout the 3 GO Fest weekends in Berlin, Seattle and Sapporo, will be appearing in Raids globally during this GO Fest finale day. Nihilego will also be appearing again like it did with the global GO Fest event earlier this year.