Come with me, delegate 200 SP to @japansteemit and power up regularly / Ayo ikut saya delegasikan 200 SP to @japansteemit dan power up secara rutin
Come with me, delegate 200 SP to @japansteemit and power up regularly / Ayo ikut saya delegasikan 200 SP to @japansteemit dan power up secara rutin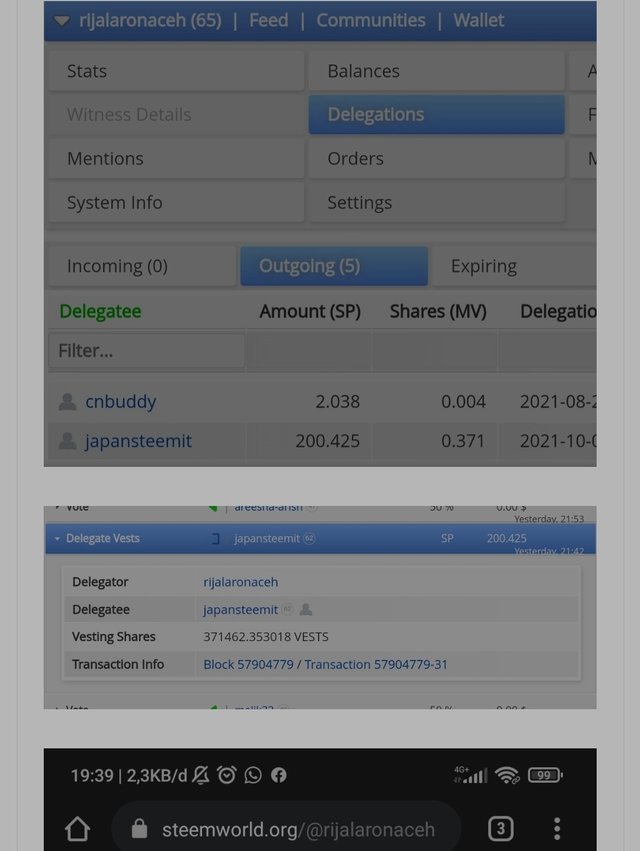 My best friend who is in this very great steemjapan community. Back me back this tonight makes a post that explains the power up and the great benefits of the power up and I also do power up and add delegates to @japansteemit for my 200 STEEM POWER so that we can help each other together. Friends can see the picture proof.
I hope the admins of the STEEM Japan community @tomoyan , @juichi and others . So don't forget to note me as one of the delegates who added 200 STEEM POWER delegates to our curator account, namely @japansteemit, please don't forget to level up our STEEMJAPAN community badge together.
Sahabat saya semuanya yang ada dalam komunitas STEEMJAPAN yang sangat hebat ini . kembali saya pada malam ini membuat postingan yang menjelaskan tentang power up dan manfaat yang besar pada power up tersebut beserta saya juga melakukan power up dan menambah delegasi kepada @japansteemit sebanyak 200 STEEM POWER agar kita bisa saling membantu bersama. Sahabat bisa melihat bukti gambar di atas dan di bawah yang saya tampilkan pada postingan ini.
Saya harap para admin komunitas STEEM Japan @tomoyan , @juichi dan lain-lain . Agar jangan lupa untuk mencatat saya sebagai salah seorang delegator yang menambah delegasi menjadi 200 STEEM POWER kepada akun curator kita yaitu @japansteemit ini, mohon jangan lupa dibuat levelnya pada lencana komunitas STEEMJAPAN kita bersama ini.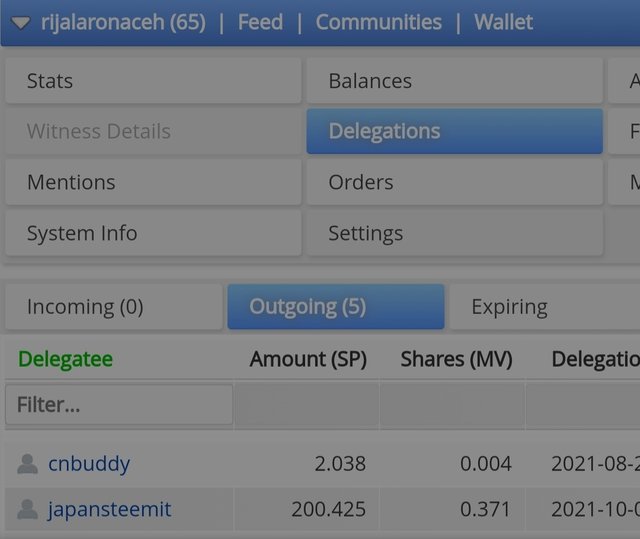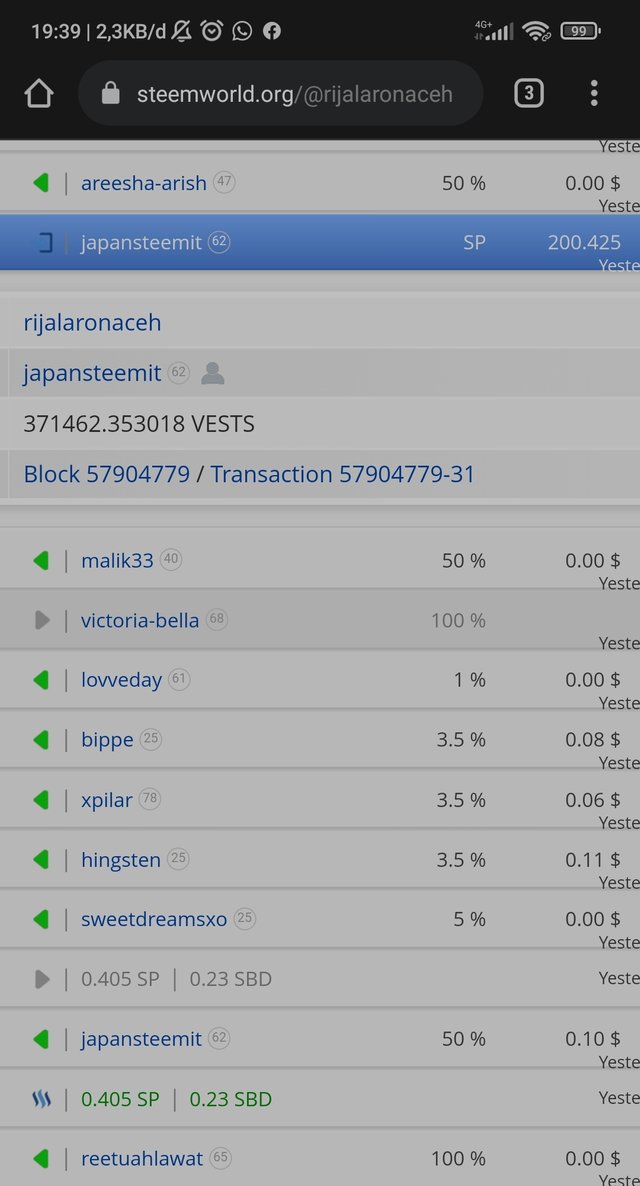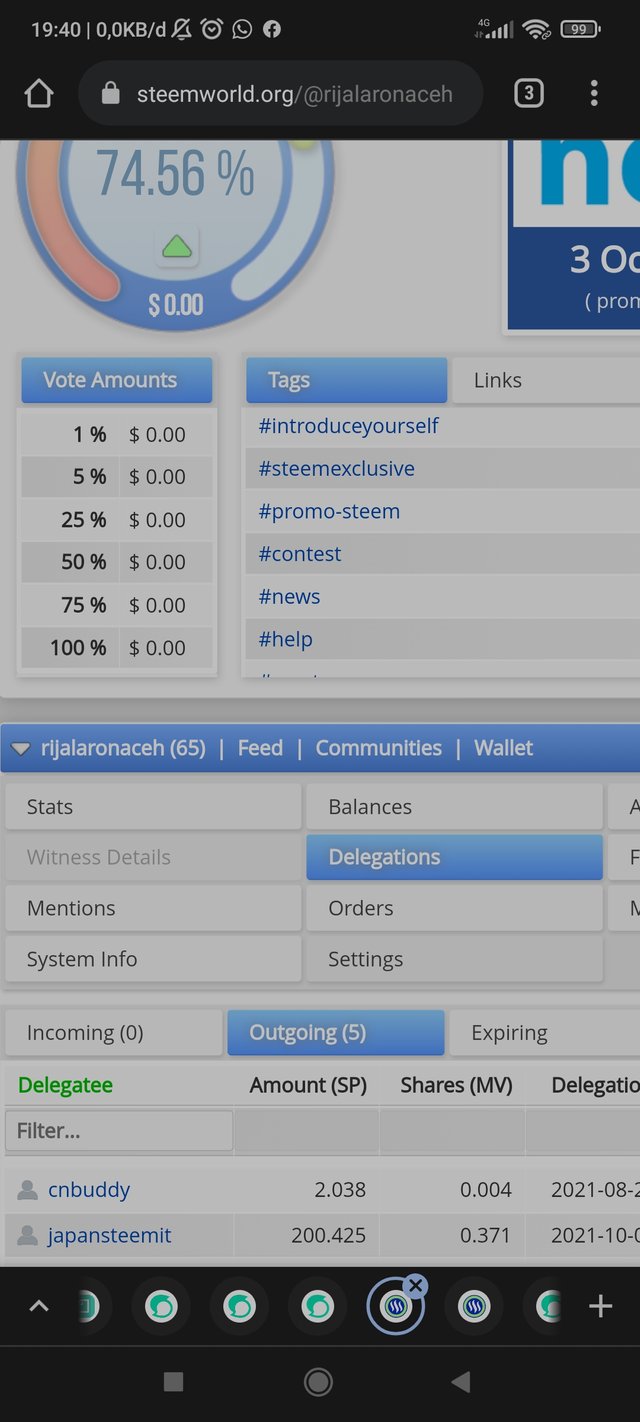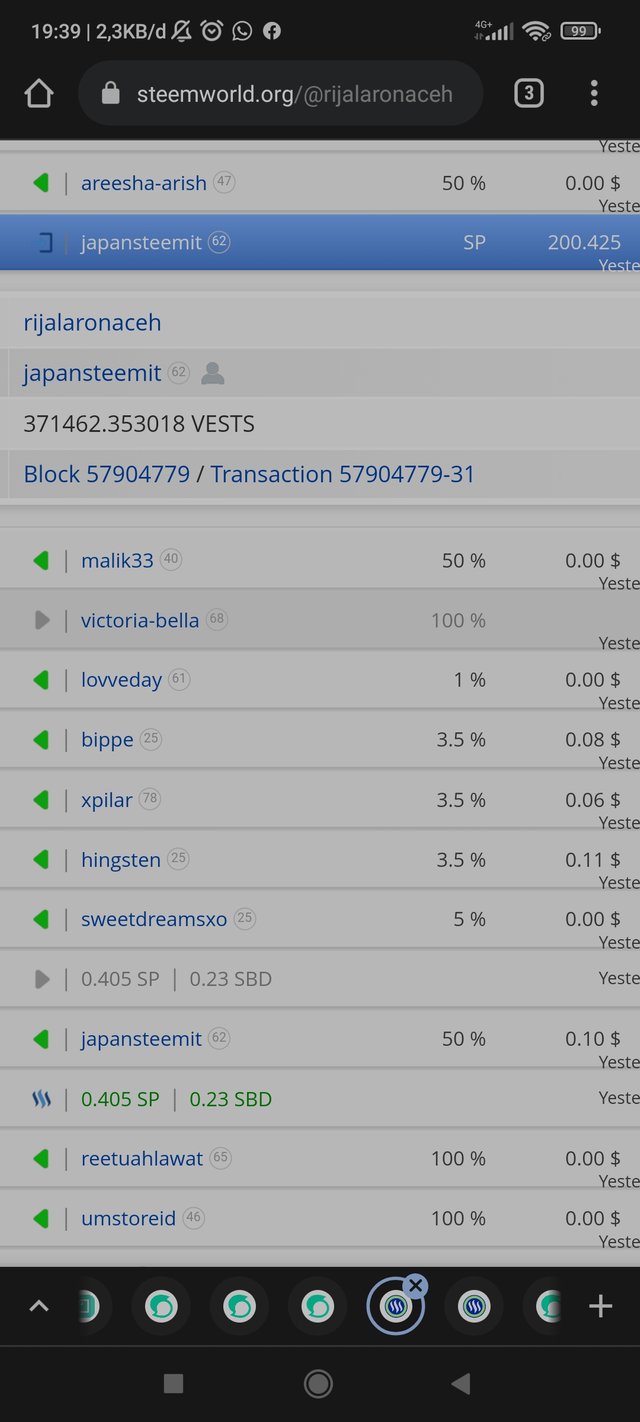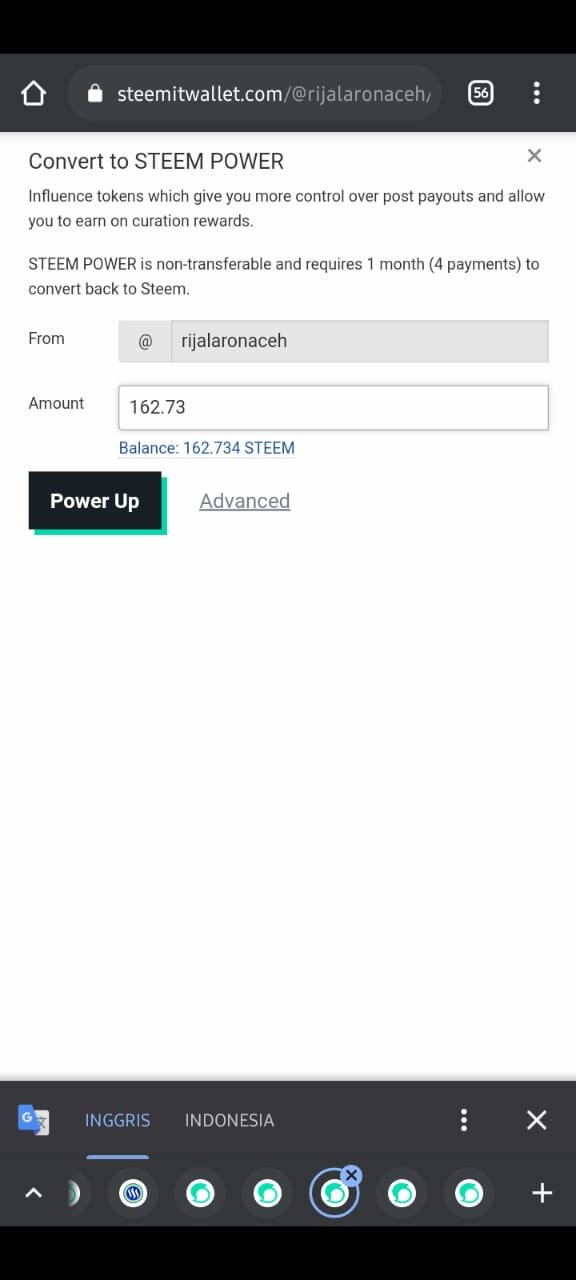 In the pictures above and below I do 162 STEEM POWER UP so I can delegate to our community curator account @japansteemit and also to keep my power strong and big. because if the power on our account is big then our vote will be big when choosing a post or voting and it will get a big payment for us. also our investment in STEEMIT is getting bigger. it is a very real and great benefit for us in doing POWER UP. So we all have to keep doing power ups like I do every week. I always increase my power by doing power ups. Sometimes I even do POWER UP every day.
Pada gambar di atas dan di bawah ini saya melakukan POWER UP sebanyak 162 STEEM agar saya bisa melakukan delegasi ke akun kurator komunitas kita @japansteemit dan juga agar power saya tetap kuat dan besar. karena bila power pada akun kita besar maka suara kita akan besar saat memilih postingan ataupun memberikan suara dan itu akan mendapatkan pembayaran yang besar bagi kita. juga investasi kita di STEEMIT ini menjadi lebih besar . itu adalah manfaat yang sangat nyata dan hebat bagi kita dalam melakukan POWER UP. Maka kita semuanya harus terus-menerus melakukan power up seperti yang saya lakukan dalam setiap minggunya saya selalu menambah kekuatan power saya dengan melakukan power up. Bahkan Kadang saya melakukan POWER UP setiap hari.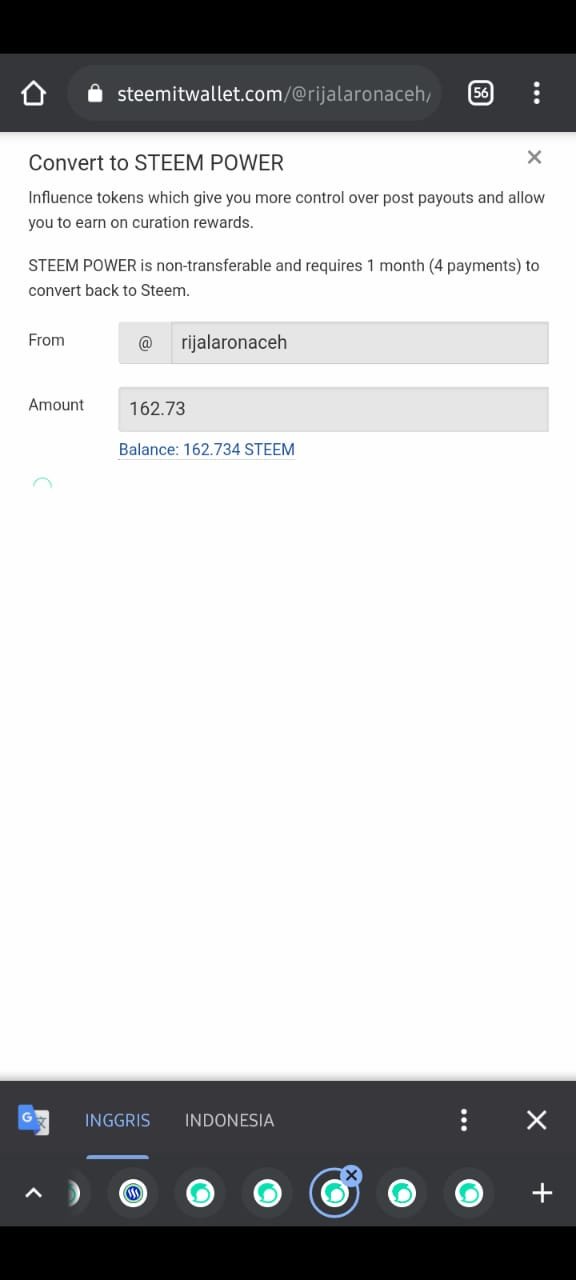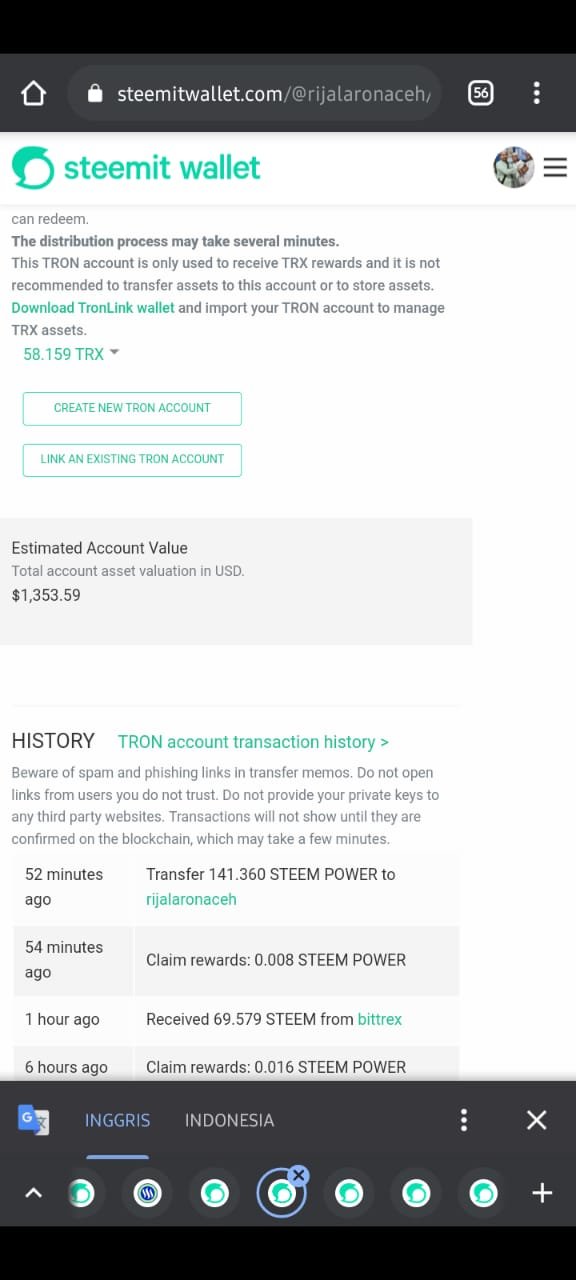 My friends, you can see for yourself in the picture above and below I am very serious and work hard in doing POWER UP to increase my account power. sometimes I even have to buy STEEM in external markets such as BITTREX and others, that's all I do so that my account gets bigger so that my strength also becomes bigger and the prizes I receive also get bigger and I try to sell wherever the assets I have even in the market external for me to buy STEEM.
Kawan-kawan saya sekalian bisa melihat sendiri pada gambar diatas dan dibawah ini saya sangat serius dan bekerja keras dalam melakukan POWER UP untuk menambah tenaga akun Saya . bahkan kadang saya harus membeli STEEM di market eksternal seperti BITTREX dan lain-lain itu semua saya lakukan agar akun saya jadi besar sehingga kekuatan saya juga jadi besar dan hadiah yang saya terima juga bertambah besar dan Saya berusaha menjual dimanapun aset yang saya punya bahkan di market eksternal untuk saya beli STEEM.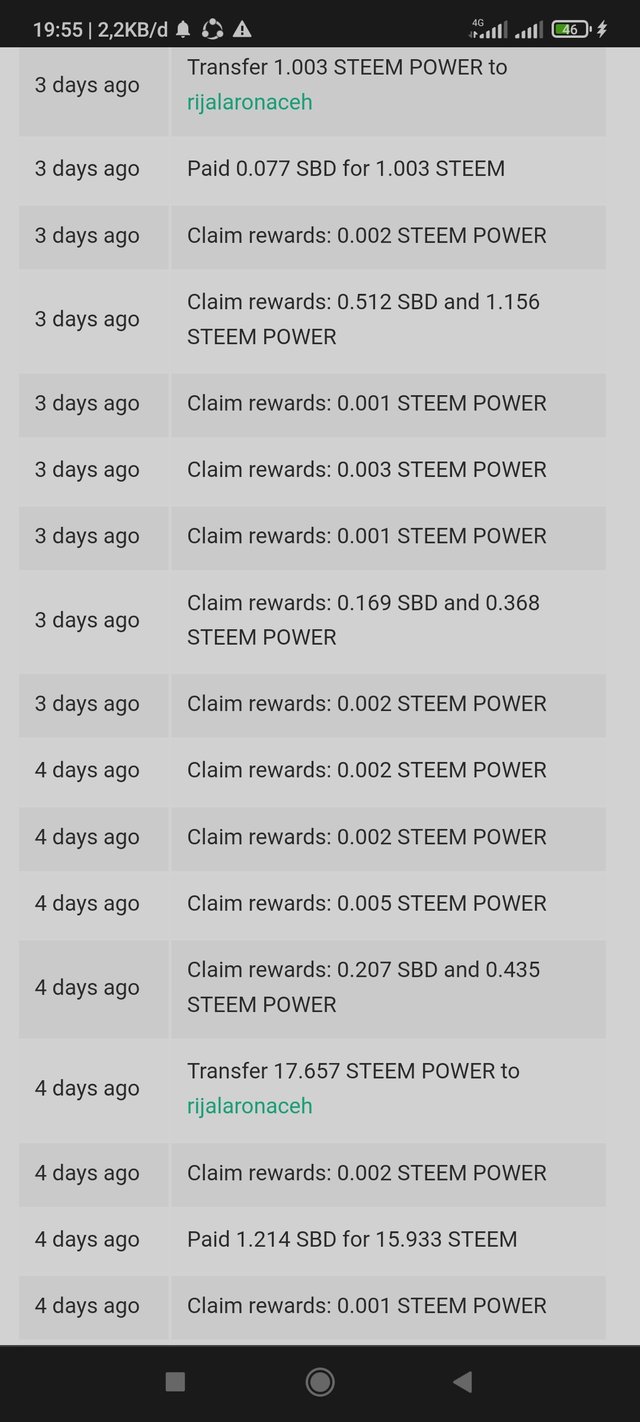 In the picture above, friends, you can see that I almost do POWER UP every day if I have my steem or SBD that do the power up right away. this is all so that we can invest big and get big profits on this STEEMIT. this is a big benefit that all friends need to know.
So in the picture below, friends, you can see that my account already has about 2800 STEEM power and I will continue to improve it so that it can be a big investment and quickly get results in the form of SBD. especially through the STEEMJAPAN community which is very useful for us. And our community has been directly supported by the STEEMIT team through boom support as described in @japansteemit's post at this link:
Pada gambar di atas ini kawan-kawan bisa melihat saya hampir melakukan POWER UP setiap hari jika saya punya steem atau SBD saya yang langsung melakukan power up . ini semuanya agar kita bisa berinvestasi besar dan mendapatkan keuntungan besar di STEEMIT ini . inilah manfaat besar yang perlu sahabat semuanya ketahui.
Sehingga pada gambar di bawah sahabat sekalian bisa melihat akun saya sudah mempunyai sekitar 2800 STEEM power dan itu akan terus saya tingkatkan agar bisa menjadi investasi yang besar dan dan cepat mendapatkan hasil berupa SBD . terutama melalui komunitas STEEMJAPAN yang yang sangat bermanfaat bagi kita ini. Dan komunitas kita ini sudah didukung langsung oleh tim STEEMIT melalui dukungan booming seperti yang dijelaskan pada postingan @japansteemit di link ini: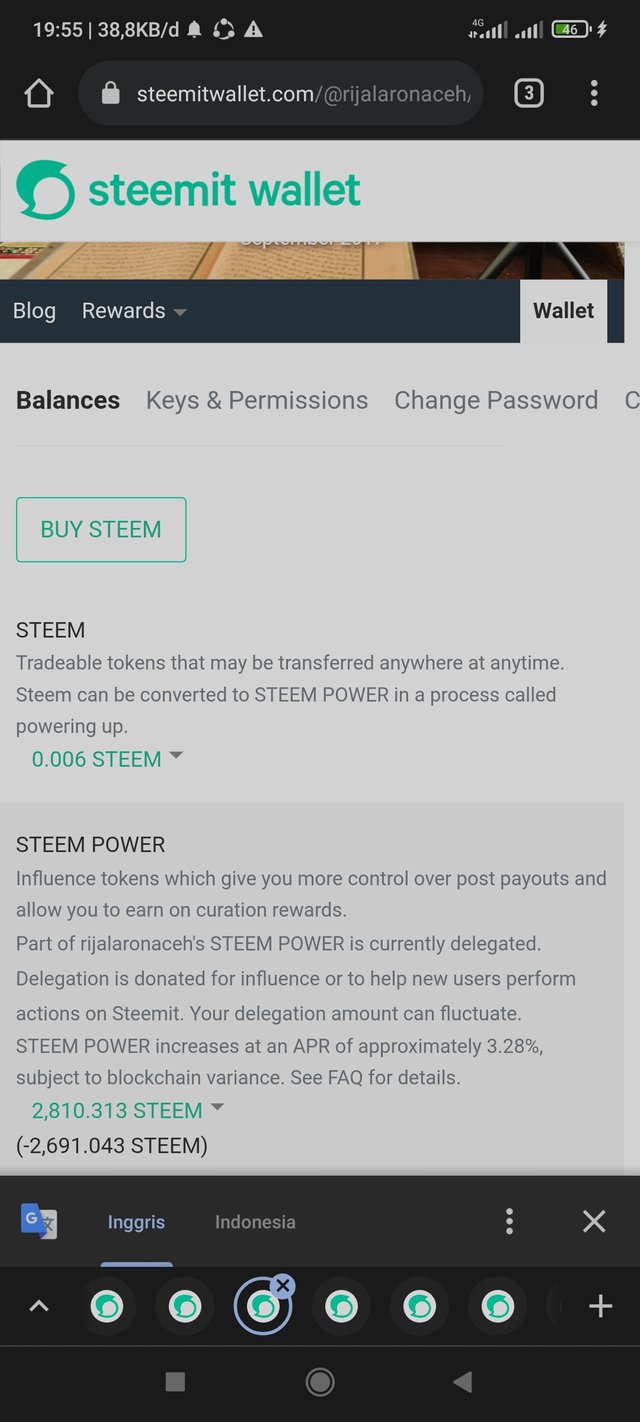 Finally, I hope all friends can join this great community and we can delegate some of the power of our account to our community so that we all feel the benefits together and all friends can follow the way by reading the entire contents of my post. that's my explanation this time, and we will meet again in my next post.
Akhirnya saya berharap semua sahabat bisa bergabung pada komunitas yang hebat ini dan kita bisa mendelegasikan sebagian dari kekuatan akun kita untuk komunitas kita agar kita semua rasakan manfaatnya bersama-sama dan sahabat sekalian bisa mengikuti caranya dengan membaca seluruh isi dari pada postingan saya. demikianlah penjelasan saya kali ini, dan kita akan bertemu kembali pada postingan saya selanjutnya.
Thank you very much I say to all friends who help me in this community especially to the admins and moderators of this great STEEMJAPAN community, namely @tomoyan and @juichi.
Terima kasih banyak saya ucapkan kepada semua sahabat yang membantu saya dalam komunitas ini khususnya kepada para admin dan moderator komunitas STEEMJAPAN yang hebat ini yaitu @tomoyan dan @juichi.

Thank you very much to all friends who support each other on the STEEMIT social media platform that we love. I hope we will continue to grow together, help each other help each other maintain mutual respect and progress and succeed together.
Terima kasih banyak kepada semua sahabat-sahabat yang saling mendukung dalam media sosial platform STEEMIT yang kita cintai ini semoga kita terus berkembang bersama saling membantu saling menolong saling menjaga saling menghargai dan maju serta sukses bersama.
That's my post on this occasion. I hope that what I have written and posted here can all be useful for all of us and become reading material and consideration for all of us.
Demikianlah postingan saya pada kesempatan kali ini. semoga apa yang sudah saya tuliskan dan saya postingkan di sini itu semuanya bisa bermanfaat bagi kita semua dan menjadi bahan bacaan dan bahan pertimbangan bagi kita semuanya.
Thank you very much and Highest Gratitude to all friends who have visited, read, share, provided comments / criticisms / suggestions, and provided ratings on my writing.
Terimakasih banyak dan Terimakasih Setinggi-tingginya kepada semua sahabat-sahabat yang sudah mengunjungi , membaca, membagikan, memberikan komentar / kritik / saran, dan memberikan penilaian terhadap tulisan saya ini.
And also thank you very much to all those who have helped me in any form and in any form. To all of you I give my highest appreciation.
Dan juga terimakasih banyak kepada semua pihak yang telah membantu saya berupa apapun dan dalam bentuk apapun. Kepada anda semua saya memberikan apresiasi yang setinggi-tingginya.
Jazakallahu khairan katsiran Bi ahsanil Jazak.
See you again on another occasion in the next post.
Sampai jumpa lagi di kesempatan yang lain Dalam Postingan Selanjutnya.
.
.
•• ● ══❁══ ◎ ✾ ☆ ﷽ ☆ ✾ ◎ ══❁══ ● ••
🎍 Semoga Bermanfaat 🎍🎍 MAY BE USEFUL 🎍
📢 Share This Post For Ibadah Dakwah / Charity 👆🏻👇🏻
Silahkan Ikuti Pengajian Saya Setiap Hari di Link Ini :
Dayah Babussalam
Blang Blahdeh Bireuen
FB: Tgk Rijal Aron BlangBlahdeh
Twitter: Rijal_Aron_Aceh
Youtube: Tgk Rijal Aron Blang Blahdeh
WA & Telegram: +6285362473416
Discord: rijalaronaceh#2619
🕌🕌🕋🕋📲💻📹📚📝🇮🇩🇸🇦🌴🌻💎💐🌷🐫