This #freewrite was written in five minutes using @mariannewest's prompt:
sunscreen
https://beta.steemit.com/hive-161155/@mariannewest/day-811-5-minute-freewrite-thursday-prompt-sunscreen
…
Mike turned the key and the engine started the first time. The radio also sprung into life and music blared out of the speakers. Mike turned the sound down.
It was an old tune. "Sunscreen," he thought it was called. A tune where some bloke gave life advice. He remembered that Clare used to play it often. She would smile when the man related that "you are not as fat as you think you are".
"It's true," she would say. "I look back at my photos of twenty years ago and I am not as ugly or as fat as I thought I was."
Mike would nod and say nothing. He had learned it was best not to make a comment on the subject of women's weight, after several well-meaning, but badly phrased, words had led to arguments that had given him several sleepless nights on the uncomfortable sofa.
Mike smiled as he put the car in gear and pulled off. Clare would enjoy going on this journey with him.
…
This is the song I was thinking of:
As usual I wrote the freewrite in five minutes using themostdangerouswritingapp.com and then copied and pasted it into a googledoc, tied it up a bit.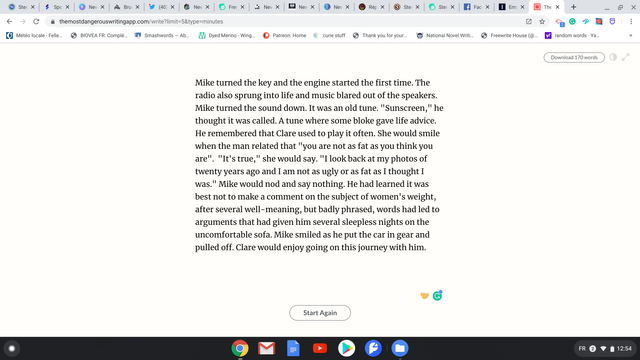 ...