Update Price TRX - Oct¹⁷ th, 2021
Price TRON, Oct¹⁷ th, 2021
Here are the prices (highest) & (lowest) TRX/$ USDT dailys & weekly for of month September - October th 2021 based on the market HUOBI.
---
1. Daily TRX Prices (D1) on HUOBI Market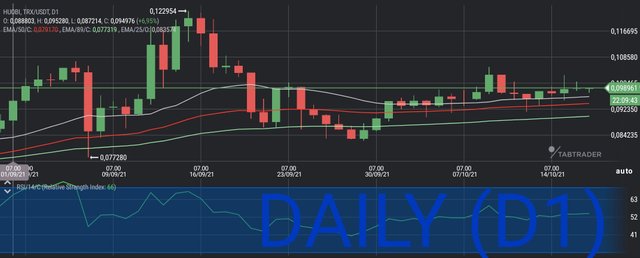 Daily Prices (chart) TRX/$ USDT on the HUOBI Market for the last of 47 (forty-seven) days.
---
| NB. | D A T E | STEEM (HIGHEST) | STEEM (LOWEST) | Notes |
| --- | --- | --- | --- | --- |
| 47. | 2021 Oct 17 | | $ 0.098961 | Update 8:51 a.m |
| 46. | 2021 Oct 16 | $ 0.100953 | $ 0.098063 | |
| 45. | 2021 Oct 15 | $ 0.103000 | $ 0.095034 | |
| 44. | 2021 Oct 14 | $ 0.099541 | $ 0.096395 | |
| 43. | 2021 Oct 13 | $ 0.097989 | $ 0.093406 | |
| 42. | 2021 Oct 12 | $ 0.097067 | $ 0.091470 | |
| 41. | 2021 Oct 11 | $ 0.100926 | $ 0.095242 | |
| 40. | 2021 Oct 10 | $ 0.103108 | $ 0.097378 | |
| 39. | 2021 Oct 09 | $ 0.105530 | $ 0.097039 | |
| 38. | 2021 Oct 08 | $ 0.099389 | $ 0.095239 | |
| 37. | 2021 Oct 07 | $ 0.098336 | $ 0.093352 | |
| 36. | 2021 Oct 06 | $ 0.097156 | $ 0.091111 | |
| 35. | 2021 Oct 05 | $ 0.098483 | $ 0.092883 | |
| 34. | 2021 Oct 04 | $ 0.095187 | $ 0.089854 | |
| 33. | 2021 Oct 03 | $ 0.096642 | $ 0.092600 | |
| 32. | 2021 Oct 02 | $ 0.095858 | $ 0.092388 | |
| 31. | 2021 Oct 01 | $ 0.094854 | $ 0.088481 | |
| 30. | 2021 Sept 30 | $ 0.089595 | $ 0.085512 | |
| 29 | 2021 Sept 29 | $ 0.087931 | $ 0.082577 | |
| 28. | 2021 Sept 28 | $ 0.087188 | $ 0.082898 | |
| 27. | 2021 Sept 27 | $ 0.090851 | $ 0.085870 | |
| 26. | 2021 Sept 26 | $ 0.090794 | $ 0.083196 | |
| 25. | 2021 Sept 25 | $ 0.093718 | $ 0.089266 | |
| 24. | 2021 Sept 24 | $ 0.0993790 | $ 0.086002 | |
| 23. | 2021 Sept 23 | $ 0.100667 | $ 0.096093 | |
| 22. | 2021 Sept 22 | $ 0.098778 | $ 0.086631 | |
| 21. | 2021 Sept 21 | $ 0.095651 | $ 0.086689 | |
| 20. | 2021 Sept 20 | $ 0.103748 | $ 0.089402 | |
| 19. | 2021 Sept 19 | $ 0.107514 | $ 0.102351 | |
| 18. | 2021 Sept 18 | $ 0.109082 | $ 0.103448 | |
| 17. | 2021 Sept 17 | $ 0.100420 | $ 0.103571 | |
| 16. | 2021 Sept 16 | $ 0.122382 | $ 0.112171 | |
| 15. | 2021 Sept 15 | $ 0.122954 | $ 0.113338 | |
| 14. | 2021 Sept 14 | $ 0.120264 | $ 0.104087 | |
| 13. | 2021 Sept 13 | $ 0.117048 | $ 0.098919 | |
| 12. | 2021 Sept 12 | $ 0.118163 | $ 0.093743 | |
| 11. | 2021 Sept 11 | $ 0.096988 | $ 0.090353 | |
| 10. | 2021 Sept 10 | $ 0.095812 | $ 0.086363 | |
| 09. | 2021 Sept 09 | $ 0.094818 | $ 0.090144 | |
| 08. | 2021 Sept 08 | $ 0.096656 | $ 0.083450 | |
| 07. | 2021 Sept 07 | $ 0.105908 | $ 0.077280 | |
| 06. | 2021 Sept 06 | $ 0.107273 | $ 0.101015 | |
| 05. | 2021 Sept 05 | $ 0.105207 | $ 0.100966 | |
| 04. | 2021 Sept 04 | $ 0.103428 | $ 0.099337 | |
| 03. | 2021 Sept 03 | $ 0.105916 | $ 0.097580 | |
| 02. | 2021 Sept 02 | $ 0.101995 | $ 0.094333 | |
| 01. | 2021 Sept 01 | $ 0.095280 | $ 0.087214 | |
The prices above are the highest and lowest for the closing dailys at 7:00 a.m
---
2. Weekly TRX Prices (W1) on HUOBI Market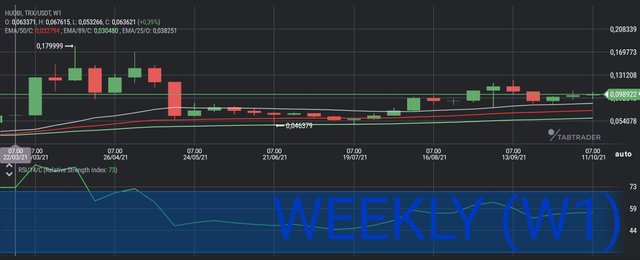 Weekly Prices (chart) TRX/$ USDT on the HUOBI Market for the last of 30 (thirty) weeklys
| NB. | D A T E | STEEM (Highest) | STEEM (Lowest) | Notes |
| --- | --- | --- | --- | --- |
| 30. | 2021 Oct 11 | | $ 0.098922 | Update 2021 Oct 17, at 08:54 a.m |
| 29. | 2021 Oct 04 | $ 0.105520 | $ 0.089854 | |
| 28. | 2021 Sept 27 | $ 0.096642 | $ 0.082577 | |
| 27. | 2021 Sept 20 | $ 0.103748 | $ 0.083196 | |
| 26. | 2021 Sept 13 | $ 0.122954 | $ 0.098919 | |
| 25. | 2021 Sept 06 | $ 0.118163 | $ 0.077280 | |
| 24. | 2021 Aug 30 | $ 0.105916 | $ 0.085100 | |
| 23. | 2021 Aug 23 | $ 0.091500 | $ 0.081503 | |
| 22. | 2021 Aug 16 | $ 0.096599 | $ 0.081133 | |
| 21. | 2021 Aug 09 | $ 0.095081 | $ 0.069727 | |
| 20. | 2021 Aug 02 | $ 0.076438 | $ 0.062183 | |
| 19. | 2021 July 26 | $ 0.066800 | $ 0.056929 | |
| 18. | 2021 July 19 | $ 0.058155 | $ 0.049112 | |
| 17. | 2021 July 12 | $ 0.062853 | $ 0.054755 | |
| 16. | 2021 July 05 | $ 0.067493 | $ 0.059133 | |
| 15. | 2021 June 28 | $ 0.069833 | $ 0.063242 | |
| 14. | 2021 June 21 | $ 0.068882 | $ 0.046379 | |
| 13. | 2021 June 14 | $ 0.074780 | $ 0.063239 | |
| 12. | 2021 June 07 | $ 0.078587 | $ 0.075731 | |
| 11. | 2021 May 31 | $ 0.082913 | $ 0.069769 | |
| 10. | 2021 May 24 | $ 0.084361 | $ 0.061775 | |
| 09. | 2021 May 17 | $ 0.119875 | $ 0.055616 | |
| 08. | 2021 May 10 | $ 0.148150 | $ 0.110408 | |
| 07. | 2021 May 03 | $ 0.169868 | $ 0.117658 | |
| 06. | 2021 Apr 26 | $ 0.133500 | $ 0.100125 | |
| 05. | 2021 Apr 19 | $ 0.147832 | $ 0.091000 | |
| 04. | 2021 Apr 12 | $ 0.179999 | $ 0.121534 | |
| 03. | 2021 Apr 05 | $ 0.149240 | $ 0.103600 | |
| 02. | 2021 Mar 29 | $ 0.128419 | $ 0.063242 | |
| 01. | 2021 Mar 22 | $ 0.067615 | $ 0.053266 | |
The prices above are the highest and lowest for the closing weeklys at 7:00 a.m
---
Also read the previous post :👇
1. Update Price TRX - August²⁶ th, 2021
2. Update Price TRX - Sept⁰³ th, 2021
3. Update Price TRX - Sept¹⁰ th, 2021
4. Update Price TRX - Sept¹⁶ th, 2021
5. Update Price TRX - Sept²² th, 2021
6. Update Price TRX - Sept²⁸ th, 2021
7. Update Price TRX - Oct⁰⁵ th, 2021
8. Update Price TRX - Oct¹¹ th, 2021
---

THANK YOU