Yet another BADGER Airdrop Announcement
Although the issues with last airdrop are still in the process of being resolved, today Badger DAO has come up with a new distribution announcement of 10,000 BADGER.
Rather than an airdrop, I'd like to call it some sort of cash-back for charity donations. This 10,000 BADGER distribution is being offered to all donors to Gitcoin Grants.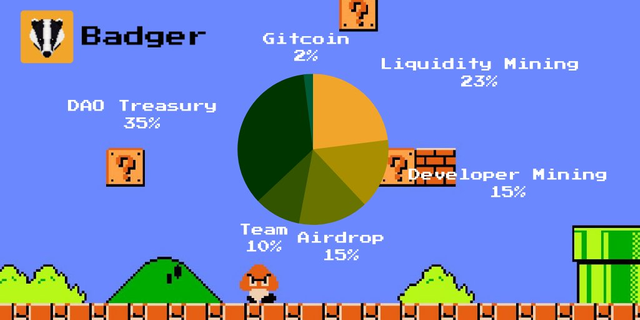 Gitcoin has a special place in BADGER distribution. As you can see in the above image, a total 2% of BADGER supply is allocated towards Gitcoin.
Gitcoin is also a great place to donate your money to encourage and show your appreciation towards open-sourced development. In Gitcoin grant round 8, every donor to Gitcoin will be rewarded with at least 3 BADGER. All remaining BADGER out of 10,000 will also be distributed to donors in the proportion of the amount they donated. Donors can donate until 17th December to avail this BADGER drop.
$BADGER is currently being trading around $10. So it's like $30 assured cashback for donating any amount to Gitcoin by 17th. What a way to promote the habit of giving to show our gratitude to developers and builders! It's to the community to reward and encourage builders for making awesome Web-3 tech and contributing to revolutionize our future.
Sadly, not many donate. It's evident that only 10000 BADGER are allocated for this with an expectation that not all of this will be taken (with 3 per donor distribution). If you wish to be one among them, here's the link to donate:

Thank you!
P.S.:
Official announcement link is here