The Diary Game: 06-08-2020 Rainy and baking day!
Good Morning...!!
There can't be a beautiful morning than this that when you wake up, the rain outside welcomes you!
Yes, today's' morning was so pleasant that filled my mind and body with full of positive energy.
As usual, I started the day with a glassful of water sitting in the open air. Drinking a glass or more water after getting up has a lot of health benefits.
After enjoying rain for 5 minutes I prepared my coffee! As recently I purchased online a pack of soy milk powder I prepared coffee with that. It is a very rare occasion when I start my day with coffee instead of masala tea.
This coffee was not normal but was zinger coffee! I love to add ginger in my coffee also, usually, ginger is added in tea but I add it in coffee too, it makes my coffee more delicious and energetic.
---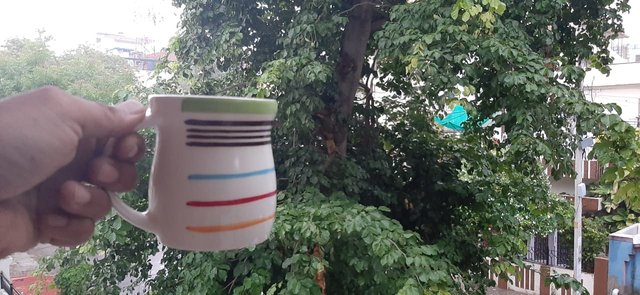 Coffee with ginger and soy milk powder in the rainy morning!
---
Today's breakfast was planned in yesterday evening as I had 2 leftover chapatis so decided to make scrambled chapati sauteed with spices, just like we make Poha.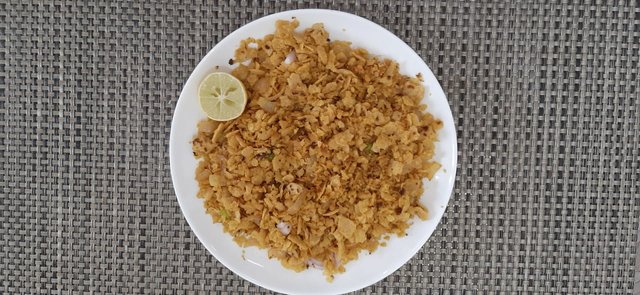 Leftover Scrumbled Chapati or can say Chapati Poha! !
---
Today was also the day to buy some grocery. Here I want to disclose that I have a hobby to bake cookies and cake. As I am vegan I love to bake vegan cookies and cake which is loved by my kids.
Vegan cookies are not easily available in the market so I have few customers who love my cookies and gives me order time to time.
Few days before I got one order which I have to deliver today so decided to bake cookies in the afternoon.
To buy some ingredients for cookies I went to nearby grocery shop.
---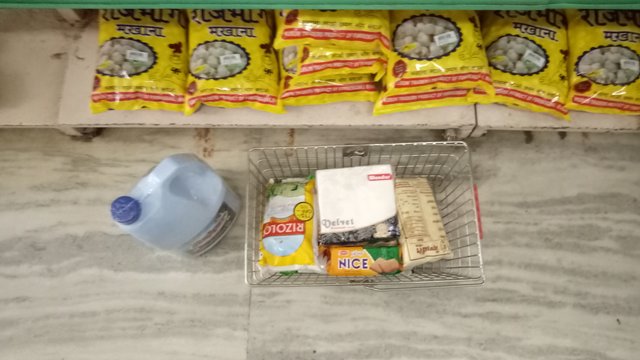 Grocery shopping!
---
Good Afternoon...!!
After finishing my lunch it was baking time. The most liked cookies by my customer are multigrain, gluten-free vegan cookies, and low sugar if asked by the customer.
If you want to know the recipe of my cookies can check here- Multigrain, Gluten-free, Vegan Cookies
It took about 2 hours to bake 1 kg cookies as I am not a professional but it is my hobby and bake in a small oven. I sell cookies @ 350 Rs /Kg i.e. about 4.5 USD/Kg.
---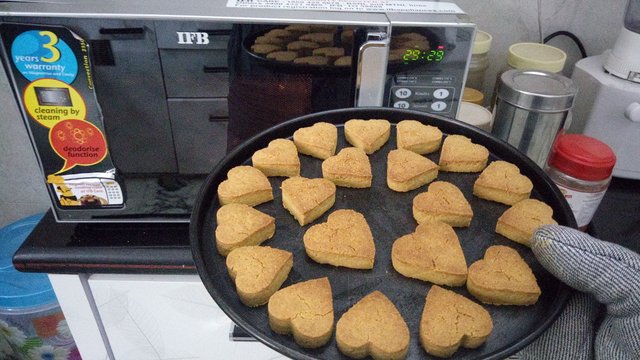 Freshly baked cookies!
---
Good Evening...!!
It is my routine that I go to the market in the evening for business purpose. Today I had to deliver cookies so I went for the market little early because the customer's house was in the opposite direction from the market.
On the halfway rain started and it was raining all the time during my market hours. I was wearing a raincoat but still got a little wet.
After reaching home had a cup of ginger coffee followed by dinner at about 8 PM.
---
It is about 11 PM IST I am finishing my post. I go to bed around midnight.
---

---