OPEN STEEM Blitz Chess960 Tournament March 28 ... The winner is @stayoutoftherz and New Chess King is @renerondon (video commentary by @schamangerbert)
The 125th edition was played with 8 players!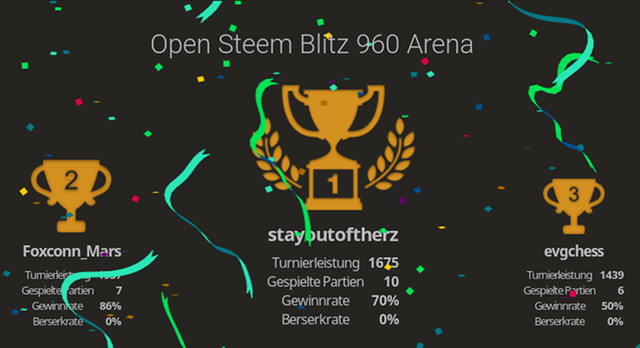 Here is the table with all results: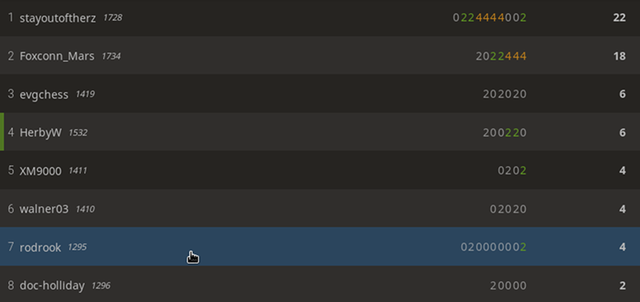 With his strong play he gives us no chance but we can learn a lot from him. @stayoutoftherz and @foxconnmars are also very strong players and deserve the next spots. STEEMChess will go on into the next season here on steemit, on hive some new tournament will be made by whoever wants to do it. I hope it will not be at the same time frame and I can participate! The payout from this week and last week I round up to 30 Steem and sent it to @renerondon. Stay safe and healthy, until next week, yours host @schamangerbert!
Details, register and rules:
https://steemit.com/hive-157286/@schamangerbert/open-steemchess960-blitz-tournament-saturday-28-march-20-gmt-2-days-to-go
Live Stream Video 74 minutes:
Season 9: 04 January to 28 March 2020 / Standings after Round 12


Points are given for 1. (10) 2. (8) 3. (6) 4. (5) 5. (4) 6. (3) 7. (2) 8. (1)
Please feel free to post your chess related links in the comments to grow the pool of players, thank you! You are welcome to create your own analysis or promotion post in other languages, please use the tag: steemchess!
Final result season 1 link Chess King: @stayoutoftherz
Final result season 2 link Chess King: @ape-5th
Final result season 3 link Chess King: @samostically
Final result season 4 link Chess King: @anadello
Final result season 5 link Chess King: @anadello
Final result season 6 link Chess King: @anadello
Final result season 7 link Chess King: @foxconnmars
Final result season 8 link Chess King: @renerondon
STEEM WORLD CHESS CHAMPIONSHIP 2020

See you next time! / Bis nächstes Mal!
Thank you for your attention! / Danke für Deine Aufmerksamkeit!
Original content by