Nutbox APY reaches 95%, and the price of PNUT has grown 30 times since Nutbox launched 4 months ago.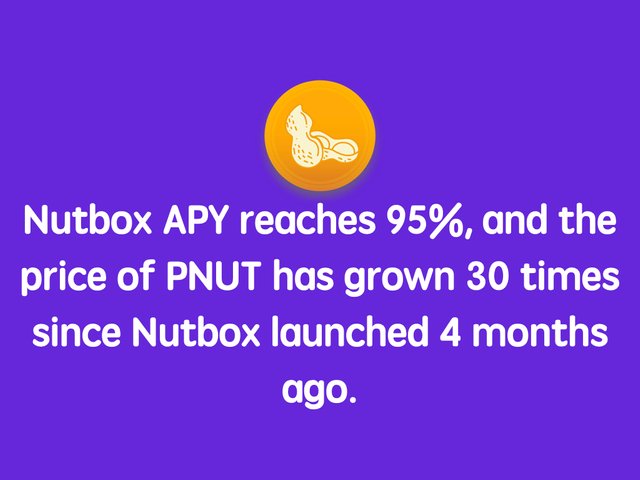 Oct. 20th, 2020, Nutbox was online. Time passes by. There are only four days left to reach 4 months after Nutbox launched.
During these four months, a series of functional products has been developed:
1, to mine PNUT token through SP delegation,
2, to create TSP (a kind of tradable STEEM Power token), which, as well as TSP-TRX-LP tokens, can join PNUT mining.
3, to bridge Tron and Steem, and make assets can join DeFi project through projection tokens (TSTEEM, TSBD).
4, to create a series of trade pairs at JustSwap Dex.
5, to establish Nutbox proposal system.
6, to make Nutbox blog online.
7, to make Ooops Dapp beta version online.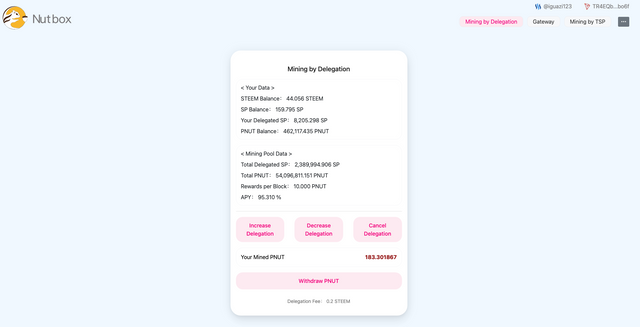 What makes us satisfied is, for a long time the APY of PNUT mining is always maintaining between 40%-100%, recently it is closing to 95%. Meanwhile, the price of PNUT also reaches a new high level. 1PNUT almost equals $0.0096 now. Comparing to the end of October last year, the price grows 30 times!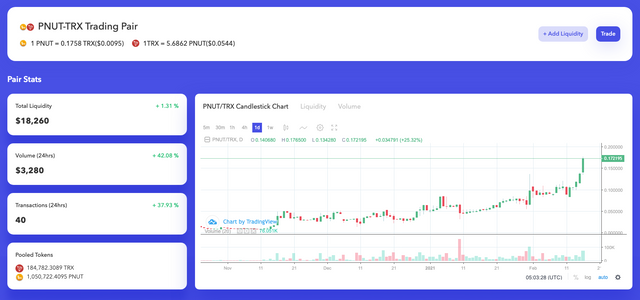 In the future, let us move forward, and broadcast our belief and consensus to other PoS based blockchains. According to our survey, the value of stakable assets at those blockchains reaches 378 billion dollars, which is 2000 times more than the staking assets at Steem. Let us start and embrace a brand new staking asstes era.
Relative Info:
About TSP《TSP: a tradable STEEM POWER (SP)》
Buy TSP:https://justswap.org/?lang=en-US#/home
Website:https://nutbox.io/
About nutbox:https://docs.nutbox.io
Exchange PNUT:https://justswap.org/#/scan/detail/trx/TPZddNpQJHu8UtKPY1PYDBv2J5p5QpJ6XW
Nutbox Guide
CN | https://blog.nutbox.io/hive-180932/@honoru/steem-keychaine-tron-sp-tron-nutbox-pnut
EN | https://blog.nutbox.io/nutbox/@wherein/the-nutbox-is-operating-and-the-steem-y-era-is-coming-or-nutbox-steem-y
Nutbox introduction
CN | https://blog.nutbox.io/cn/@nutboxs/nutbox--y-combinator-of-steem-blockchain-20201016t055718157z
EN | https://blog.nutbox.io/cn/@wherein/nutbox--y-combinator-of-steem--will-coming-soon-20201017t190449041z
KR | https://blog.nutbox.io/hive-196917/@ayogom/steem-nutbox-y-combinator
DOCS | https://docs.nutbox.io
Webside | https://nutbox.io/
STEEM-PNUT Exchange
STEEM - TSTEEM exchange:https://nutbox.io/bridge
TSTEEM - TRX exchange:https://justswap.org/?lang=en-US#/scan/detail/trx/TBUZYrDh7gzjd1PLnkMHWoAo55ctRzZzGN
TRX - PNUT exchange:https://justswap.org/#/scan/detail/trx/TPZddNpQJHu8UtKPY1PYDBv2J5p5QpJ6XW
Contact US
Wechat:cnsteem
Steem:https://blog.nutbox.io/@nutbox
Discord:https://discord.gg/zPkMuGY
Telegram:https://t.me/joinchat/PrBejBh_Grp6lFZEGArDpA
Vote For US
Please vote for our witness nutbox and smt-wherein:
-nutbox
https://steemconnect.wherein.mobi/sign/account-witness-vote?witness=nutbox&approve=1
-smt-wherein
https://steemconnect.wherein.mobi/sign/account-witness-vote?witness=smt-wherein&approve=1
https://steemitwallet.com/~witnesses
-CN
Nutbox于2020年10月20日上线,距离今天还有4天达到四个月。
这四个月来,我们上线了一系列产品:1)代理SP挖PNUT;2)STEEM与TSP相互兑换,及存TSP挖PNUT、存TSP-TRX LP挖PNUT;3)STEEM-TSTEEM、SBD-TSBD的相互兑换;4)一系列交易对上线JustSwap;5)Nutbox提案投票系统;6)Nutbox博客 - blog.nutbox.io;7)Ooops DApp测试版上线。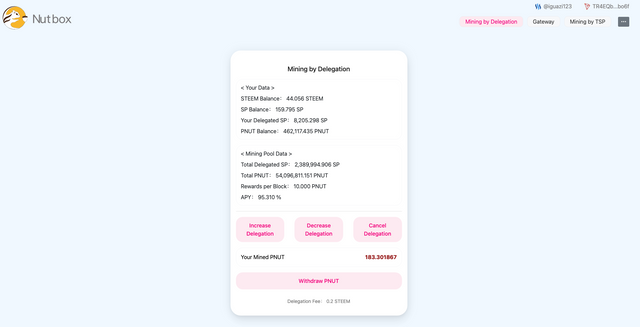 让我们欣慰的是,代理SP挖PNUT的年化收益率长期保持在40%-100%,近期更是逐步上升到95%。PNUT在JustSwap上的价格也创下新高,达到 1PNUT=$0.0096,相比于10月份PNUT的价格,已是之前的30倍。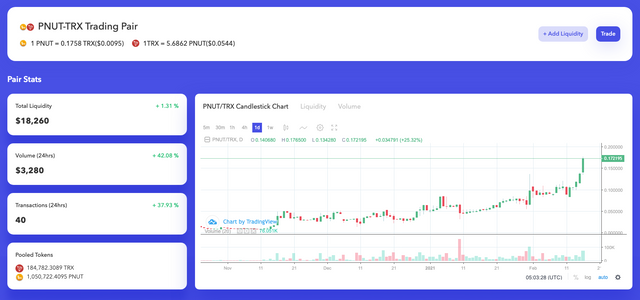 未来,我们砥砺前行,将Nutbox带到更多PoS共识的区块链。采用PoS共识(以及能够Staking)的区块链资产市值高达3780亿美元,是Steem市值(1.69亿美元)的2000+倍。我们将一起开启一个不一般的时代!