The Diary Game - Betterlife - Oktober 4, 2022- My Simple Activities with My Family
السلام عليكم guys!
How are you today?
I hope you are all in good health!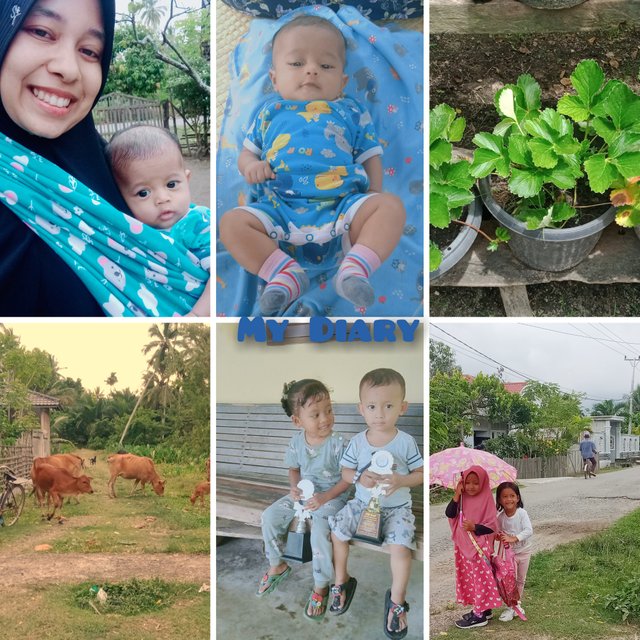 ---
Tuesday, October 4, 2022
---
Hello guys, glad to be able to greet you again in my diary post, I hope you are all in good health!
As usual, morning is the busiest time for a housewife.
From the first time you wake up, you are immediately busy with a myriad of household chores, from first bathing the children, dressing them, preparing them food and feeding them and also cooking breakfast for the family. especially if you have a baby, of course the busyness increases again.
---
The first thing I did this morning was to bathe my baby girl who happened to wake up early,
after I bathe! my baby, I use eucalyptus oil, baby oil, hand body powder and powder, after that I put on clothes.
as usual after bathing my baby I will breastfeed first until I am full then I will sleep in the swing.
After my baby slept, I rushed to the kitchen to make a simple breakfast, which is fried rice plus an omelet. my daughter's favorite food
don't forget to also a glass of hot black coffee and a glass of warm tea
after breakfast I'm ready to serve then I call my husband and also my daughter for breakfast together
---
after breakfast my husband took a shower and got ready to go to work, Since my baby is still sleeping, I decided to wash my clothes as well as take a shower.
in half an hour my laundry was ready, because only a few pairs of soiled clothes were dirty, I continued to dry the clothes.
When I went back into the room, apparently my baby was awake, I immediately nursed and then I took her out.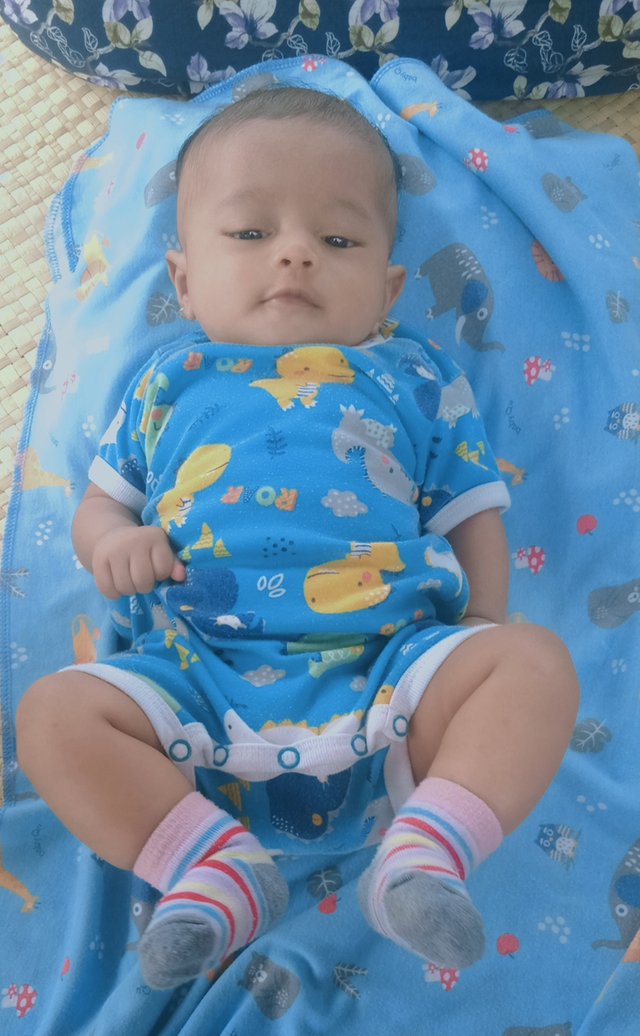 My baby just woke up
---
around 10.00 I went out to sit on the terrace while waiting for the fish seller around, I was accompanied by Tanisha's brother and also my younger brother Faqih
the two are inseparable, always play together, even though they often fight and also fight over toys. Alhamdulilla now both of them are getting along.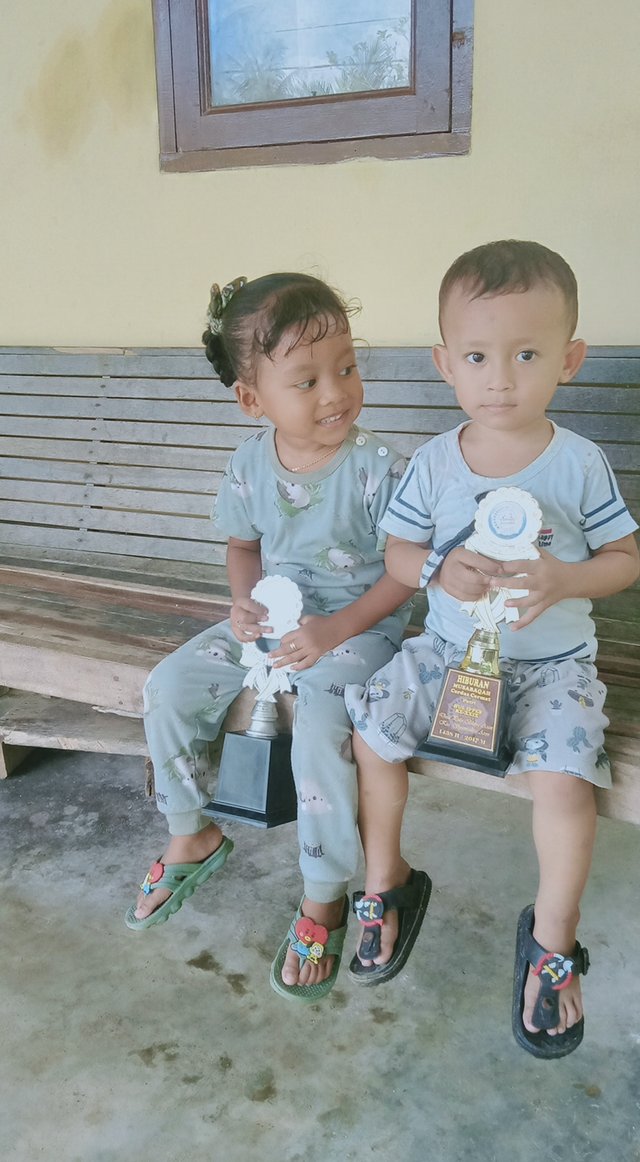 tanisha and Faqih who are getting along
---
not long after that the fish seller came and I immediately stopped to choose fish.
this time my choice fell to tilapia,it looks pretty good when it's in the pliek sauce.
After paying for the fish, I immediately took it home and gave it to my sister Via to clean it up, while I immediately mix the spices while holding my baby.
After the fish were cleaned I took over the cooking task and I left my baby child with my aunt to take care of.
After I finished cooking, I looked around at my strawberry plants, I was afraid that it would dry up because of the hot weather, it turned out that the strawberry plants were still quite fresh.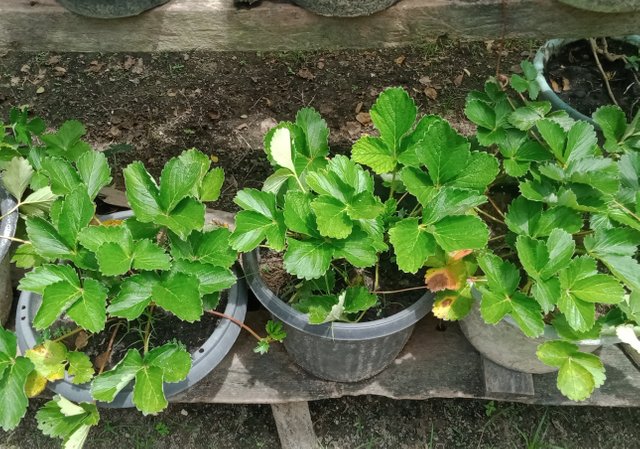 my strawberry
---
noon around 12.30 my stomach feels hungry again I also invite my daughter tanisha to have lunch together.
Not long after that, the call to prayer for the midday prayer resounded, I immediately took ablution and prayed.
After the prayer I took my daughter to take a nap, while my baby had gone to bed first. After that we rested together until 16;20.
---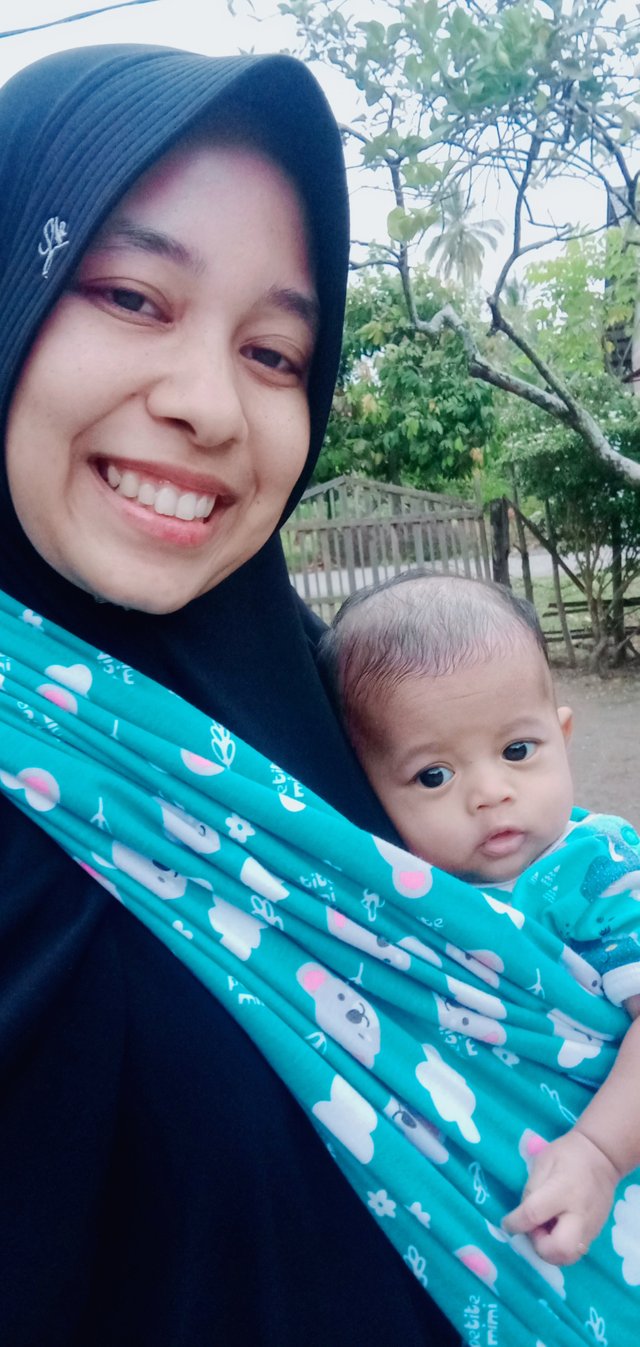 my beloved baby
After the Asr prayer, I also planned to take a walk while carrying the baby around the house. while tanisha and faqih were with my mama herding the cows on the front wall of the house.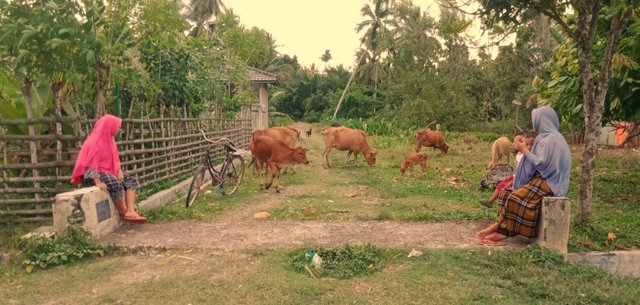 the front wall of the house
Previously there were only my Mama, my Wawak, Tanisha and also Faqih. Then I came to join, not long after, my sister via followed suit, the neighbors also stopped by. in the end it's crowded.
Not long after that, my niece, my granddaughter from Wawa, also followed me there, the atmosphere was getting busier.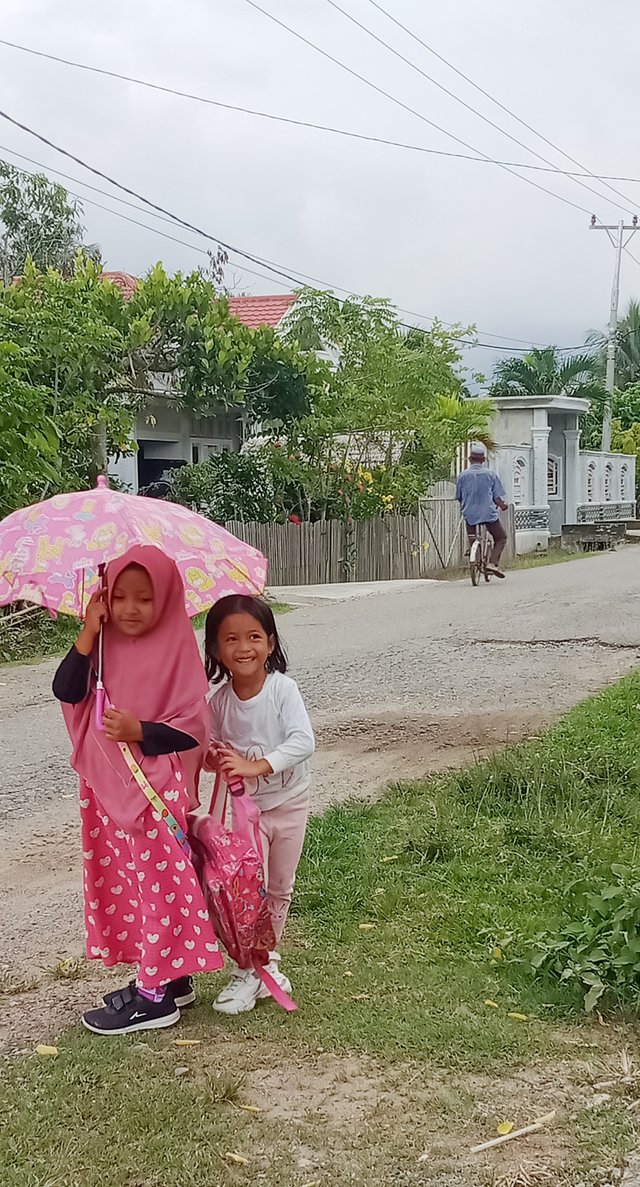 stylish nephew
when the day is getting worse, suddenly the weather turns cloudy, the wind also seems strong, I also invite the children to go home.
Before the Maghrib Azan, my husband came home, thankfully it had not rained, because not long after that it rained heavily.
it rained all night long pouring down on the earth
So guys, my activity today is with my family!
See you at another time!
greetings friend @molida
السلام عليكم ورحمة الله وبركات