Welcome my seeds all the way from Japan! / 日本から種が届いた!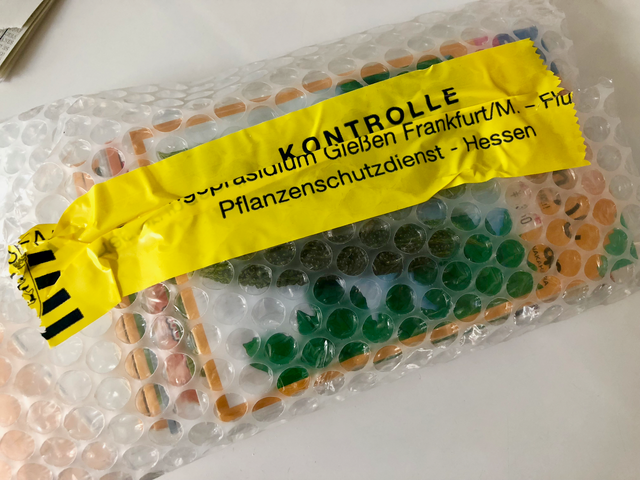 Plant quarantine to import seeds to EU gets stricter. Before, it was fine to write down what seeds are inside on a seed bag for those allowed to import from Japan to Germany. But since the beginning of 2020, all the seeds need a certificate from Japanese quarantine office!
https://www.maff.go.jp/pps/j/search/e_hayami_yubin.pdf (Japanese)
Luckily one of my friends is good at handling these import/export things, I could receive some seeds from Japan today. This time I was asked to hand in receipts of the seeds by the German custom office and took a while to finally get the packet.
German quarantine office asked me to pay 12 EUR for the seed check. Somehow OK somehow expensive ...
I decided to try harder to keep seeds by myself this year. But ja, my friend packed a book about Japanese traditional veggies ... I already have some seeds I want to import from Japan again ;) ;) That's gardening life!
---
日本の種を送ってもらいました。昨年種取りがうまくできなかった紫蘇や、今年栽培をはじめてみたいごぼうなど。これまでは輸入が認められているものは種袋に種の種類を書いて、リストをつければOKだったところ、今年に入ってEUに種を送る・持ち込む際の植物検疫が厳しくなり、すべての種について日本の防疫所の証明書が必須になりました。ひょえええ。
https://www.maff.go.jp/pps/j/search/e_hayami_yubin.pdf
でも輸出入に長けたお友達が無事処理をして発送してくれました・・・が、ドイツの税関でひっかかり、種の購入レシートを提出せよとのことで、提出してどきどき待つこと数日。種チェックをしたので12ユーロ用意しておいてねとメールがきました。一度は小包が届いたものの現金の持ち合わせがなくて持ち帰られてしまい(このキャッシュレスの時代にーーー!!!)、ようやく今日小包が手元に届きました。
今年は種取りを頑張ろうと思いつつ、種と一緒に友人が入れてくれた伝統種の野菜の本を読み始めたらまたほしい日本の種が増え・・・園芸欲がつきません ;)