Finally A Bitcoin Recovery Pump! STEEM PUMP To Follow Soon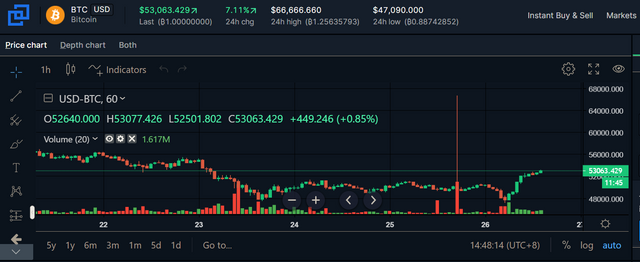 Src - BITTREX GLOBAL
»»————-————-——-—- ༻✦༺ -———-————-————-««
Bitcoin again had touched $53,000 per BTC in a matter of hours after it had dipped to $47,000+ in Bittrex. Now it is more than $53K at the time of this writing so personally I am thinking that it just hit the bottom and we are now on our journey to greater heights of BTC and other altcoin prices.
Well unfortunately after it initially dipped a few days ago I had bought with my liquid FIAT from my exchange where I have an account from and bought sooner, and so after that BTC and other Altcoins dipped again with their prices again and again following BTC.
Anyway STEEM price is still strong and had pumped on its own and recovered and is still recovering after dipping hard from four days ago at 1769 Satoshis down to around 1268 Satoshis and that was a whopping 35% slashed from STEEM's value.
I am bullish for steem alone because I am bullish for BTC so we are looking at more than two dollars for STEEM if BTC tries to climb higher with a projected price of $100,000 per BTC and it is just a matter of when it will happen. As for the price of steem it will be much higher compared today and I personally think that it will never see sub 20 cents again.
Thanks for reading. :D
Deutsch (German) Translation:
Bitcoin hatte innerhalb weniger Stunden erneut 53.000 USD pro BTC erreicht, nachdem es in Bittrex auf über 47.000 USD gesunken war. Jetzt sind es zum Zeitpunkt dieses Schreibens mehr als 53.000 US-Dollar, also denke ich persönlich, dass es gerade den Tiefpunkt erreicht hat und wir uns jetzt auf dem Weg zu größeren Höhen von BTC und anderen Altcoin-Preisen befinden.
Nun, leider hatte ich, nachdem es vor ein paar Tagen anfänglich gesunken war, mit meinem flüssigen FIAT von meiner Börse gekauft, bei der ich ein Konto habe und früher gekauft hatte, und danach fielen BTC und andere Altcoins immer wieder mit ihren Preisen nach BTC.
Wie auch immer, der STEEM-Preis ist immer noch stark und hat sich von selbst gepumpt und erholt und erholt sich immer noch, nachdem er von vor vier Tagen bei 1769 Satoshis stark auf etwa 1268 Satoshis gesunken ist, und das waren satte 35%, die vom STEEM-Wert abgezogen wurden.
Ich bin allein für Steem optimistisch, weil ich für BTC optimistisch bin. Wir sehen uns also mehr als zwei Dollar für STEEM an, wenn BTC versucht, mit einem prognostizierten Preis von 100.000 USD pro BTC höher zu steigen, und es ist nur eine Frage des Zeitpunkts, zu dem dies geschehen wird. Der Preis für Stahl wird im Vergleich zu heute viel höher sein, und ich persönlich denke, dass er nie wieder unter 20 Cent liegen wird.
Danke fürs Lesen.
»»————-————-——-—- ༻✦༺ -———-————-————-««
─=≡Σ((( つ•̀ω•́)つLET'SGO!
▂▅▇█▓▒░ ⎛⎝(•̀ ‿•)⎠⎞░▒▓█▇▅▂