The Food Diary • 26.11.2021 | 50% reward for @sf-charity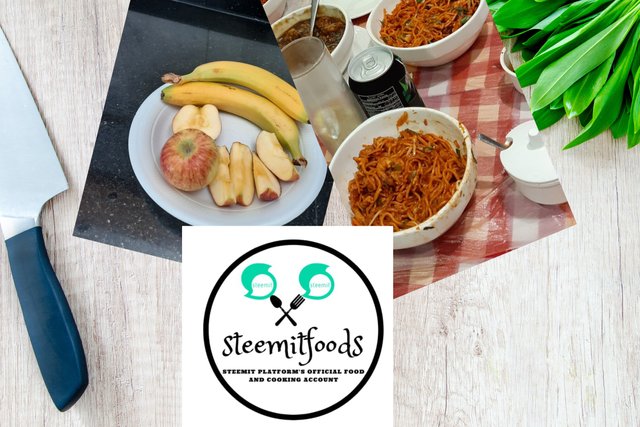 Hi all wonderful steemians this is Sumit !
Hope you are fine and doing good !
My Morning Routine
I wake up early in the morning at 05:30 am and drink almost 2 glass of water . After having freshed , i do some yogas for mental and physical health for 15 - 20 minutes . And at 6 o'clock i start for my duty which is 3 km far from our room.
I walk on foot for physical fitness and it takes me 20 minutes to reach out duty location. And this is my daily routine in the morning time.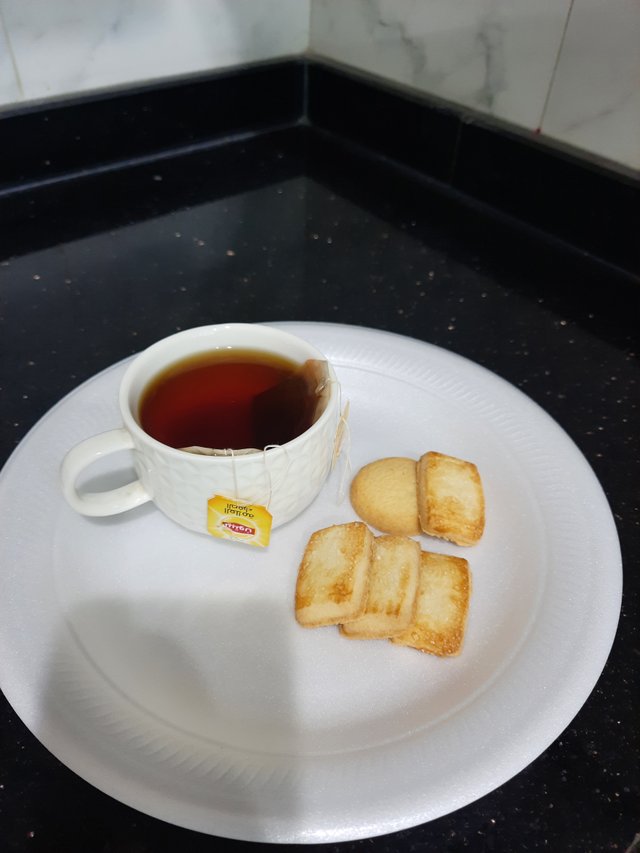 In the morning normally i drink black tea and sometimes green tea. Today i drank black tea with some biscuits which makes me feel energenic for whole day of work.
---
Breakfast
I am trying to loose my weight so i am focusing more on my diet and i prefer fruits and raw salads in the morning.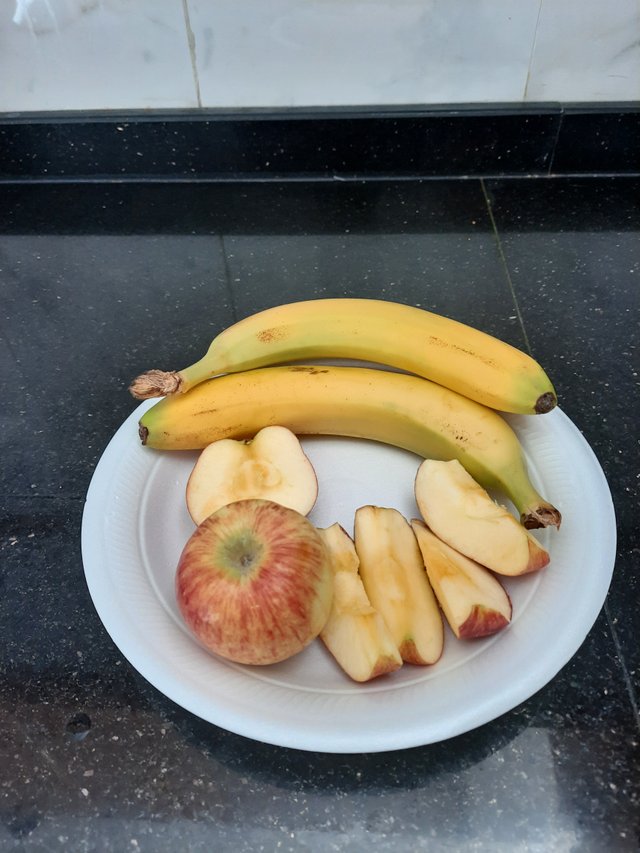 Today i had banana and apple fruits in my breakfast . Apple and Banana are good and easy source of vitamins and minerals . I am a fruit lover and really love eating fruits and salads in the morning . Fruits are free from fat and cholestrol so it really helps in maintaining weight and fitness.
---
Lunch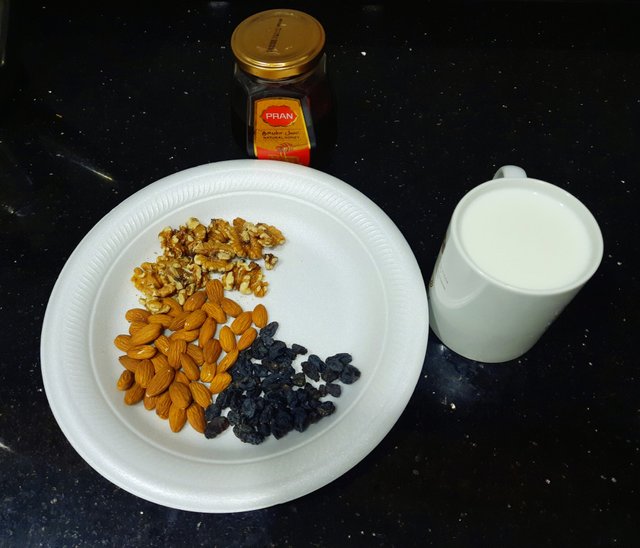 Today i didnot have any mood to have lunch so i bought milk and some nuts from grocery store for my lunch. Walnuts are said to be very good source of antioxidants and good for hearts and brain. Almods and raisins also added .
Normal milk i find tastless so i add honey on it when it is drinkable for sweetened taste .
---
Dinner
For Dinner, in the night we went to restaurant along with my friend to try something different food. I am fond of chinese dishes and really love dishes like Manchurians and different kind of Schezwan dishes.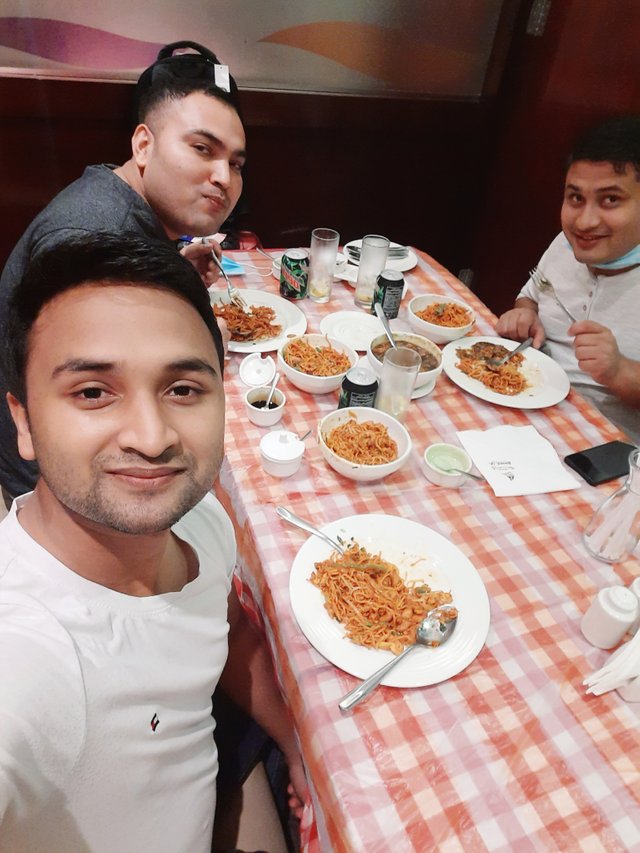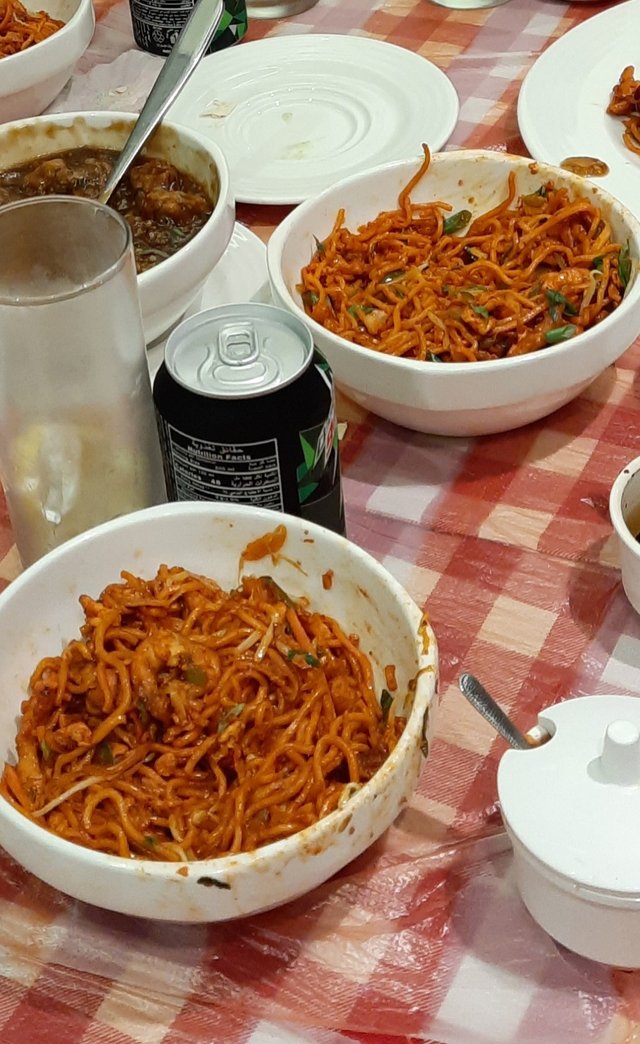 We ordered Schezwan Chicken Noodle (spicy)and Chicken Manchurian. These are my favorite chinese dish which i really love so much .
Schezwan sauce gives sweet and salty taste with enhanced hot souce flavour . All schezwan dishes are delicious and i recommed you all to try it atleast once in your life .
If you want to prepare Schezwan sauce at your home , here i am sharing the recipe which we sometimes prepare in our home as well. And this schezwan sauce can be mixed with anything you like ( chicken, noodle, fried rice etc.)
Schezwan Sauce Recipe
• You will need red dry chilli - soak them into water for about 1 hour and then make fine paste putting in grinder..
• Chop onion, giner and garlic
• Put pan on heat and pour oil
• Now add garlic, giner and onion one by one. Main ingredient is Schezwan pepper but if you dont have then you can skip it . Now add grinded chilli paste. Keep saute them and use some water on it as per requirement (1 cup )
• Add salt, sugar and pepper and saute them well.
• Keep flame low and after few minutes it will become thicker and you have to add soy sauce and vinegar . Mix them well by sauting. Keep flame low and after 2 minutes it will be ready .
• Now your Schezwan sauce is ready to be mixed with anything you would like and eat as per your taste and interest.
---
50% post reward goes to @sf-charity
---
Thank you so much all readers of my post !