Potato casserole with mushrooms and creamy sauce
The main ingredients of this casserole are mushrooms, potatoes and cream. Potato slices are baked with fried mushrooms, in a creamy sauce, with onions and garlic.
Although the recipe for potato and champignon casserole is quite simple, the dish turns out to be tasty and effective, your family and guests will be satisfied.
The sauce based on milk and broth makes the dish tender and creamy. Serve it alone or as a side dish.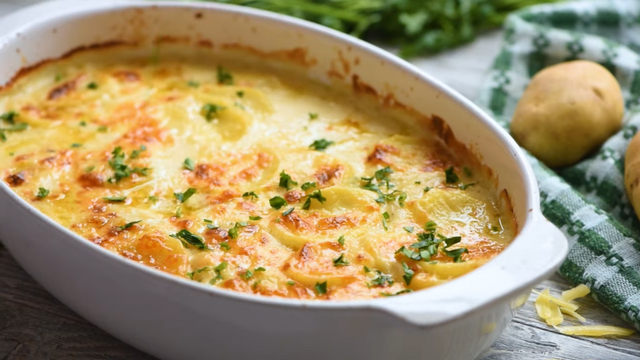 Cooking time 30 minutes.
Ingredients
Butter 115 g + for lubrication
Champignon 450 g
Garlic 2 cloves
Flour 40 g
Vegetable or chicken broth 240 ml
Milk 480 ml
Salt taste
Ground black pepper taste
Potato 1 300 g
Onion 1 piece
Hard cheese 220 g


Preparation
Preheat oven to 190 ° C. Oil a baking dish. A 33 x 22 cm or larger mold is ideal.
2 ․ Cut the champignons into slices. Chop the garlic.
3 ․ Melt half the butter in a skillet over medium-high heat. Saute the garlic lightly.
Add mushrooms and cook, stirring occasionally, for 5-10 minutes. The mushrooms should brown and the liquid should evaporate.

Put the remaining butter in there and wait for it to melt. Add flour and mix thoroughly so that there are no lumps.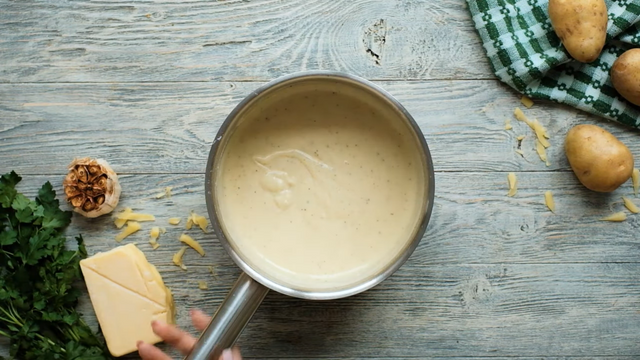 6 ․While stirring, pour in half of the broth. Then add the remaining stock and milk. Season with salt and pepper.
7 ․ Make it medium heat. Simmer for 15-20 minutes, stirring occasionally, until the sauce thickens slightly. Remove it from the stove.
Peel and cut the potatoes into very thin slices. Place half into prepared mold. Sprinkle with salt and pepper.

Drizzle with half of the mushroom sauce. Top with half the coarsely chopped onion and half the grated cheese.

Repeat all layers one more time. Cover the tin with foil.

Bake for 1 hour. Then remove the foil and cook for another 25-30 minutes.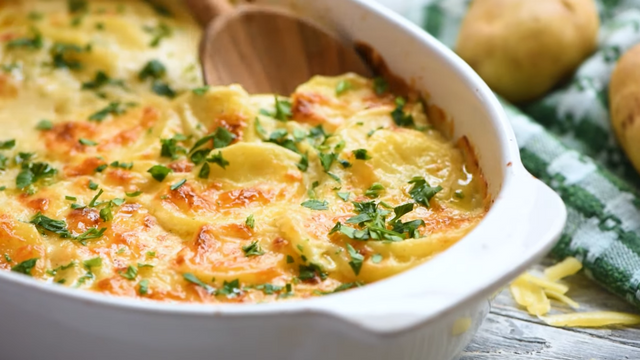 Bon Appetit!