Torta borracha para el cumpleaños de mi esposa || Drunk cake for my wife's birthday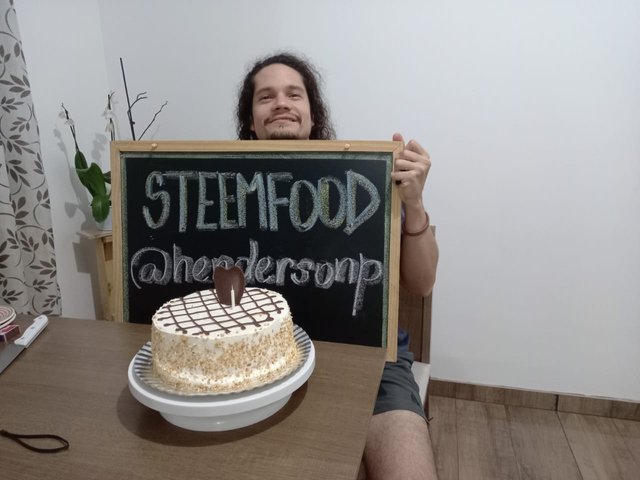 Hola amigos espero que estén muy bien hoy vengo a compartirles una receta especial, ya que es la torta preferida de mi esposa, en la ciudad donde vivíamos en Venezuela había una pastelería muy famosa que las hacía mi esposa casi siempre para su cumple años pedía que la torta fuera de esa pastelería, la torta se llama torta borracha , es una torta fría que va rellena de crema pastelera y se humedece un melado que lleva licor al gusto , adicional va cubierta de una crema de mantequilla y decorada con mani y chocolate o chispitas de colores , es una torta que lleva trabajo, pero para hacer a la esposa feliz vale la pena. Como son varias etapas separaré los ingredientes ya preparación por cada etapa.
---
Hello friends, I hope you are very well, today I come to share a special recipe, since it is my wife's favorite cake, in the city where we lived in Venezuela there was a very famous pastry shop that my wife made almost always for her birthday. The cake outside of that bakery, the cake is called Torta Borracha, it is a cold cake that is filled with pastry cream and moistened with a syrup that has liquor to taste, additionally it is covered with a butter cream and decorated with peanuts and chocolate or colored sprinkles, it is a cake that takes work but to make the wife happy it is worth it. As there are several stages, I will separate the ingredients and preparation for each stage
Ingredientes para el bizcocho
180 gr de harina de trigo con poca proteína
6 huevos
180 gr de azúcar
Ingredients for the cake
180 gr of wheat flour with little protein
6 eggs
180 gr of sugar
Preparación
En esta primera etapa prepararemos el biscocho, el biscocho a diferencia de las tortas como pueden ver es que no lleva mantequilla, la preparación es bastante simple, agregamos los huevos y el azúcar en el recipiente de la batidora, prendemos la batidora a velocidad media alta hasta que veamos que se forma una crema suave, en la pastelería se le conoce como punto de letra ,podrán observar que aumenta de 3 a 4 veces el volumen de la mezcla, al estar lista esa mezcla cernimos la mitad de la harina sobre la mezcla y con movimientos envolventes unimos la mezcla y la harina al no ver más harina cernimos la mitad faltante y repetimos los movimientos envolventes, paso importante que se me olvidó mencionar, antes de comenzar a preparar la mezcla colocamos a precalentar el horno a 180 y preparamos nuestro molde de torca con mantequilla y harina, luego de que terminamos de incorporar la harina a muestra mezcla vertimos todo el contenido en el molde e inmediatamente lo colocamos en el horno el tiempo de cocción depende del grosor, pero para biscocho alto que sirve para hacer 2 pisos con el mismo biscocho el tiempo ronda los 45 minutos, al estar listo abrimos el horno y dejamos que se enfríe con la tapa del horno abierta alrededor de media hora.
---
Preparation
In this first stage we will prepare the biscuit, the biscuit unlike cakes as you can see is that it does not have butter, the preparation is quite simple, we add the eggs and sugar in the bowl of the mixer, we turn on the mixer at medium high speed until we see that a soft cream is formed, in the pastry it is known as letter point, you can see that it increases from 3 to 4 times the volume of the mixture, when that mixture is ready we sift half of the flour over the mixture and with enveloping movements we unite the mixture and the flour when we do not see more flour, we sift the missing half and repeat the enveloping movements, an important step that I forgot to mention, before starting to prepare the mixture we put the oven to preheat to 180 and prepare our torca mold with butter and flour, after we finish incorporating the flour into the mixture sample, we pour all the content into the mold and immediately place it in the oven and The cooking time depends on the thickness, but for tall biscuit that is used to make 2 floors with the same biscuit, the time is around 45 minutes, when ready we open the oven and let it cool with the oven lid open for about half an hour .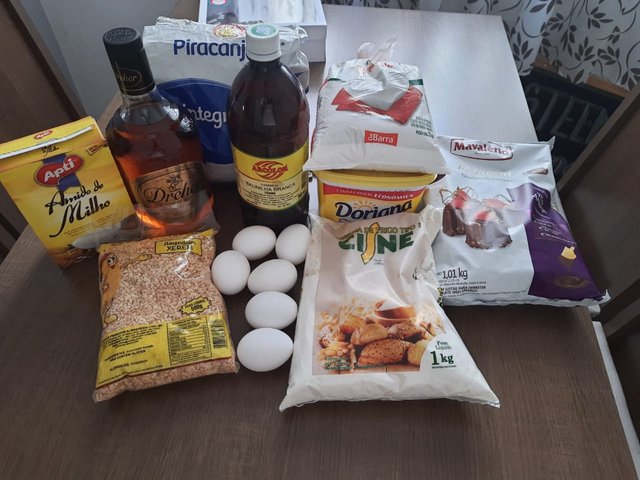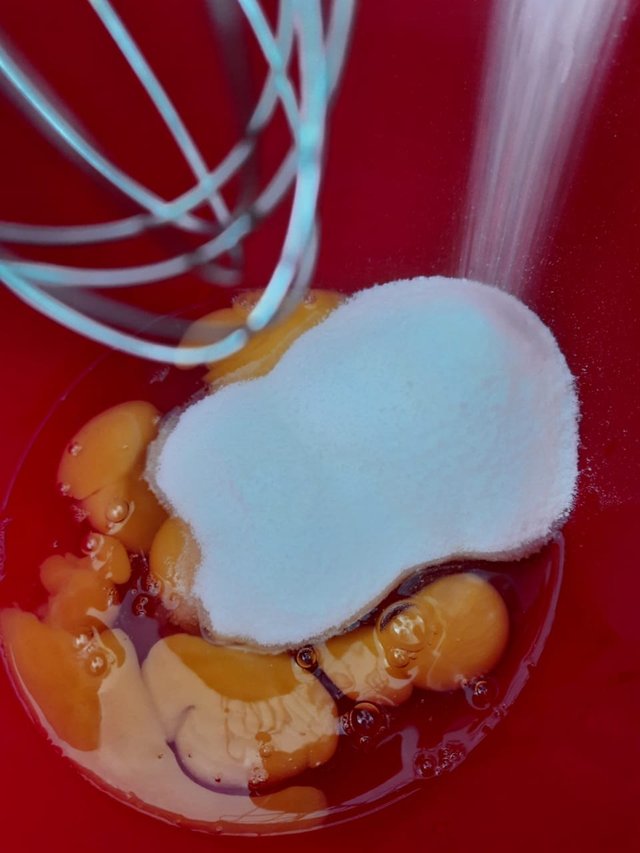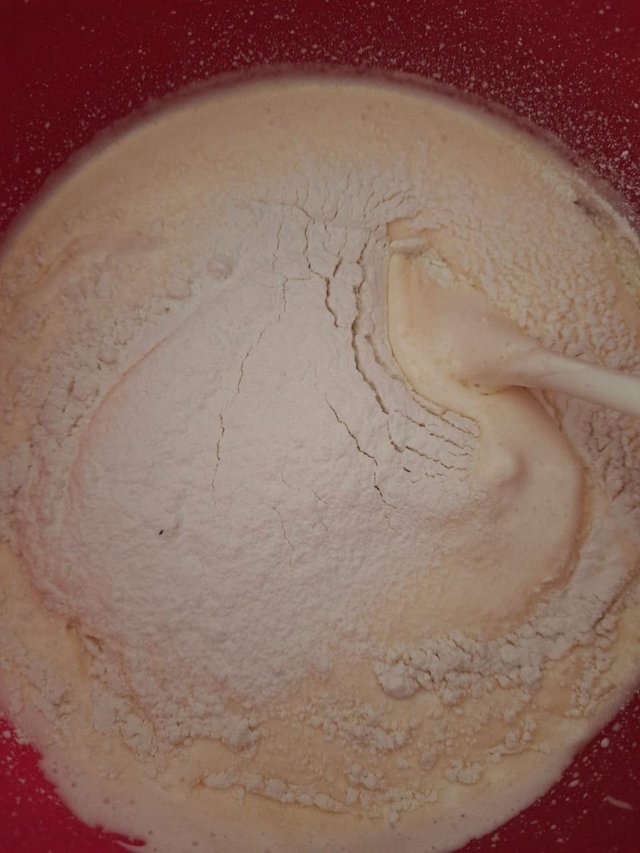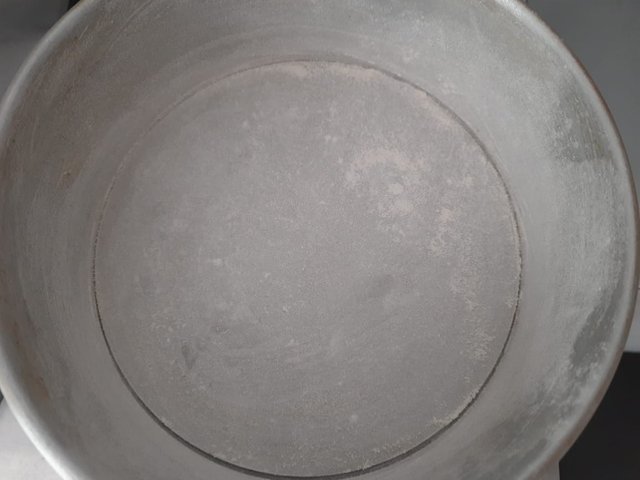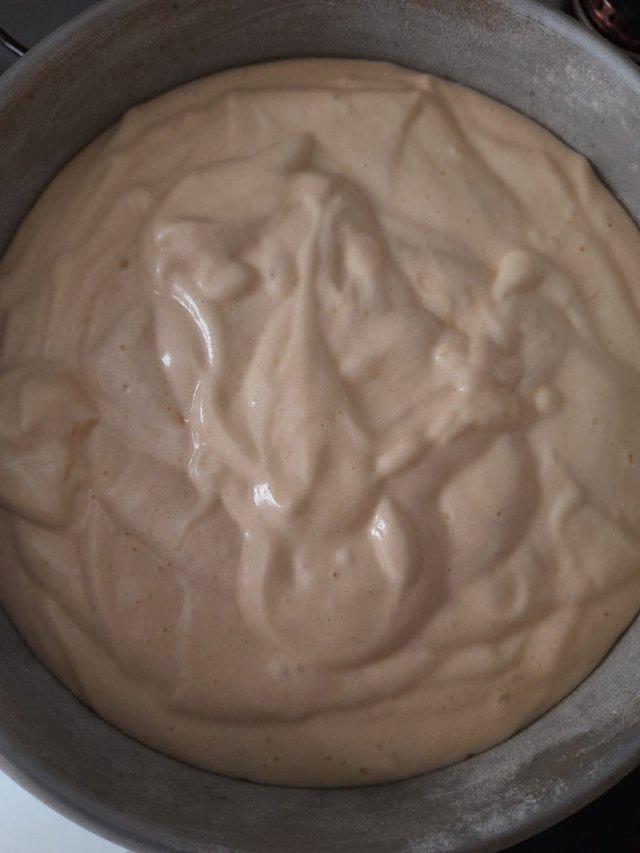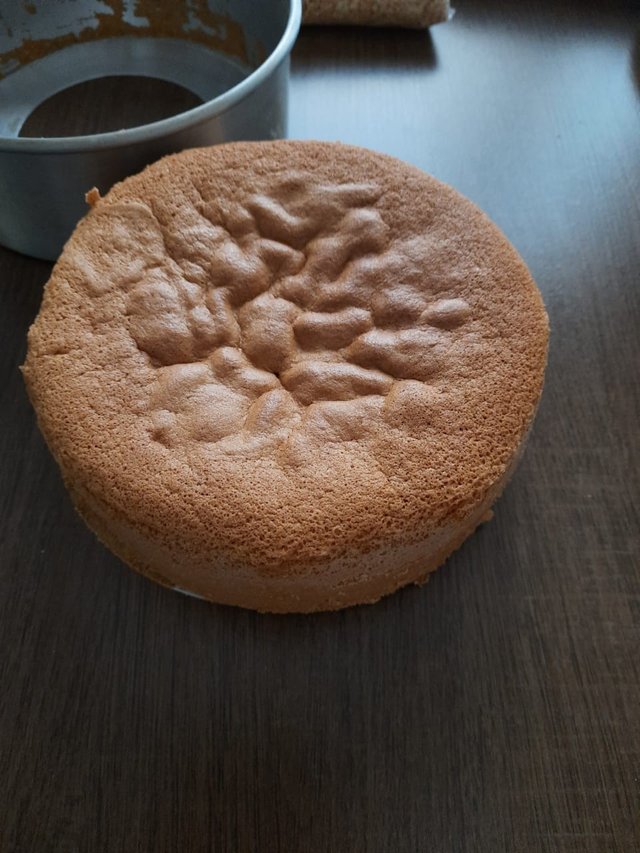 Ingredientes para crema pastelera
40 gr de maicena
4 yemas de huevo
100 gr de azúcar
500 ml de leche
Ingredients for pastry cream
40 gr of cornstarch
4 egg yolks
100 gr of sugar
500 ml of milk
Preparación
En esta parte colocaremos las 4 yemas en un recipiente junto con el azúcar y con la batidora mezclaremos hasta que se forme una crema, con batidora unos 3 minutos es suficiente si es a mano si les tomara unos 10 minutos, luego de eso cernimos la maicena y se la agregamos, de igual forma con la batidora o a mano mezclamos un par de minutos al estar listo, le agregamos media taza de leche templada y continuamos mezclando hasta que el líquido esté homogéneo, en este momento prendemos la olla que tiene el resto de la leche a fuego medio alto y le agregamos la mezcla, al agregar la mezcla debemos batir constantemente no se puede dejar de batir, ya que si se deja de batir en el fondo se espesa y se quema, si es la primera vez que haces crema pastelera puede desesperarte porque creerás que no va a espesar nunca, pero cuando menos lo esperes se formara la crema apenas veas que se forma la rema te recomiendo apagar el fuego y seguir mezclando un minuto más, luego la pasan a otro recipiente y la dejan enfriar.
---
Preparation
In this part we will place the 4 yolks in a container together with the sugar and with the mixer we will mix until a cream is formed, with a blender about 3 minutes is enough if it is by hand if it takes about 10 minutes, after that we sift the cornstarch and we add it, in the same way with the mixer or by hand we mix a couple of minutes when it is ready, we add half a cup of warm milk and continue mixing until the liquid is homogeneous, at this time we turn on the pot that has the rest of the milk over medium high heat and we add the mixture, when adding the mixture we must constantly beat it, you cannot stop beating, since if you stop beating at the bottom it thickens and burns, if it is the first time you make cream The pastry maker can make you desperate because you will think that it will never thicken, but when you least expect it, the cream will form as soon as you see the row forming. I recommend you turn off the heat and continue mixing for another minute, then pass it to another container and the let cool.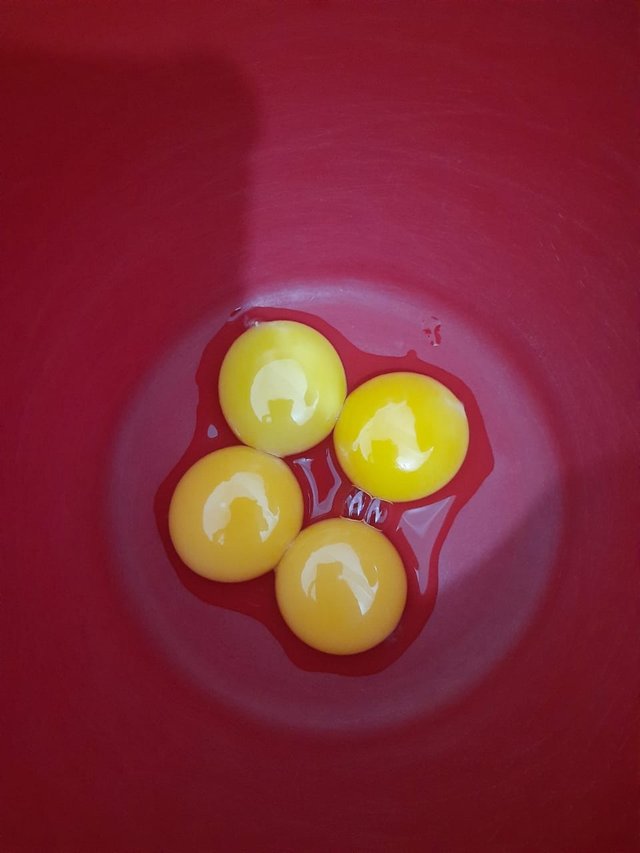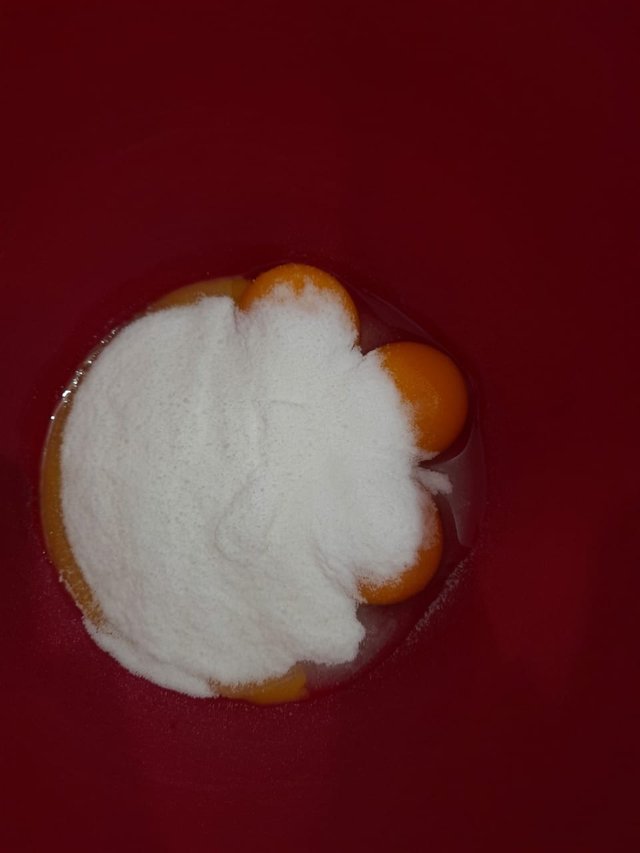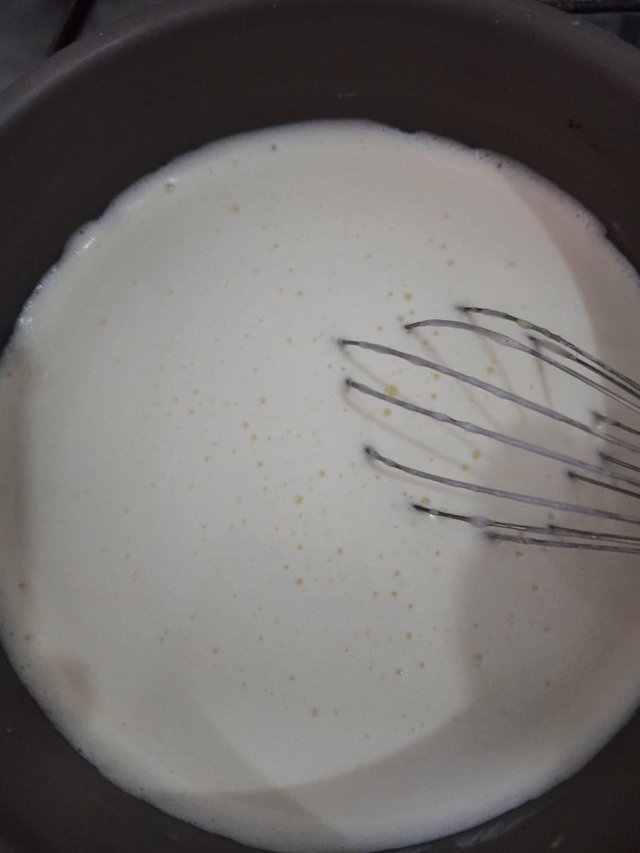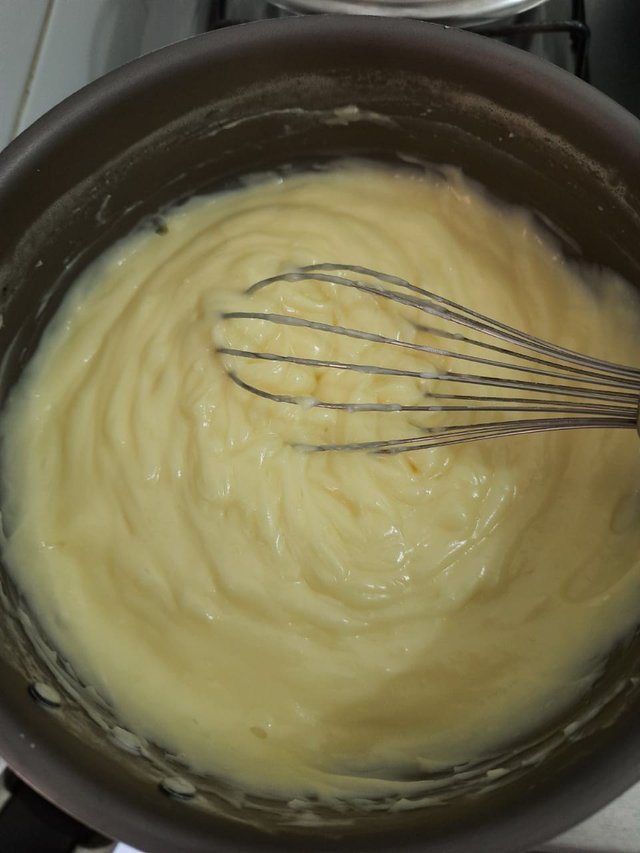 Ingredientes para el melado de licor
1 Taza de agua
½ Taza de azúcar
¼ a ½ Taza de licor
1 cucharadita de esencia de vainilla
Ingredients for the liqueur syrup
1 Cup of water
½ Cup of sugar
¼ to ½ Cup of liquor
1 teaspoon of vanilla essence
Preparación
Este es uno de los pasos más fácil, van a agregar 1 tasa de agua a una olla, luego media taza de azúcar y la colocan a fuego alto, cuando vean que comienza a hervir apagan la olla y le agregan el licor de su preferencia, con ron queda bastante rico, la cantidad depende de lo fuerte que quieren que quede el melado, para un sabor suave un cuarto de tasa para un sabor medio media tasa de licor, a partir de ahí ya deja de ser una torta para todo público jejeje
---
Preparation
This is one of the easiest steps, they are going to add 1 cup of water to a pot, then half a cup of sugar and place it over high heat, when they see that it begins to boil they turn off the pot and add the liquor of their choice, with rum it is quite rich, the amount depends on how strong they want the honey to be, for a mild flavor a quarter of a cup for a medium flavor half a cup of liquor, from then on it stops being a cake for all audiences lol .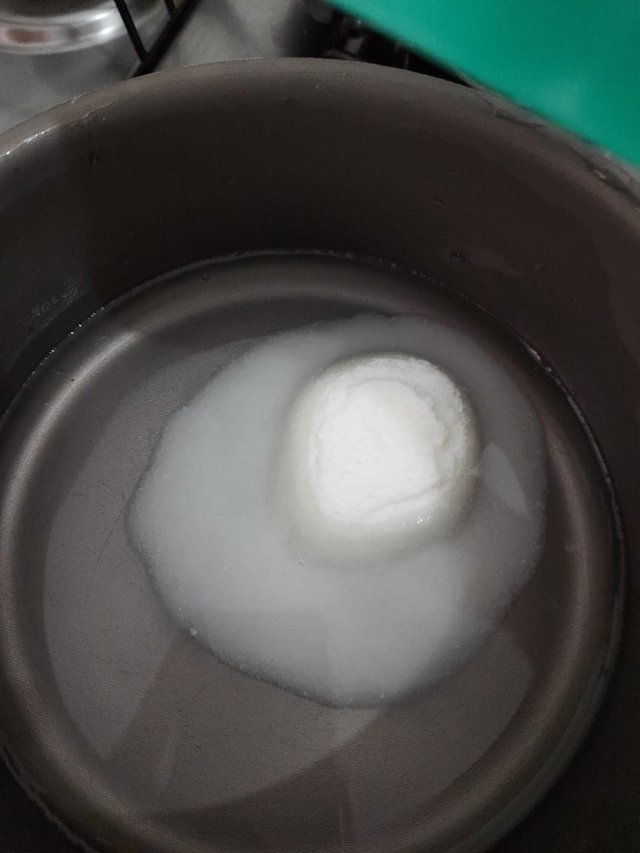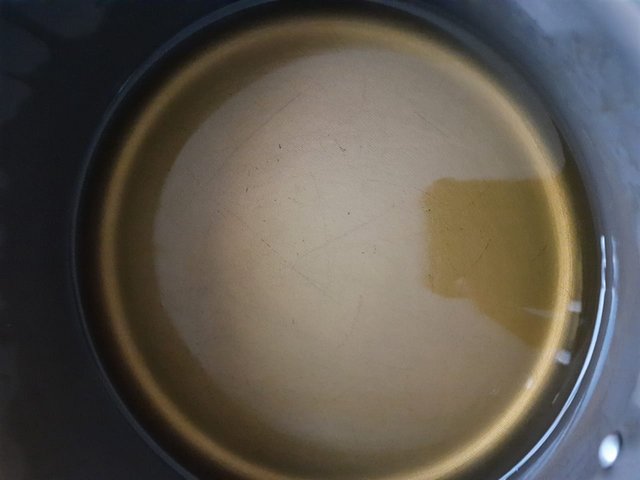 Ingredientes para la decoración
300 gr de mantequilla
300 gr de azúcar pulverizada
1 cucharadita de vainilla
Maní picado sin sal
Cocholate para cubiertas
Ingredients for decoration
300 gr of butter
300 gr of powdered sugar
1 teaspoon of vanilla
Chopped peanuts without salt
Cocholate for roofs
Preparación
Cremaremos la mantequilla con la batidora por 5 minutos, notaran que ya esta lista porque la cambiara de colar estará mucho más clara que su tono original, luego de eso deben agregarle el azúcar y la vainilla y dejar mezclar alrededor de 5 minutos más, si el clima es fresco pueden utilizarla inmediatamente para decorar si están en un clima caluroso es mejor meterla en la nevera 1 hora antes de utilizarla para decorar.
---
Preparation
We will cream the butter with the mixer for 5 minutes, you will notice that it is already ready because it will change the strain it will be much lighter than its original tone, after that you must add the sugar and vanilla and let it mix for about 5 more minutes, if the weather is cool you can use it immediately to decorate if you are in hot weather it is better to put it in the fridge 1 hour before using it to decorate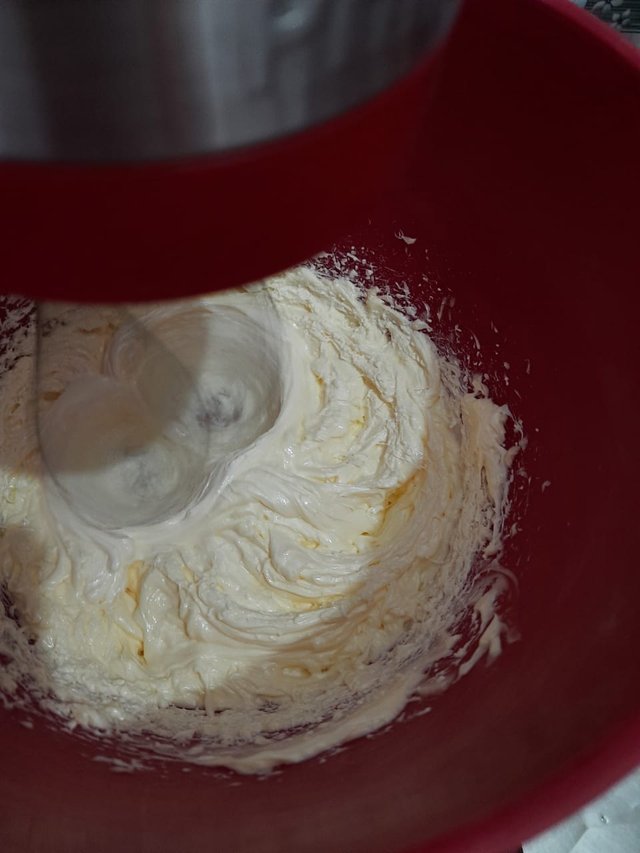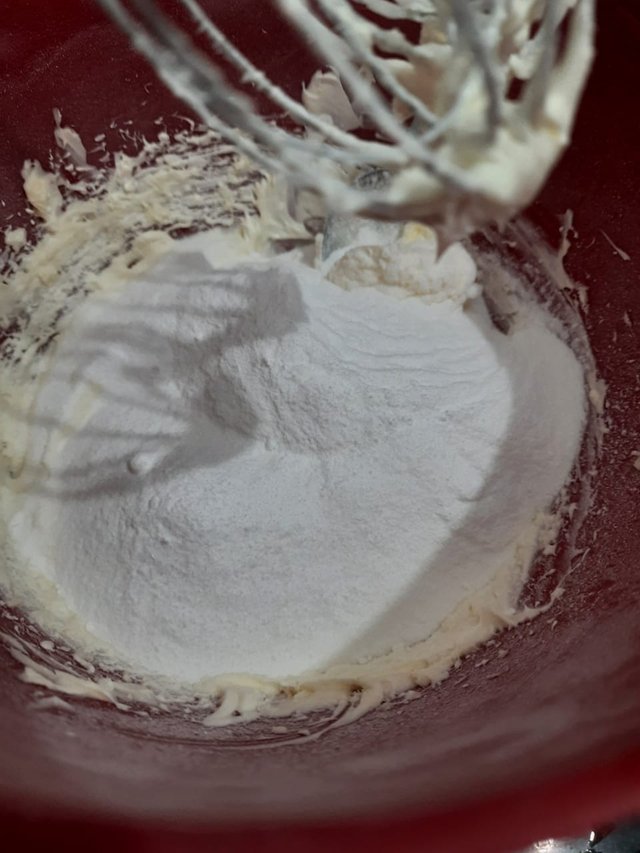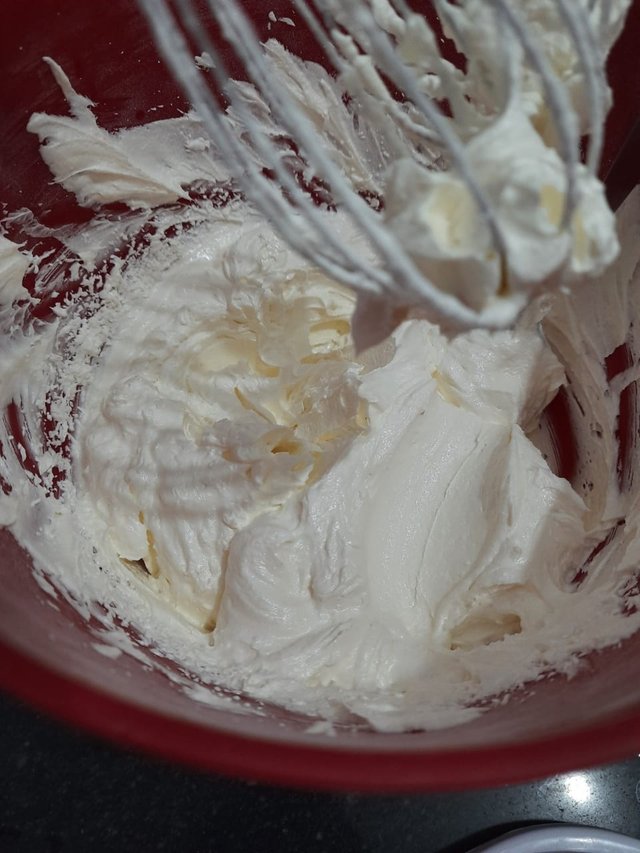 Preparación final en este punto ya tenemos todo listo, el biscocho ya esta frío al igual que el resto de las preparaciones, procedemos a picar nuestro biscocho por la mitad , esto lo pueden hacer con un cuchillo grande o también es fácil con hilo para cocer, al tener las dos mitades las separamos le vamos agregando poco a poco el melado con el licor de modo que humedezcamos ambas mitades de biscocho, al terminar esto le agregamos la crema pastelera a una de las mitades y luego colocamos la otra encima.
En este punto ya tendrán bizcocho borracho de 2 pisos relleno de crema pastelera, y falta es la decoración, agregamos la crema de mantequilla en un manga de repostería y comenzamos a aplicarla lo más uniformemente posible al bizcocho hasta que quede totalmente cubierta, luego de esto aplanamos la crema si se quiere que quede una textura lisa, para esto es muy útil la base giratoria, si no la tienen pueden hacer una textura irregular o de puntas con una de las boquillas de la manga de repostería, a partir de este punto la decoración ya es como más les guste, podrían cubrir toda la tora con maní o con chispitas de colores . En esta oportunidad le agregué maní alrededor y le hice una decoración en la parte superior con cobertura de chocolate.
---
Final preparation at this point we have everything ready, the cake is already cold like the rest of the preparations, we proceed to chop our cake in half, this can be done with a large knife or it is also easy with string to cook, When we have the two halves, we separate them, we gradually add the syrup with the liquor so that we moisten both halves of the biscuit, at the end of this we add the pastry cream to one of the halves and then place the other on top.
At this point they will already have 2-story bacon filled with pastry cream, and the decoration is missing, we add the buttercream in a pastry sleeve and begin to apply it as evenly as possible to the cake until it is completely covered, after this We flatten the cream if you want it to have a smooth texture, for this the rotating base is very useful, if you do not have it you can make an irregular or pointed texture with one of the nozzles of the pastry sleeve, from this point the decoration is as you like best, you could cover the entire tora with peanuts or colored sprinkles. This time I added peanuts around it and made a decoration on top with chocolate coating.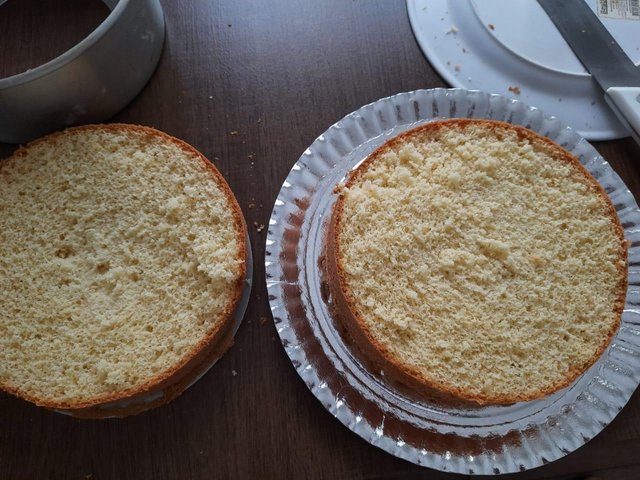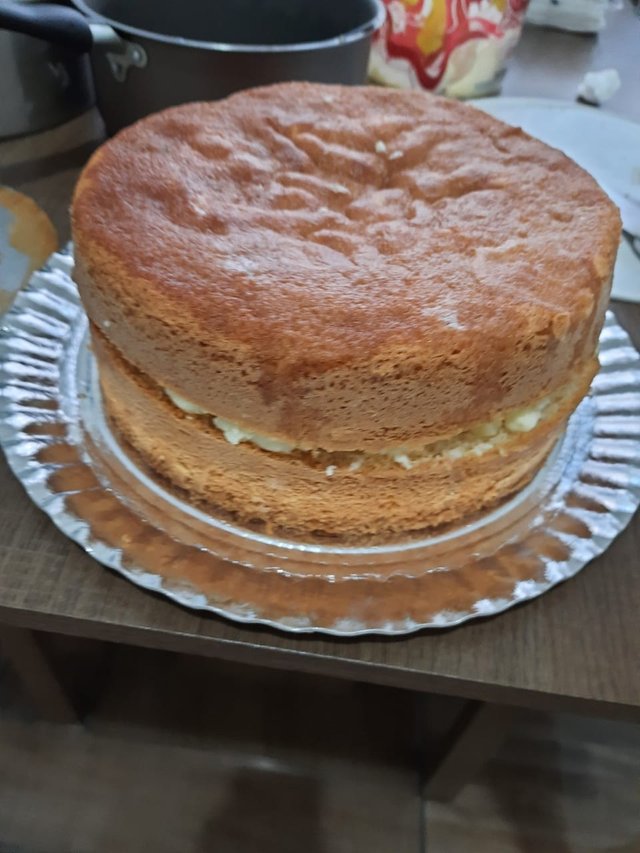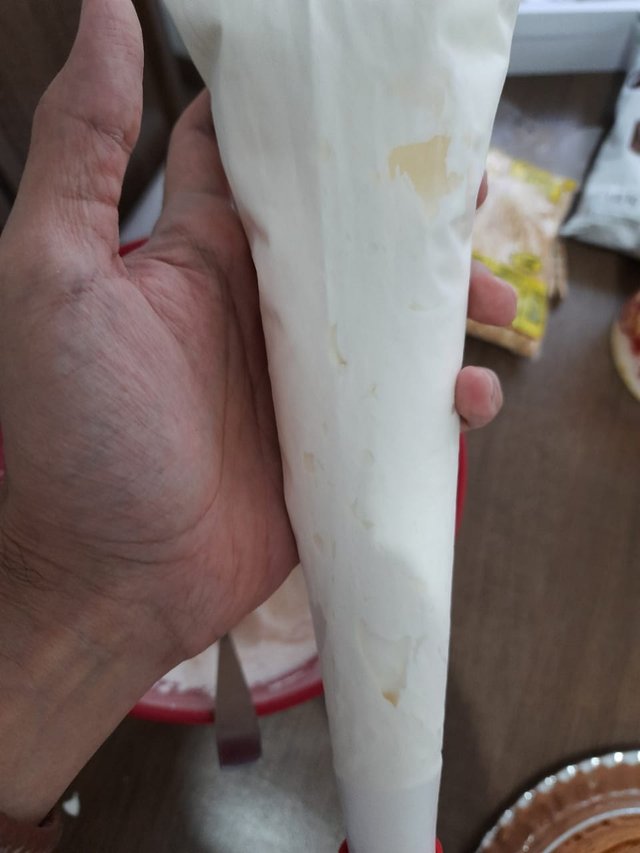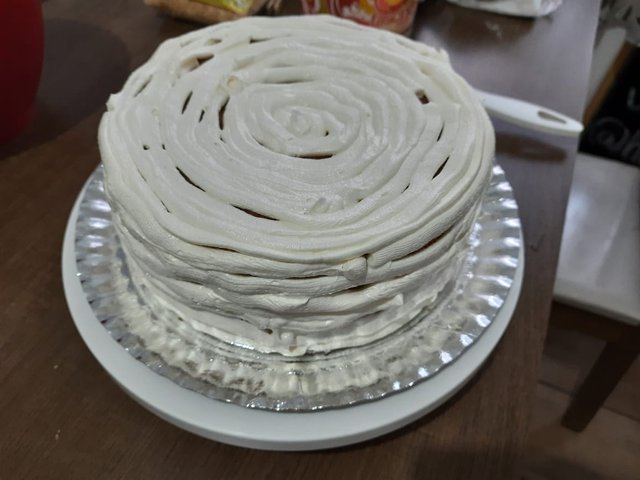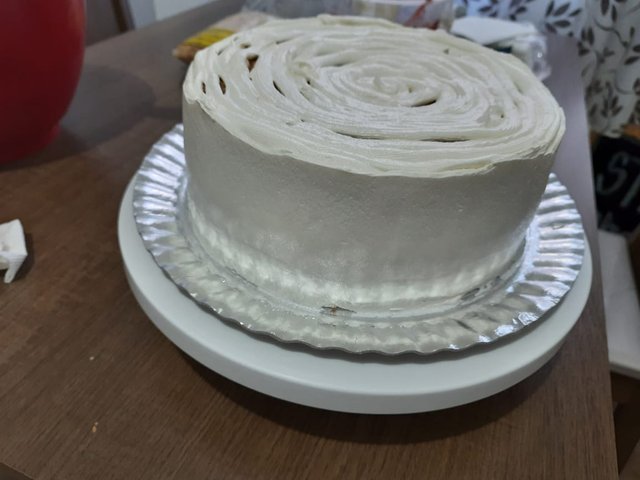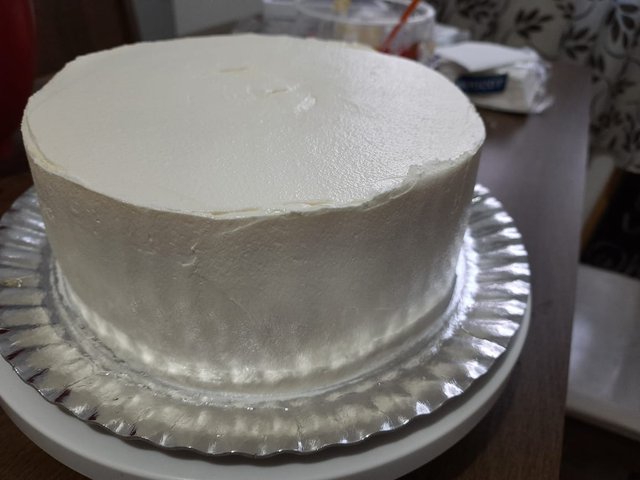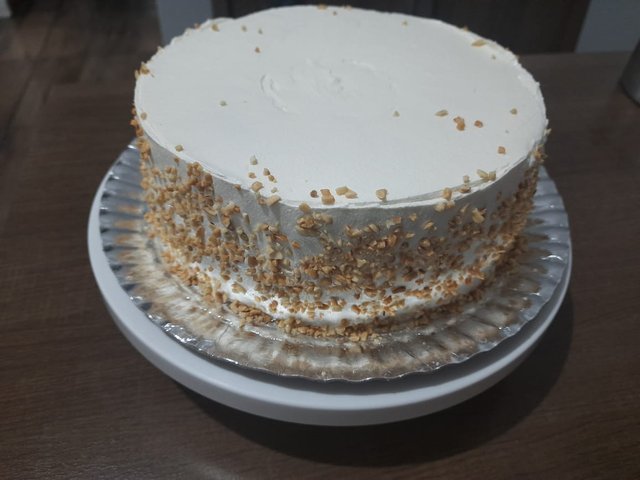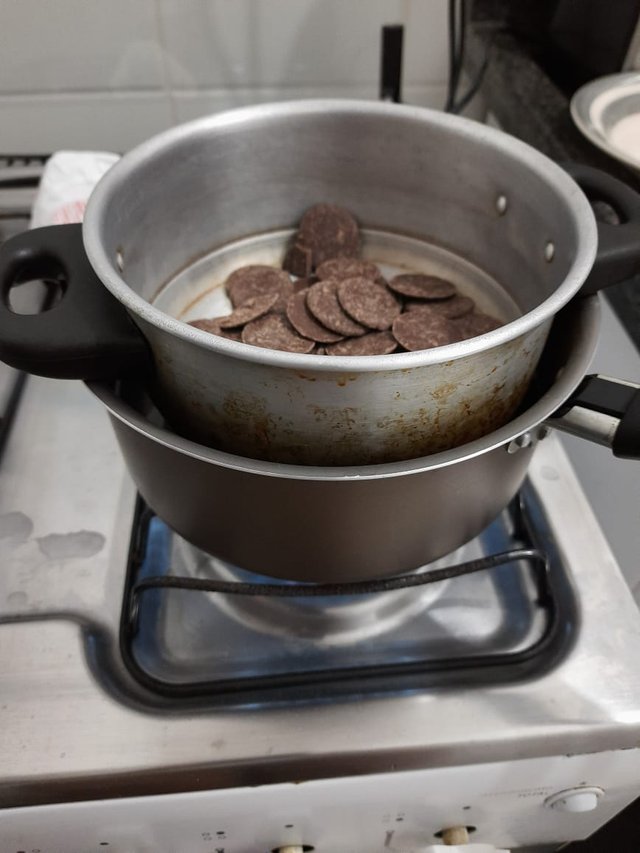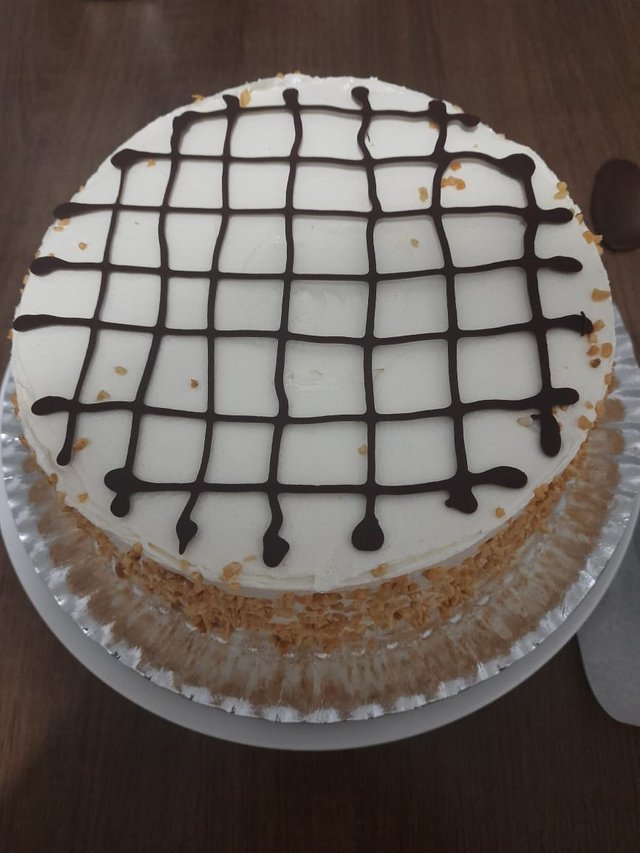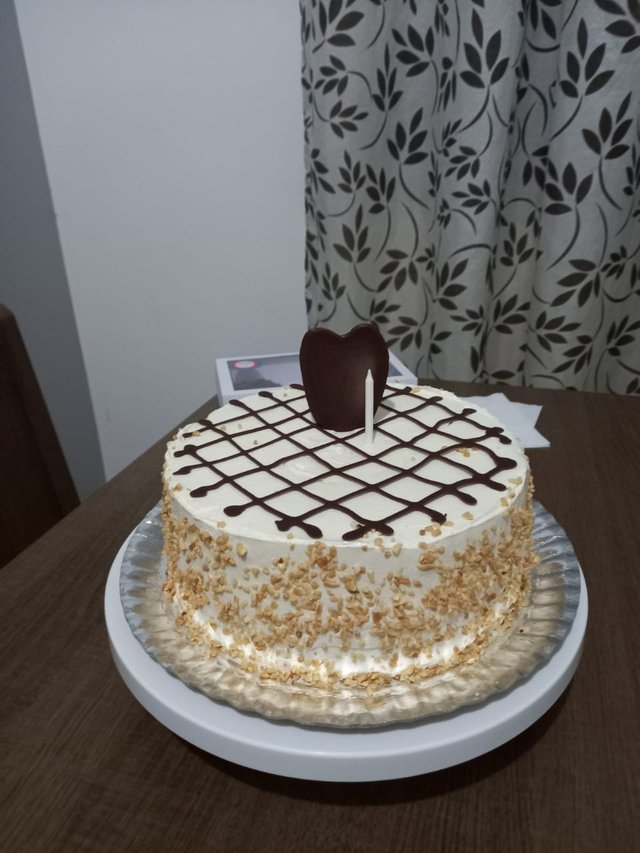 Mi esposa quedo encantada porque es su tora preferida, parece que es mucho para nosotros dos pero les aseguro que se terminara rápido jejeje, espero que les guste la receta se que es un poco larga pero para un dia especial como un cumple años vale la pena hacerla, también le prepare un quesillo pero queda demasiado largo el post si lo agrego el fin de semana coloco la receta del quesillo que es bastante mas corta saludos
---
My wife was delighted because it is her favorite tora, it seems that it is a lot for both of us but I assure you that it will finish quickly lol, I hope you like the recipe I know it is a bit long but for a special day like a birthday it is worth it make it, I also prepared a quesillo but the post is too long if I add it on the weekend I put the recipe for the quesillo that is much shorter greetings.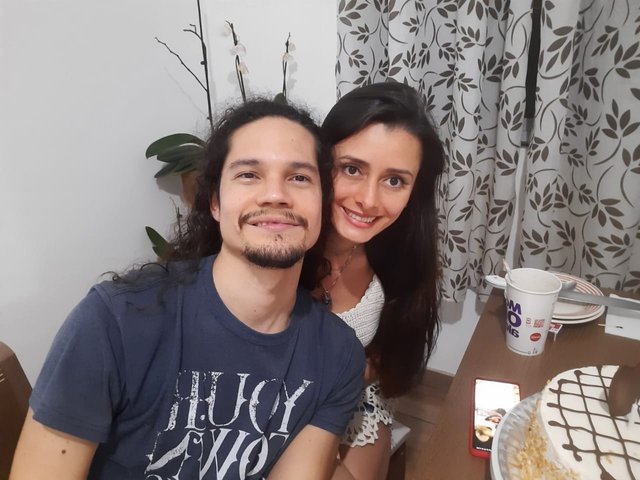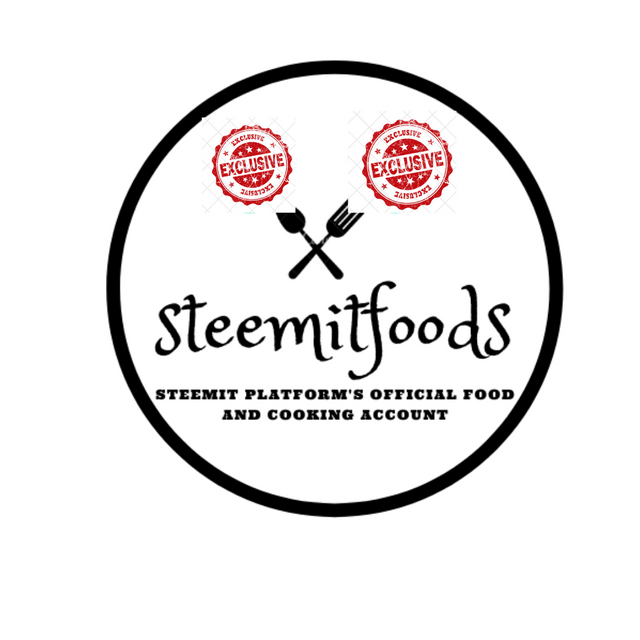 Si quieres apoyarme puedes enviar tus donaciones aquí || If you want to support me, you can send your donations here
BTC 18oXg7hfBnso6241ACCSkmHMTKZNKZPZqc
ETH 0xde966945355BC8061fFfCD71Af93751d8c699042