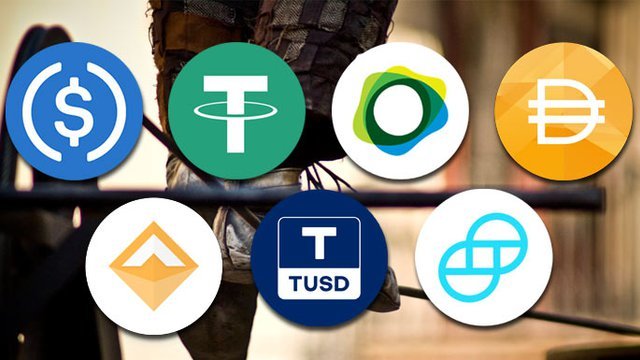 Yes, you heard that right! Are the centralize banks planning to "BAN" all stable coins this year? It seems likely they will be able to do it. 🤦
This is a huge "punch in the face" to the whole cryptocurrency space and if this happens, it's going to get really bad. 🙇
It seems that the Governments and the Central Banks of the world are taking huge steps right now (as I write this post) to make it happen.
You can read the article right here:
https://cryptobriefing.com/central-banks-recommended-ban-stablecoins/
I've already seen numerous post from "Moon Boys" saying that it's impossible to Ban "Stable Coins" but I highly must disagree.
As most stable coins are centralized (some are not)... All they will have to do is attack all the crypto exchanges to make this happen.
Yeah, they can be peer to peer trading and things of that sort but this will destroy mass adoption, critically destroying all momentum.
In the last few days, These Stable Coins must know something is going on as 2.3+ Billion was "just printed" across all stable coins. Insanity! 😰
Are they getting ready for the BAN by printing as much as they can right now so they can just buy Bitcoin? Who knows? 🤷‍♂️
As governments and central banks focusing on creating their very own digital currency, I can see that they are going to push very hard for the ban of all Stable Coins in the near future.
This is one of the most important crypto news in 2020 but it seems that it's being pushed under the rug as most people don't even want the idea of it happening.
This are getting pretty damn crazy!! keep Informed!
Keep on STACKIN! 😎
~ Charles Fuchs
For those who's interested in following my "Content" and "Daily" Posts... you can just follow me @stackin to get my updates.
You Can Follow Me Here:
➡️ UpTrennd: https://uptrennd.stackin.co
➡️ Facebook: https://facebook.stackin.co
➡️ Twitter: https://twitter.stackin.co
➡️ Instagram: https://instagram.stackin.co
➡️ Hive: https://hive.stackin.co
---
PI NETWORK: Pi is a new digital currency you can mine on your mobile phone for free without draining the battery or using data. Use The Referral Code: ( stackin ) to be on my personal team.
---
WEBULL: A stock trading mobile app that offers a commission-free trading platform. Get 2 Free Stocks (Value $12 - $1400 Each) for just opening a Free Account!
---
Crypto.com: Get The World's First ELITE Cryptocurrency MCO Debit Card and we both get $50! NOTE: You must stake 50 MCO to get the $50 + 2% cashback on all purchases. Must use Ref code: ( mqanqykcym )
---