Bottle Art - For those who have never created Art.
If i can do it so can you ! All it takes is a bit of ingenuity and some willingness to put in some time. The artistic aspect will be covered in the post as I will take you through the technical aspects. The time and willingness you will need to put in :)
Just imagine the happiness you will get when you will have created something of your own. Not to mention the accolades that will come your way from friends and family. That should create some motivation :)
While the items I show case can be used personally, they can also double up as art and craft business ideas depending on the interest of the reader and the market and cultural situation prevalent in the place in the question.
In an earlier post i had written about as to how I created glass painting without knowing a single thing about painting. You can read it HERE
Today I will talk about how we can create nice bottle art. Again this is a technical write up that looks to impart technical knowledge. Which means the reader need not be stuck with the design I made. They can use the technology to create their own designs .This is especially true for those who may have artist skills but not sure how to express it onto a bottle.
Also i recommend against using superglue.Unless you are an experienced artist. its best not use things which are difficult to handle and impossible to reverse/alter/improve without damaging the creation.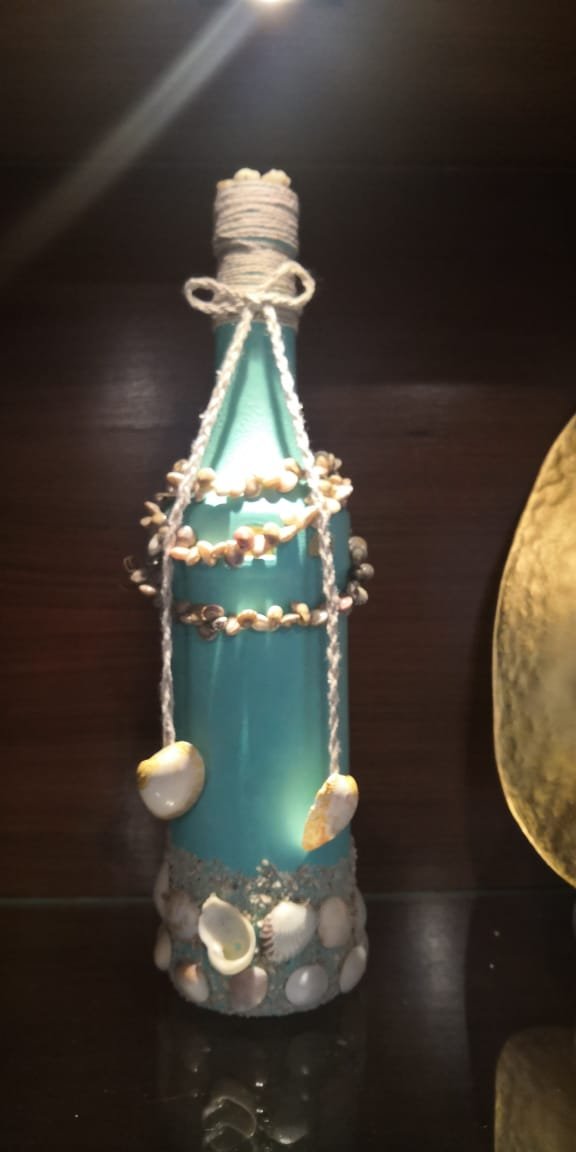 .
So let's get to it. Its a weekend. Let's use the time to grow :)
Supplies
A bottle
Acrylic Paint ( Oil Based) - Normal paint will not hold on Glass Bottle.
Paint Base - White
Glue - Avoid powerful superglue. Unless you know how to use it safely.
Paint brushes.
Decorations
Sand
Sea Shells
White cotton String
The decorative items are options as in, you can use any kind of decoration you feel like. I used sea shells since i had a few of them lying around.
If you are starting out I would recommend paper decorations. You can use stencils to draw designs and lines and then cut them off with a scissor. For paper you can use marble paper. If you want it shine you can also use gift wrapping paper.So next time you get a gift, retain the packaging sheet. Use it to make bottle art. ;)
Another options is If you wish to draw, then make designs on a paper with a stencil. Cut them out, stick them on the bottle. Paint in the design gaps. Once the bottle is dry, rip of the papers. Use a glue that's easy to remove.
So let's get to the making of the fancy water bottle.
First,we need a Bottle.All bottle art tends need this first critical step 😜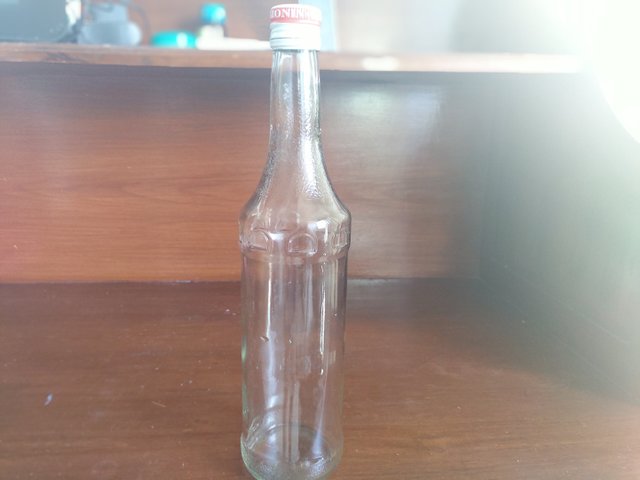 Give it a generic coat of white base before painting.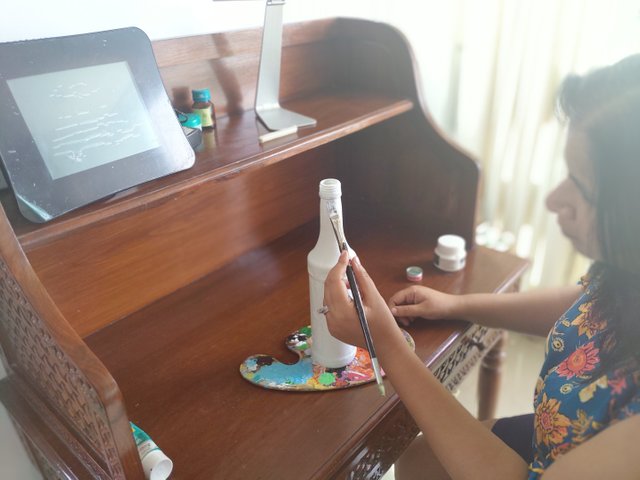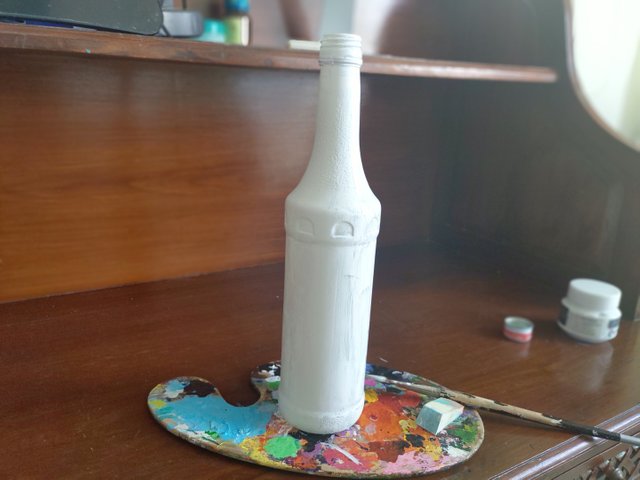 Now you can go ahead and give it a thematic color. i used sea shells so i went with the color of sea. Ocean Blue/Aquamarine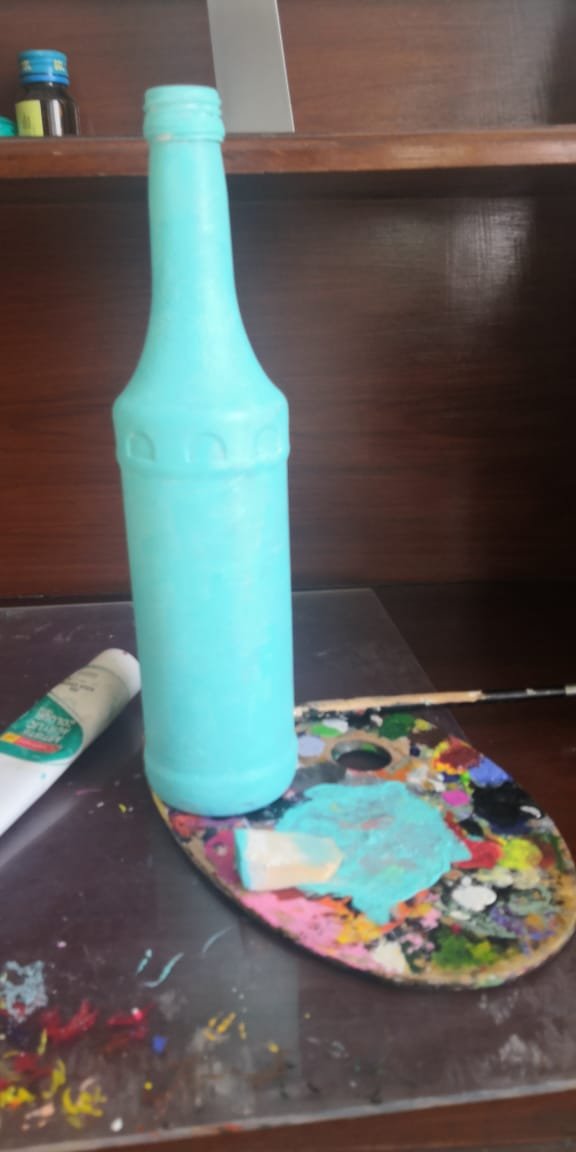 After that i used yellow paint to create small color breakers at the curve of the bottle.
Now comes the slightly difficult part. Sticking the sea shells on to the bottle surface. I dipped them in fevicol/glue and stuck them. You have to hold them in place with your hand for a couple of mins. And leave them for around 5-6 mins per shell to dry properly. The bottle surface being round and the shell being convex or conclave, they don't have much common surface to stick on to each other.Same applies for other objects you may want to stick like beads etc.
After i stuck the shells i gave the lower half of the bottle a coat of glue.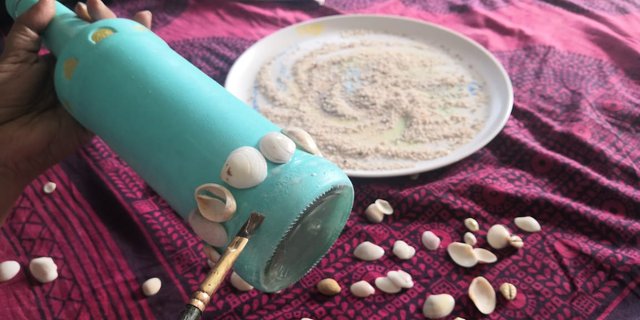 Then use your hands to apply the sand nicely all over the area.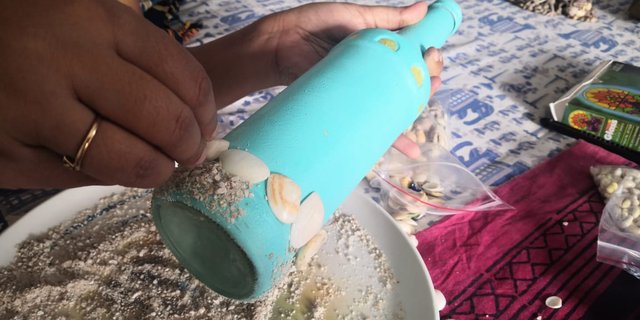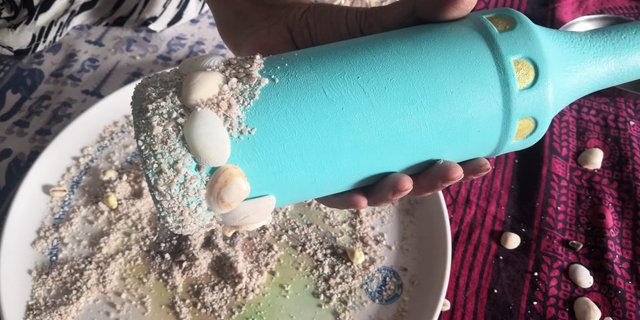 Now use the cotton thread to create grooves on top of the bottle. This will give it a rustic and aged look. The kind of stuff you may have found in a tavern a century ago.
I used a sea shell necklace to lace around the bottle. This gave it a slightly touristy artefact kind of look. Voila you artefact is ready or water bottle if you want to use it regularly. If you get good at it, you can even sell your work online via facebook etc.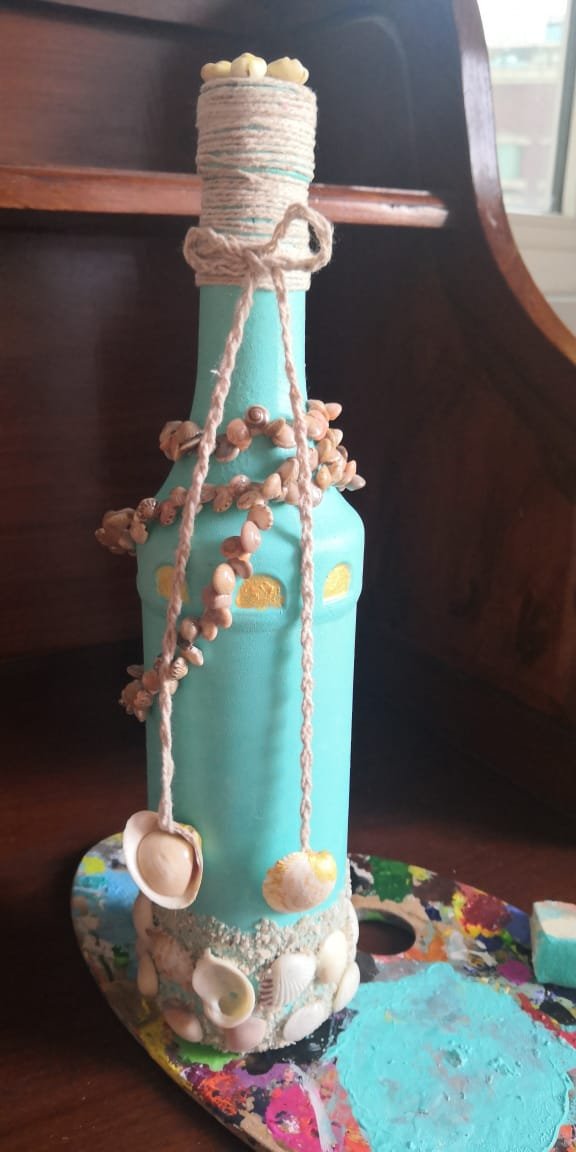 Final Output.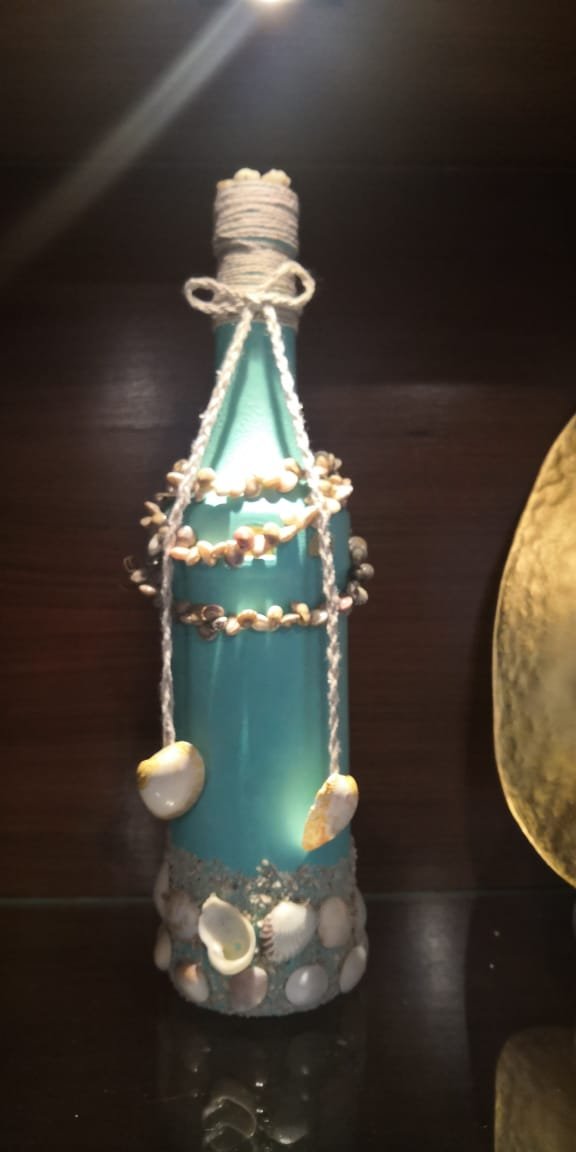 .
Hope you have enjoyed making this as much as i enjoyed sharing this.This is a great project for kids and adults alike. The joy of creating is simply indescribable.
Next time we will look at how to create beautiful "Painted Bottle Lamps". These tend to be very design heavy and owing to a lot of transparent portions in the bottle, they make excellent bottle lamps. In my experience Absolut Vodka bottles are best for these kind of experiments. You can also use other interesting bottles. But make sure they are colourless and transparent. So next time we read about each other let's have that transparent Absolut bottle ready.
Happy Weekend :)
Cher!