---
---
My first thought is:
"Culture"

about decentralization, is the way to achieve a better Blockchain".
After I have participated in their Four (4) previous deliveries:
I did not hesitate at any time to subscribe my participation! I cordially invite all users of Steemit.Com
to join this
initiative.
---
"We must know well what we profess, otherwise we would become one more in the conglomerate government of the false" @nachomolina
---
What Does Decentralization Mean To Me?
My thoughts
In some of my most recent publications I have expressed my point of view about decentralization in blockchain, even so, I consider that this topic has a lot of fabric to cut. One of my objectives has been to share my opinion in this regard, but at the same time, I have invited everyone to express their point of view, in such a way that we can unify criteria and reach a greater understanding on the subject among all.
It is extremely important to know about decentralization. This is a basic principle that all of us who live on an open source platform like Steemit.com must handle. I have noticed that some users are not interested in delving too much into it, I suppose that, perhaps, because they are dedicated to their creative work and maintain a reasonable standard of publication, they do not have time to spend reading about decentralization.
I must recommend, take some time to investigate about it, the most fair thing is that we have enough training since, by working on blockchain we become part of the conglomerate of ideas and reasons that give life to this philosophy of life called "decentralization". The applications can be diverse; This system can work in the administrative, economic, political, and technological fields, among others.
---
"It is a form of free governance where the purposes and functions are distributed in such a way that the management of interests as a whole can be harmonized until sustainability is achieved, without the need to depend on a central figure or authority where the power reside"
---
A global system
Globalization has a manager of all the operating devices of today's society in a large-scale socio-productive system.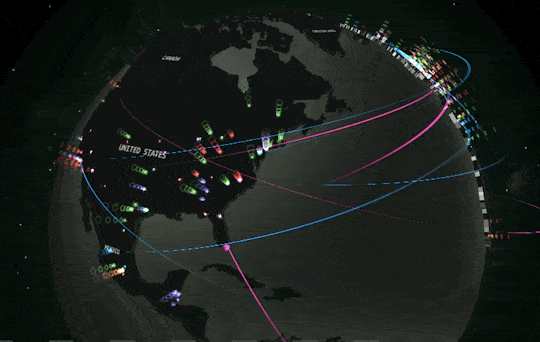 src
Although this quality favors the development of nations and the life of the average citizen, it also brings with it the dependence of governments on establishing rigorous norms. The distribution of power remains in the hands of a few who profit from the product obtained and undervaluing a large part of the population which leaves its human effort in the midst of this process.
---
Let's talk about Blockchain
Blockchain is a structure of metadata grouped as information blocks, which is publicly accessible and remains encrypted without modification. Your auditable record adds validity and trust to the network. Given its security characteristics, it is used to establish a type of economy based on cryptocurrency, computer software that allows the exchange of digital values ​​between peers in a system without trust.
---
"In my opinion, this is the fundamental part that we must understand, because in the world everything moves with money, the way of working in the business system is subject to many regulations that regulate budgets and distribute them in a somewhat disproportionate way. which does not favor human resources in the best way"
---
Future economy
However, in blockchain, fiat money can be dispensed with as the main asset, adopting cryptocurrency as the base an economy which aims to consolidate itself as the economic system of the future, thanks to its inclusive power based on equality and the reserve of anonymity in Regarding the disclosure of sensitive data. Thanks to this, "financial ecosystems" have been created, blockchains with their own economy based on the trust that users may have, which allows them to invest in crypto and establish global negotiations with infinite possibilities, where any economic criteria can be accepted having a dedicated space for the materialization of the project in a safe and tangible way.
---
"Everything written above is part of my personal thoughts about blockchain and decentralization. Personally, I consider that it is of utmost importance to cultivate in this regard because each of us forms a gear for the development of this model."
---
As a final thought, I must add:
Blockchain is an expanding system, which indicates that it is still growing, decentralization is a scourge perfectly moldable to all causes, therefore it is the fundamental piece for open source platforms such as Steemit.com to exist. Steem Blockchain is our blockchain par excellence, its architecture allows us to carry out our projects in an effective way, so, in my opinion, it is in our hands to define the bright future that it may have, which without a doubt we will achieve with work and joint effort.
---
---
---
Thanks!
@theycallmedan
Initiative
Sincerely
@nachomolina
Venezuela
2020