Steemit,Inc announces next round of Community Curators
Steemit,Inc announced they would be taking applications for the next round of Community Curators
More on the announcement can be seen here: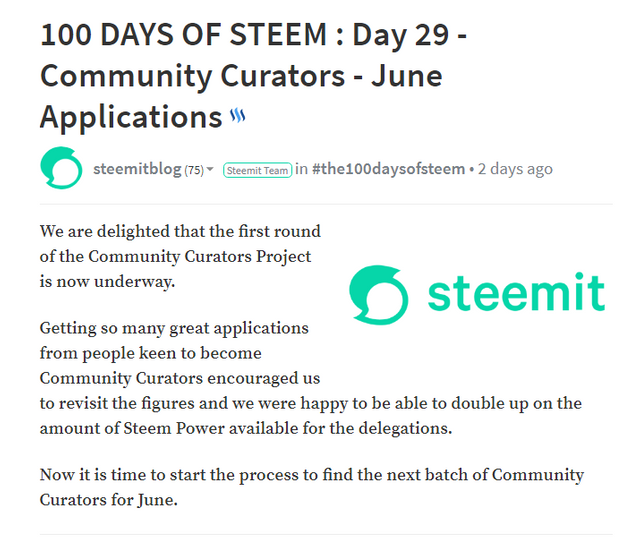 (Source: https://steemit.com/the100daysofsteem/@steemitblog/100-days-of-steem-day-29-community-curators-june-applications)
If you have a community you would like to grow, drop an application post on the above announcement.
More information can be seen below:
Applications Open for June's Community Curators
With the May Community Curators - @roadofrich, @wherein, @canna-curate, @greece-lover, @project.hope, @remlaps and @stef1 - now up and running, it is time to start looking ahead to June.
We will have the seven Community Curator accounts available - two with 500K SP and five with 200K SP.
If you are interested in being a Community Curator with one of these accounts for the month of June, we invite you to post an application.
As before, your application post should give details of...
The community or subject areas you would like to curate
Your experience and background on Steem
What languages you are fluent in
Why you think you would make a good curator
Please post a link to your application post in the comments below.
Applications should be made by June 21st.
Stay informed my friends.
-Doc