Latest Update (5/13) on our Short SPY trade... It's starting to go in our favor
Two weeks ago we shorted the S&P 500 ETF, here's where things stand...
Two weeks ago I put out a post talking about my desire to get short the market after it had run up just a little too far and a little too fast in my opinion.
That post can be seen here:
https://hive.blog/hive-167922/@jrcornel/anybody-ready-to-try-and-short-this-thing-with-me
The idea was to short the SPY ETF if you were able. However, some other options included buying an SPY inverse ETF, such as SH, or buying close to the money puts several months out.
The hope, as noted in the above post, was to ride a pullback back down to a significant gap on the chart that has yet to be filled.
Though, those following along should feel free to jump off at any point as there are no guarantees that if we do get a significant dip that it makes it all the way to that gap fill.
Anyways, after the first day of trading, we were in good shape as the market gapped down and sold off roughly 3% in our first day being in the trade.
More on that could be seen here:
https://hive.blog/hive-148441/@jrcornel/short-spy-trade-so-far-so-good
Where do things stand now?
As you can likely surmise from the above updates, it has now been well over a week since we entered the trade.
The market has now seen 2 big red days in a row and we are starting to feel better about our short position...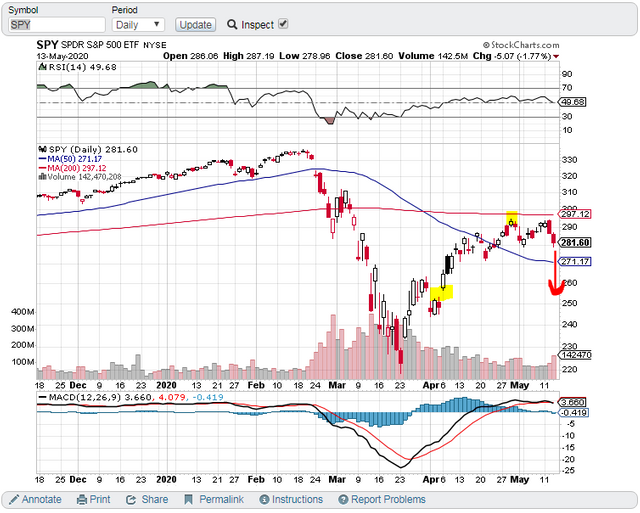 (Source: https://stockcharts.com/h-sc/ui)
After initially going in our favor when we entered the trade, the trade has chopped around quite a bit before finally going a little in our favor.
Overall the market has been showing strong resilience in the face of weak economic data and coronavirus numbers that are likely to spike back up as stay at home orders are pulled back.
My thoughts going forward...
I'm planning to stay short unless we break above that 200 Day moving average shown on the chart, which is about $297.25 currently.
Based on the last few days price action, I think we are due for a continuation of the move down with only a small up day or two in between.
Plus we have a MACD that is looking like it is ready to roll over, which is good news for our short.
I will add to my short position if we get a bounce back up to those recent highs (around $290+) and as mentioned, will exit the short if the price breaks and closes above the 200 day moving average.
This trade is likely going to take at least several weeks to play out, so there is no hurry to lock in profits or jump out based on a week or so of trading.
For those participating, what are your plans?
Stay informed my friends.
-Doc