Just 10 more days until the highest BTC Monthly Close EVER
The more you zoom out the better the bitcoin charts look
The monthly chart of bitcoin is just 10 days away from close at new all time highs even if the price doesn't go up at all from here.
Back in 2017 when bitcoin hit $20k it didn't close anywhere near that level by the time the month of December ended.
Right now we are well above that level and as long as bitcoin doesn't tank from here within the next 10 days will see the highest monthly close ever.
Sees: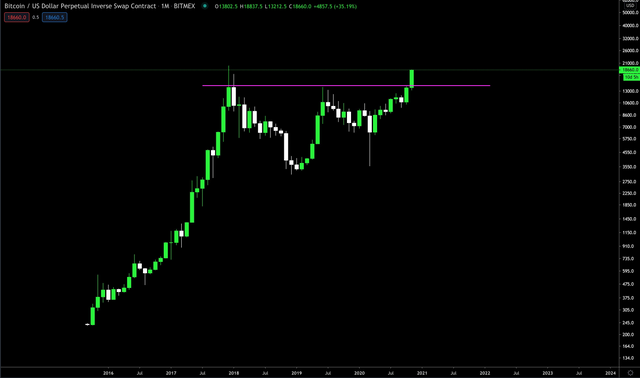 (source: https://twitter.com/MacroCRG/status/1329871162252414984/photo/1)
In fact, bitcoin could drop 20% from here and still see a new all time high close on the monthly chart.
The previous all time high close on the monthly was around $14k.
Usually when you get a close above a previous all time high like this, the price tends to go a lot higher.
For some perspective, that previous massive rally on the chart there really got going when bitcoin closed about $1k.