Under the sea - easy draw & colour how to plus hints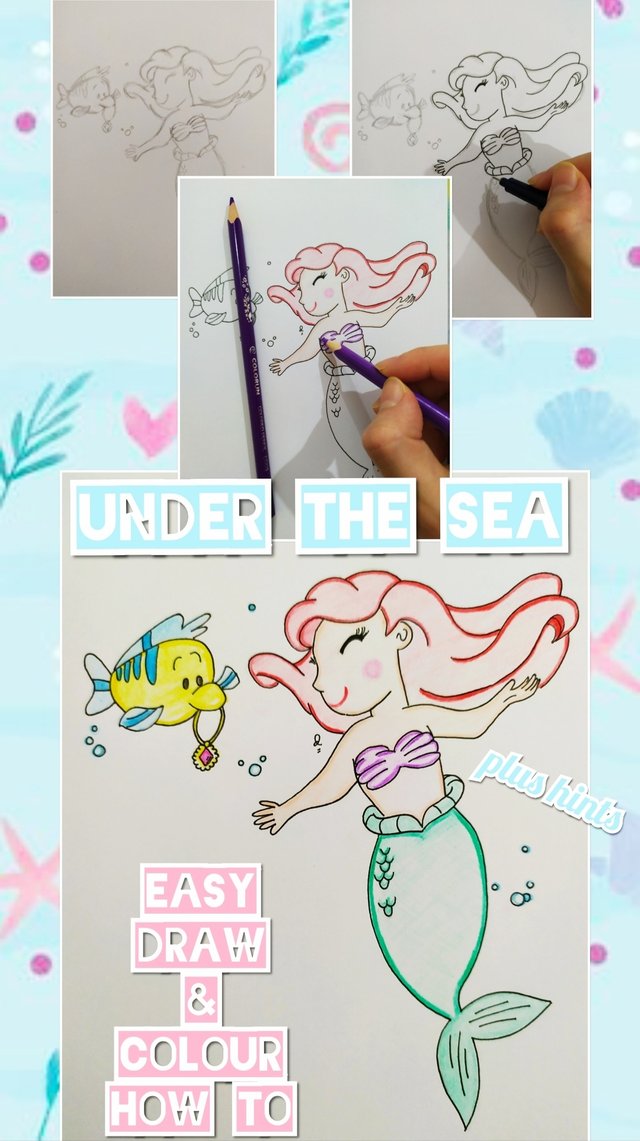 Hello, friends!
When i was a little girl, one of the cartoon i love was little mermaid. I remembered i even played as Ariel in the sega game and i also had a backpack with her picture so i tried to draw Ariel this time with her best friend, Flourish. I enjoyed drawing them, the joy i felt when i was a little girl came back. So enjoyable, cute and easy to do. Here i would tell you how i made it plus i would also give some hints how to make it easier.
Material & things needed:
a piece of A5 sketch paper
a 2B mechanic pencil
an eraser
a 0.2 drawing pen
36 colour pencils (deli colorun)
staedtler luna watercolor pencils
How to draw & colour it:
First i started from Ariel. I made her head form, eyes and a big smile. Then the long hair (Hint: you could erase some head form to make it more naturally) then 2 hands, her body with her shells, complete the hair, and also a bit of her fish part.

Complete with the fish tail and the fish scale. Then drew flourish on her left. Started from the whole body shape then complete with pattern, face and fins. Complete with the necklace with a stone pendant which flourish catched with its' mouth. Last, complete with the air bubble.

Then bold all with the drawing pen and erase the pencil sketch. Last was colouring it with the colour pencil. I used bolder colour to colour near the border line. Hint: if you have only one colour, the only thing you have to do is only press your colour pencil for the area near the border line. I coloured Ariel from the skin (one ivory colour), the hair (two kind of red colour), shells (two kind of purple colour), the fish tail (only one cause i don't have any other tosca colour). And for Flourish, i used two kind of medium blue colour and two kind of yellow colour for the whole body. For the necklace i used yellow colour and violet for the stone in the pendant.


Hope you enjoy my today's article.
Happy drawing & colouring!