Steemit Engagement Challenge Season 5 Week 6 Summary - A Friend in Need is a Friend Indeed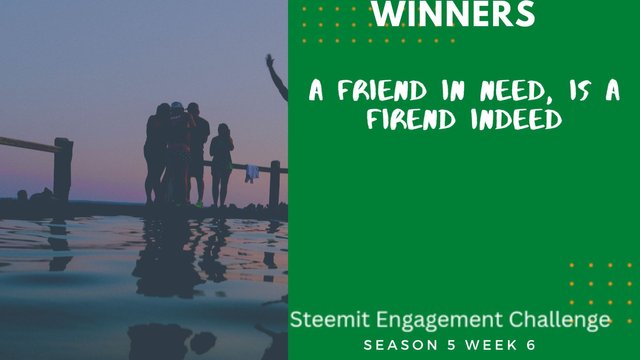 We appreciate all that participated in our just-ended contest themed - A Friend in Need is a Friend Indeed. We received a total of 86 entries while a few of these entries have complications with either not in any club status or following the rules of engagement. Many of the articles found within this category have been left with correction messages.
The rest of the articles without any complications have been able to present clarity in all their fonts. The number of articles with quality content and overall presentation was quite impressive with these users showing the authenticity of the topic in view. The top selection has always been a tight one but after considering some factors including quality content and engagement, we have arrived at the top 3.

Winners
The top guys chosen for the week have presented quite quality content in the contest to display what we expected in the contest for the week. Congratulations to all of them and others that were unable to make the list for last week's winners, there is always a day, keep the spirit up. We invite you to visit our ongoing contests in the community as we are poised in keeping all users engaged with corresponding rewards therein.


---
Support the growth of Steem4Nigeria by delegating some SP
---

50SP
100SP
150SP
250SP
500SP
1000SP
1500SP
2000SP
2500SP

Join Our Official Announcement Channel: Telegram
Join Our Official Post Promotion Page: Telegram