Snail's Health Benefits, Farming, and Profitability
Introduction
Many people across the world love eating meat from animals, although the story is the other way round for vegetarians. From beef, chevon, pork and so on, we have choices or the ones we consume regularly even though some of them are considered to be quite unhealthy if consumed excessively. Let's talk about snail today.
---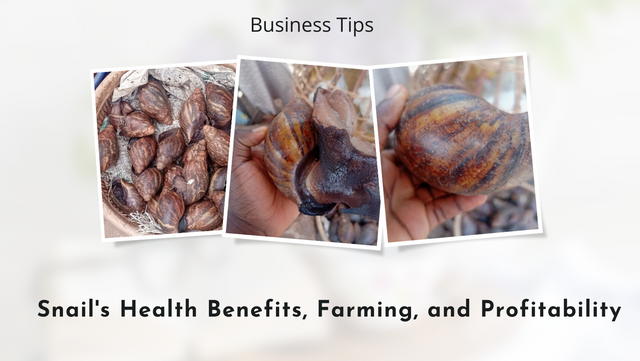 Edited with Canva
---
Snail Meat
The snail is considered a mollusc because it belongs to the Mollusca, a phylum of invertebrate animals (e.g creatures without a backbone), other animals in the same family as snails are clams, squids, slug, octopus, cuttlefish, and so on, to mention a few. Snails are housed in a single spiral shell which acts as their shield against outside threats.
Snails remain in that shell, bringing out their heads during movement or feeding, in essence, the body is maintained in the shell until there is a need to spread its head/foot for feeding/navigation as highlighted earlier. Likewise, when there are attacks from other predators or humans using them as a source of food (it definitely involves removing it from the shell for preparation).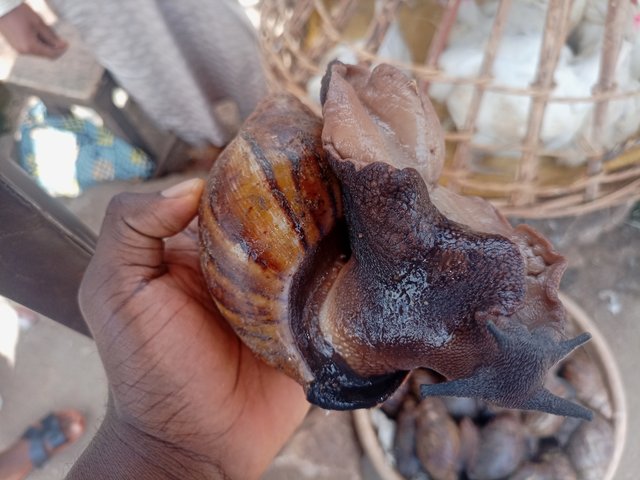 Capturing a Snail on my hand at the local Market (Oluode) | What3words Location
Red meats like beef and others in the same category have been identified to be associated with some health issues while white meats such as chicken, rabbit meat, turkey and so on, are known to be preferable because of their high nutrients, low fat, and other health benefits. Snail meat is also known to be white meat and it's rich in protein, and a lot of other nutrients (Iron, Calcium, Vitamin A, and so on) most especially it's characterized by low fat.
Benefits of Eating Snail Meat
Snail meat is rarely consumed by many people and I'm not an exception, only a few people who have been diagnosed with certain sicknesses/diseases and others who highly value the benefits of snail meat are often seen consuming this type of meat. Let's talk about some of the health benefits of snail meat.
Snail meat is high in Iron and it can be useful for patients with Iron-deficiency anemia to relieve some of the effects of the condition and as well treat the underlying diseases that lead to such shortage/malfunctioning of red blood cells.

It reduces the risk of cardiovascular disease, it is established that some food fats are stored in the arteries, if it becomes excessive it can be a risk of heart attack and other related heart diseases as such snails are low-fat meat which reduces such risks of heart diseases. In essence, it's great for healthy heart.

Of course, snails meat are also good for bones and teeth, knowing that it's rich in Iron.

It also helps to reduce blood pressure, minerals like Magnesium and Potassium found in snail meat are responsible for this benefit.
These are just a few benefits of eating snail meat out of numerous, you can read more at leisure. That said, some materials stated that snails are good for skincare as such it's been utilized in some companies that belong to that sector.

Snail Farming
Let's see the side of business opportunities for our valuable snails in this section. When it comes to livestock farming, many people/farmers focus on the likes of cattle rearing, poultry, fishery and so on but do you know that snail farming is suitable for both small-scale farmers and others, tapping from the wealth of snails while leveraging their easy and cost-effective rearing?
Snails housing doesn't require a huge sum of money, they can be reared on the surface covered with loamy soil (if there is enough space where you currently occupied and safe from bad neighbors) and adequately fenced to avoid interference from predators or you can construct a wooden structure laid with soil where the snails can dwell on.
Snail Feeding
It was highlighted earlier that the rearing of snails is quite very easy as compared to other livestock, I believe a lot of poultry farmers or intending ones have held back from the business because of the ever-increasing cost of feeds for the birds. Snails can strive well on these fruits;
Pawpaw (not too ripe ones recommended).
Carrots.
Green peas
Cucumber.
Tomatoes.
Lettuce.
And so on.
Many believed that feeding snails on fruits alone can seem a bit expensive as such leaves of certain plants can be introduced to their feeding, for example, leaves of pawpaw, potatoes, carrots, apple, broccoli, eggplant, cassava, okra, and so on. In essence, rearing them and feeding them is very cheap.
Snail Farming Profitability
Snail farming can be highly profitable provided that one chooses the right breed and practices the rearing effectively with good site selection, feeding, and overall management. The Achatina Fulica breed was said to be able to lay 100 - 400 at a time and up to 6 times yearly, you can imagine the addition to your farm when these hatch.
That said, when starting a business like this, it is advised to get grown ones that they are ready to lay, and in the Nigerian market, this is estimated to cost around 450 NGN (3 STEEM) and getting a few of a breed that yield many eggs is just a way to making a lot from the business.
For example, a big snail (an average weight of 350 grams) in the market now is sold around 1,500 NGN (9.7 STEEM), the price was gotten from my research at a local market on two occasions with pictures from these separate days.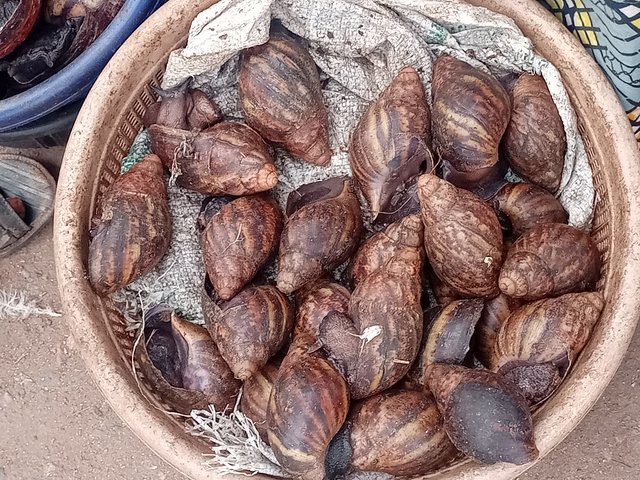 Snails displayed for sale at the local Market (Oluode) | What3words Location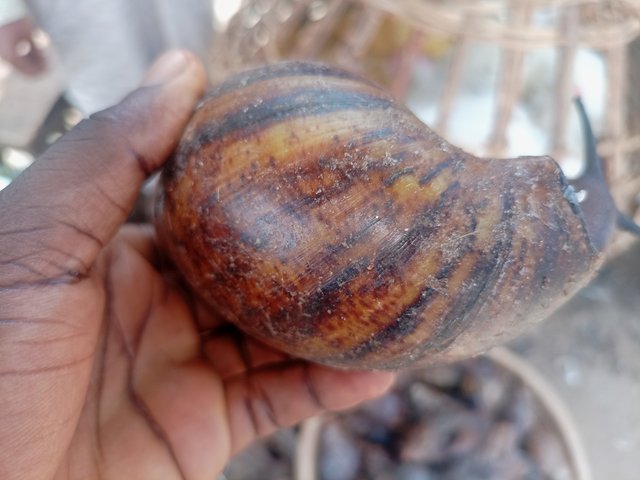 One of the Snails displayed for sale at the local Market (Oluode) | What3words Location
Above is the size of snails that are being sold at that cost. You can draw your plan and see how much you can generate if you'd choose to come up with some capital for a business like this. According to a few research I conducted, I realized that most snails in the market now (rainy season) are hunted for in the forest which means they are not necessarily reared.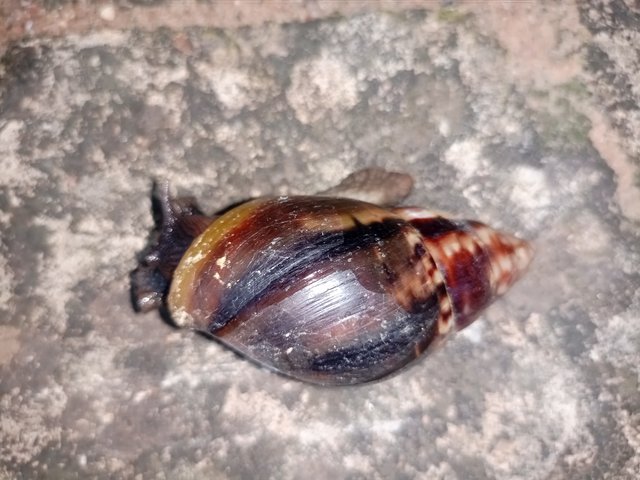 Wandering Snail in my Compound | What3words Location
An example of those is the one above found wandering in the compound in the early hours of the day which sums up how abundant they are during this season. Do you think their abundance would spoil business for you? No! Don't think so, there is a season ahead (dry season) when snails would be very scarce and cannot be gotten easily by hunting, then farmers reap the fruits of their labor massively with the right connection to the snail market.

Conclusion
In conclusion, snail farming could be another livestock farming you are not quite familiar with but it's highly profitable with cost-effective rearing. A lot of people know the importance of snail meat, it could make you a lot with the starting resources, right practice, and patience.
This article may not be fully sufficient to tell you all the information you need about the business but it sure gives you a head-up in regards to the realm of snails and their farming, you are advised to carry out further research before you go ahead. Thanks for reading and I look forward to share more tips with you subsequently.