Steemit Engagement Challenge Season 8 Week 3: Smoking Kills
Thank you, Steemit Health, for giving me the opportunity to open my heart to this crucial topic because who knows more about the ill effects of smoking than I do? So, I will come straight to the topic and answer all your questions. I request that my Steemian friends who have been smoking or trying to quit please come forward and answer with me.
Steemit Engagement Challenge Season 8 Week 3: Smoking Kills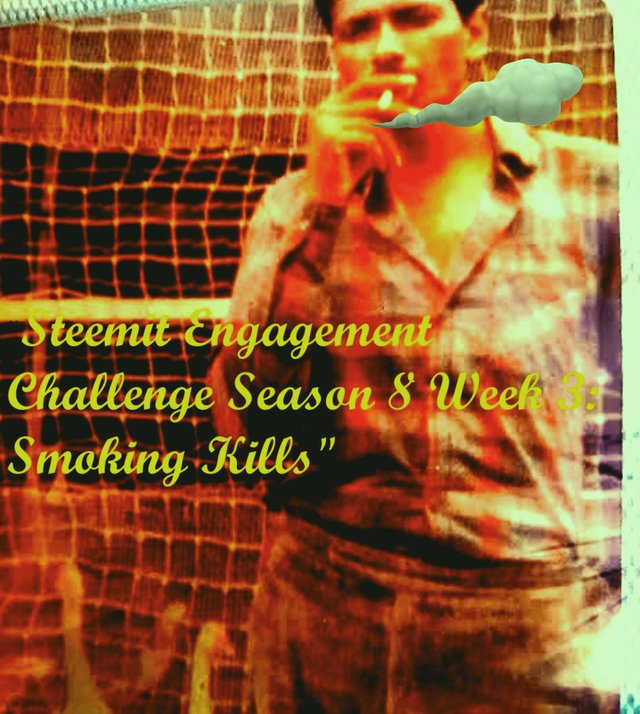 ᴾᵉʳˢᵒⁿᵃˡ ᶦᵐᵃᵍᵉ ᵉᵈᶦᵗᵉᵈ ʷᶦᵗʰ ᵖᵃᶦⁿᵗ
𝕲𝖎𝖛𝖊 𝖞𝖔𝖚𝖗 𝖛𝖎𝖊𝖜𝖘 𝖆𝖇𝖔𝖚𝖙 𝖙𝖍𝖊 𝖕𝖍𝖗𝖆𝖘𝖊 "𝕾𝖒𝖔𝖐𝖎𝖓𝖌 𝕶𝖎𝖑𝖑𝖘!".
Smoking poses numerous health risks, including the possibility of developing cancer. Smoking does not affect any particular part of your body, but any part of your throat, lungs, mouth, or even your nose, voice box, esophagus, pancreas, liver, stomach, kidney, bladder, ureter, bowel, ovary, and cervix can suffer from cancer.
Smoking is one of the main causes of cancer, so you can say that smoking definitely kills. And everyone, including smokers, knows that there are chances of heart disease and even suffering from a stroke due to smoking?
"Quitting is the only way you can stop smoking."
― Abhishek Kumar
𝖂𝖍𝖆𝖙 𝖆𝖗𝖊 𝖙𝖍𝖊 𝖒𝖆𝖎𝖓 𝖗𝖊𝖆𝖘𝖔𝖓𝖘 𝖜𝖍𝖞 𝖕𝖊𝖔𝖕𝖑𝖊 𝖇𝖊𝖈𝖔𝖒𝖊 𝖆𝖉𝖉𝖎𝖈𝖙𝖊𝖉 𝖙𝖔 𝖘𝖒𝖔𝖐𝖎𝖓𝖌?
Most of the youth smoke for the first time because their friends insist on it. Their company is such that most employees smoke, and they pressurize those who are not used to it to do so. However, when I smoked a cigarette for the first time, I was 19 years old, and I wanted to show people that I have grown up now and that I can do anything to show my pride.
Some people try to reduce stress and pain by smoking. People who are victims of depression and anxiety fix their moods by smoking. Nicotine found in cigarettes gives relief to the mind for a while, but along with it, it also has a bad effect on your lungs.
Many people resort to smoking to relieve fatigue. They believe that smoking removes your mental and physical fatigue throughout the day. For those who are addicted to smoking, it becomes very difficult to quit.
𝕬𝖗𝖊 𝖞𝖔𝖚 𝖆𝖉𝖉𝖎𝖈𝖙𝖊𝖉 𝖙𝖔 𝖘𝖒𝖔𝖐𝖎𝖓𝖌, 𝖔𝖗 𝖘𝖔𝖒𝖊𝖔𝖓𝖊 𝖞𝖔𝖚 𝖒𝖆𝖞 𝖐𝖓𝖔𝖜 𝖍𝖆𝖛𝖊 𝖆𝖉𝖉𝖎𝖈𝖙𝖊𝖉 𝖙𝖔 𝖘𝖒𝖔𝖐𝖎𝖓𝖌?
Yes, I can say that I was addicted to cigarettes because I used to smoke 20–25 cigarettes a day while in the initial stages of my job, but soon I started feeling its bad effects as a fitness freak, so I tried to give up smoking.
However, it was not as easy as I thought because every time I gave up, I started smoking even more within a couple of days of quitting. Now I remember that it was my birthday in May 2004 when someone whom I loved most asked me to quit, and I did.
That day I smoked my last, and I never smoked again after that. Now I hate smoking so much that I can't even tolerate someone smoking close to me. But I can tell you that anyone can quit using their willpower, and if you add a reason for quitting, it becomes even easier. I added my most loved one as an excuse for my quitting, promising to myself that if I ever smoked again, that would be like harming her.
𝖂𝖍𝖆𝖙 𝖈𝖍𝖆𝖓𝖌𝖎𝖓𝖌 𝖍𝖆𝖛𝖊 𝖞𝖔𝖚 𝖘𝖊𝖊𝖓 𝖆𝖋𝖙𝖊𝖗 𝖆𝖉𝖉𝖎𝖈𝖙𝖎𝖔𝖓?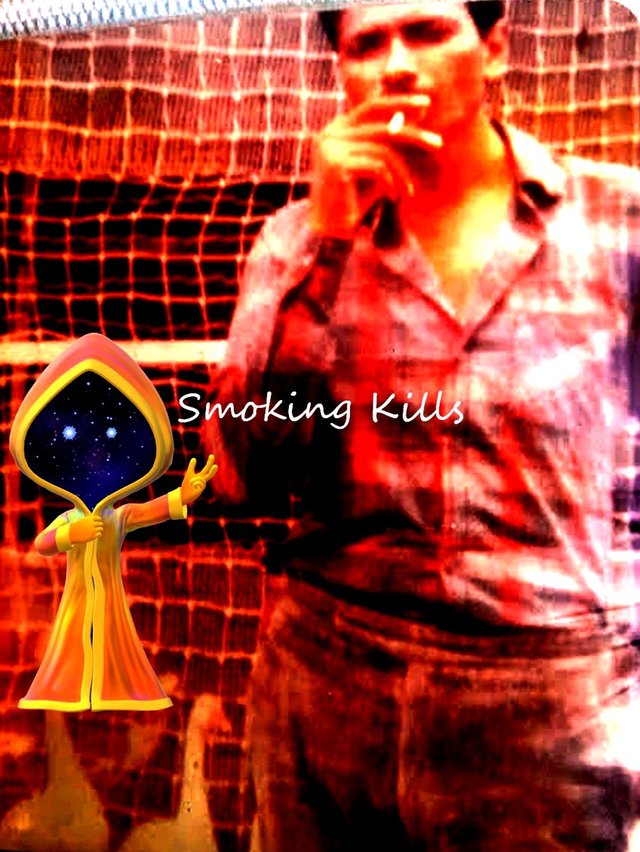 ᴾᵉʳˢᵒⁿᵃˡ ᶦᵐᵃᵍᵉ ᵉᵈᶦᵗᵉᵈ ʷᶦᵗʰ ᵖᵃᶦⁿᵗ
Doctors say that one cigarette reduces five minutes of a person's life. This is because the chemicals in tobacco affect our bodies and become the cause of cancer. Quitting smoking increases lung function and stamina. It's easy to work out and run for a nonsmoker; their blood circulation improves, and the risk of heart attack also reduces.
Smoking also has a bad effect on your breath and teeth. After quitting cigarettes, the risk of lung cancer as well as the risk of mouth and throat cancer also reduces, and in a few years, you become normal.
𝖂𝖍𝖆𝖙 𝖘𝖍𝖔𝖚𝖑𝖉 𝖜𝖊 𝖉𝖔 𝖙𝖔 𝖗𝖊𝖉𝖚𝖈𝖊 𝖙𝖍𝖊 𝖗𝖆𝖙𝖊 𝖔𝖋 𝖘𝖒𝖔𝖐𝖎𝖓𝖌 𝖆𝖉𝖉𝖎𝖈𝖙𝖎𝖔𝖓?
I don't think in terms of reducing smoking, but I think one should think in terms of giving it up completely. I can tell you from my own experience that if you try to reduce smoking, it will come back, and you will smoke a few extra cigarettes rather than reducing them. So gather courage, use your willpower, and add a reason to give it up. Trust me, you can do it.
I Invite -
@weisser-rabe
@arnoldog25
@sailawana