05-12-2022|| Best pick of the day, consideration given to participants of #club5050, #club75 and #club100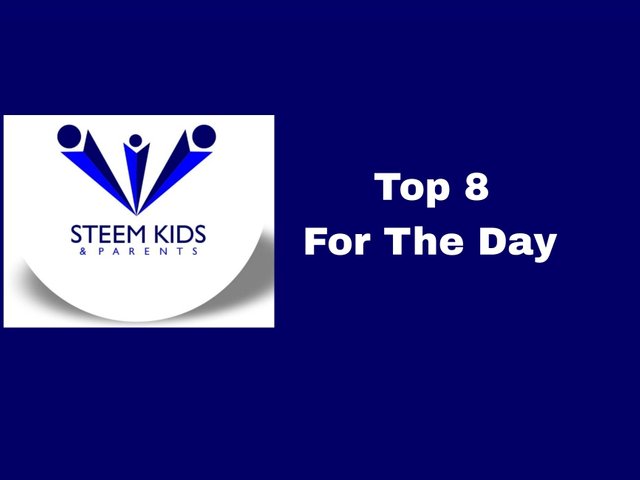 A warm greetings to you dear community members. we are delighted to bring to you the best 8 post of the day and we will be making this post daily to announce top 8 post of the day.
CRITERIA FOR SELECTING QUALITY POST
Our priority goes to those who are doing at least club5050, club75 and club100.

Your content should be #steemexclusive
The idea of steemexclusive is the fact that you have not shared your content in any other related social media platforms other than steemit. So make sure that you have not shared your content else where.
For Your post to be quality enough to be chosen, you have to apply markdown styles. Therefore, you need to complete your at least achievements tasks

Free from plagiarism
Please make sure that your publications are plagiarism free. We at steemkids community have zero tolerance of plagiarism. Always check your publication with any plagiarism check tools available to you. You can download one from the playstore or you use this one
When you place the beneficiary of at least 10% of the rewards to be sent to the community's primary curating account @steemkidss,(please take note that there is double ss, it's @steemkidss with double ss) so as to help us build a strong community that we can all benefit from.
To be in club5050, you must have powered up the exact amount of your total transfer out of your wallet in the last 30 days or more. If you have done that, then you are qualified to use the tag, club5050.
To be in club75, you must have powered up 3 times whatever Amount of steem you must have transferred out of your wallet in the past 60 days. If you are sure you have done that, then you can use the tag, club75.
To be in club100, you must have powered up all your earnings in the last 90 days without transferring anything out from your wallet. If you have not made any transfer out of your wallet in the past 90 days but had powered everything up, then you can use the tag, club100.
NOTE:
BEING IN AT LEAST CLUB5050 IS A MUST AND YOU WILL STILL RECEIVE SUPPORT EVEN THOUGH THE SUPPORT IS NOT COMPULSORY. BUT WE ENCOURAGE YOU TO LEVEL UP TO CLUB75 AND CLUB100 , THE SUPPORT YOU WILL RECEIVE WILL BE MORE THAN THOSE IN CLUB5050
Important links to help you learn about club5050, club75 and club100
Post by @steemkidss
KNOW HOW TO CALCULATE CLUBS
Post by @ngoenyi
LEARN ABOUT CLUB100, CLUB75 AND CLUB5050||MY JOURNEY TO BECOME 5× DOLPHIN 🐬🐬🐬🐬🐬 (25000 SP) HAS JUST BEGUN AFTER POWERING UP 1260.425 STEEM TO HIT 🎯🎯🎯 21535.992| 10% TO @STEEMKIDSS
---
Kindly read the post below to know the kind of post you can make in this community and whatever we regard as a quality post.
https://steemit.com/hive-139765/@steemkidss/steemkids-community-guidelines-on-contents-creation
Follow our daily dynamic for your daily topics. See the link below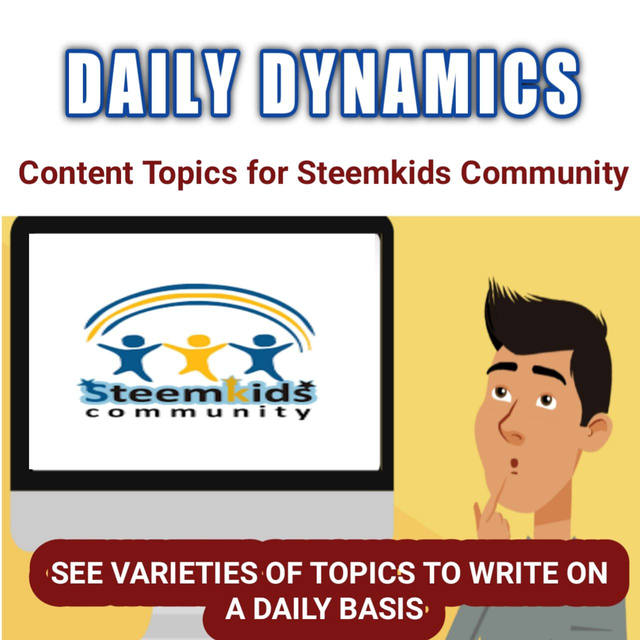 DAILY DYNAMICS OF CONTENT TOPICS FOR STEEMKIDS COMMUNITY SEE VARIETIES OF TOPICS TO WRITE ON A DAILY BASIS
Please again don't mention steemcurator01 and steemcurator02 in your post in order not to distract their attention.
Remember to be consistent in making publications. That you are not chosen today doesn't mean you have done anything wrong but your consistency can give you a better chance to be chosen.
We appreciate you all.
QUALITY POST:
Winners Club Status
Thankfully we have been given permission by the steemit team to select up to 8 publications to be supported each day
CONGRATULATIONS TO YOU ALL
!
We want to thank all who have shown their support to us in no small way. We will keep making you all smile.
Please note that are not curators, that your post has been selected as quality doesn't guarantee Vote, that is why we encourage community members to build their steem power, and with that our curation trail can have high voting power to support members post.
Most importantly we really appreciate the support of STEEMITBLOG
We're grateful, Thank you!
Best regards
@steem kids and parents Community team



Join our discord channel:::::::Join our telegram group::::::subscribe to our community

Support us by delegating STEEM POWER.
50SP
100SP
250SP
500 Sp
1000SP
2000SP
2500SP