MAT WEAVING AND HOW WE CAN PREPARE IT/ 10% PAYOUTS TO @STEEMKIDSS/ CARDBOARD CREATION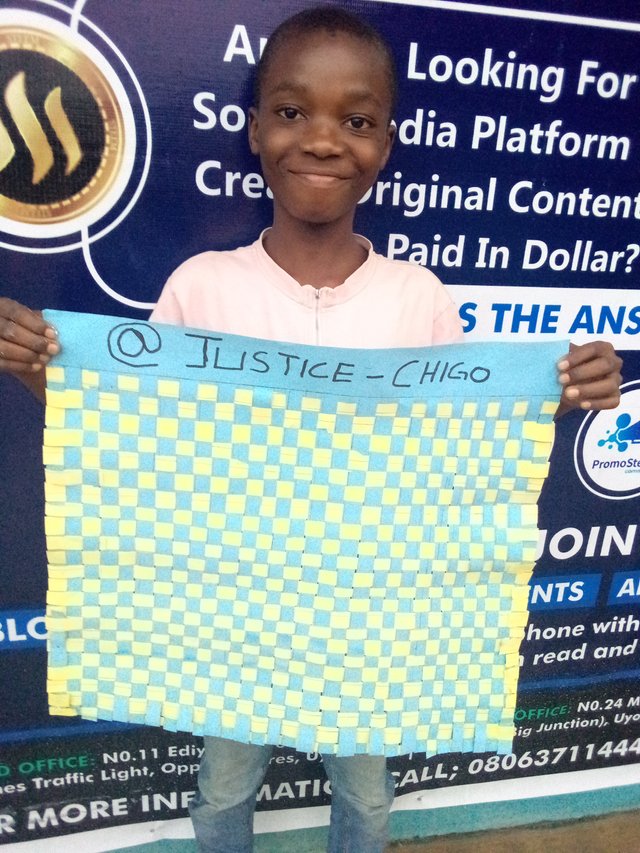 Introduction
Hello fellow kids, I want to write about mat weaving and how we can prepare it practically with cardboard paper.
This simply refers to the orderly criss-crossing of flexible stripes and strands of materials. The type of weaving determines the shape and material to be used. Weaving generally is as old as man on Earth. The act of weaving can be traced to nature where man drew the inspiration to weave with available materials.
Birds and insects too. The act of weaving is an interesting exercise and the society cannot do without it as an important craft.
There are different types of weaving these include; basket weaving, mat weaving, cane weaving, rug weaving and cloth weaving(the most important aspect of weaving). Materials for weaving includes; paper stripes, fibres obtained from cotton plant, palm fronds, grass ropes from the forest, leather straps from animal and other flexible materials. Some of these strands used for weaving in Nigeria are raffia palm silk and Cotton.
Weaving generally follows the same type of process that is the warp and weft stripes are used. The warp means the crosswise flexible materials. The warp is the vertical stripe and the weft is called horizontal stripe, that is how you can get your mouth done.
Procedures In Making The Mat
Some of the materials for the mat includes:
Cardboard papers (yellow and blue)
Scissors
Gum or glue
Pencil
Ruler
Draw the size of the paper stripes and cut them. One of the papers must not be cut to the end so that it would hold it when criss-crossing.
Place the paper that was not cut completely ( i.e blue paper) on the ground and start crossing the yellow paper u see and over it.
Do this one after the other closely to get your shape till it is completely fixed together.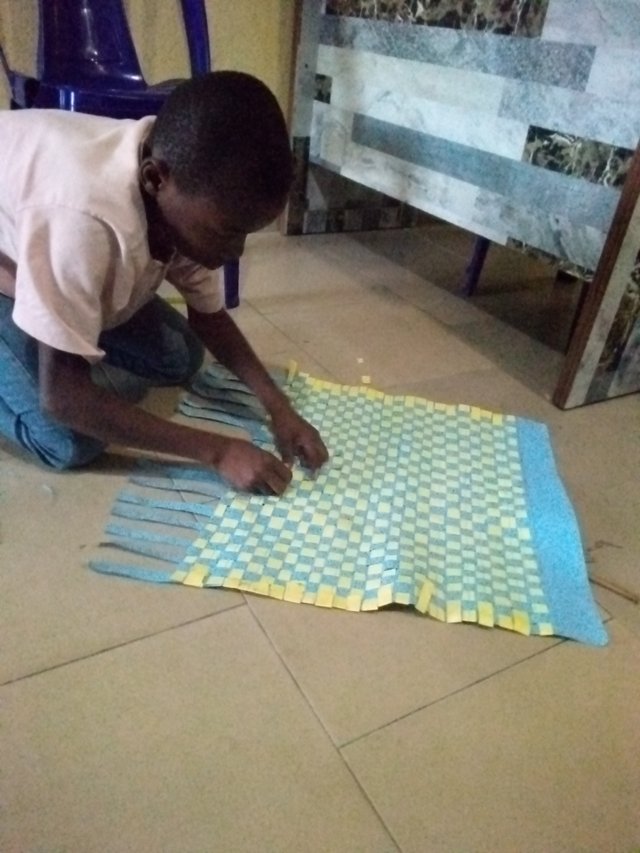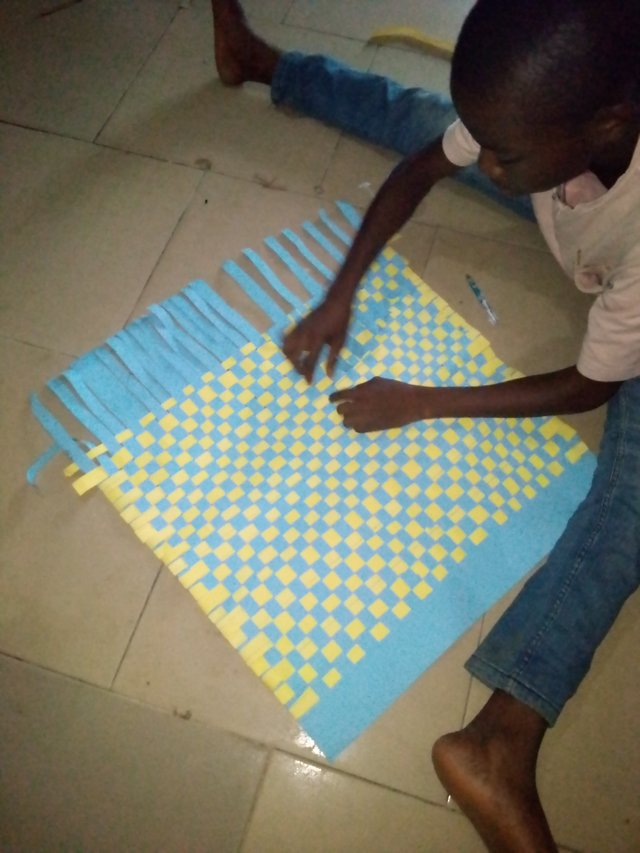 Bend the edges (excess) of the mat stripes into the others putting them into the crossing. Apply gum to it to hold it firmly. Do same to all the other sides. One in front, one at the back so as not to disassemble causing stress and time sapping.

Your mat is evenly woven and ready to use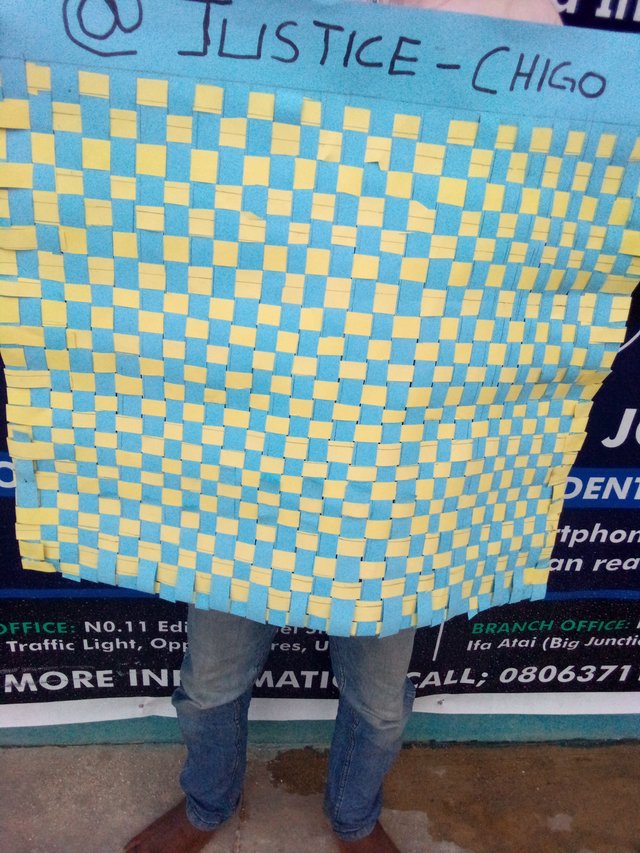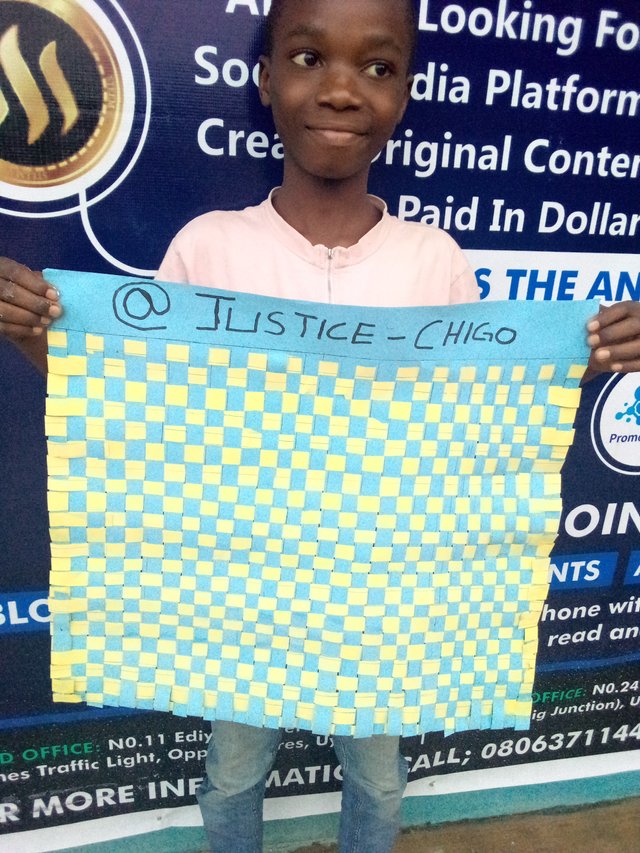 Conclusion
This applies to way first man weave their mats to lay their heads in time past. I enjoy doing this because I love creativity.


Special Gratitude
@steemkidss
@ngoenyi
@benton3
@ijelady
@whitestallion
Thanks