Steemit Engagement Challenge S3-W4:Childhood or adulthood, which do you prefer? by @jahangeerkhanday #burnsteem25
Hello dear steemians, how are you all ? I hope you all are fine and enjoying your life to its best.Today i am glad to share with you all my experience of life till now through this post and am very hopeful you all get time to read and know about my life and also find it worth reading and upvoting.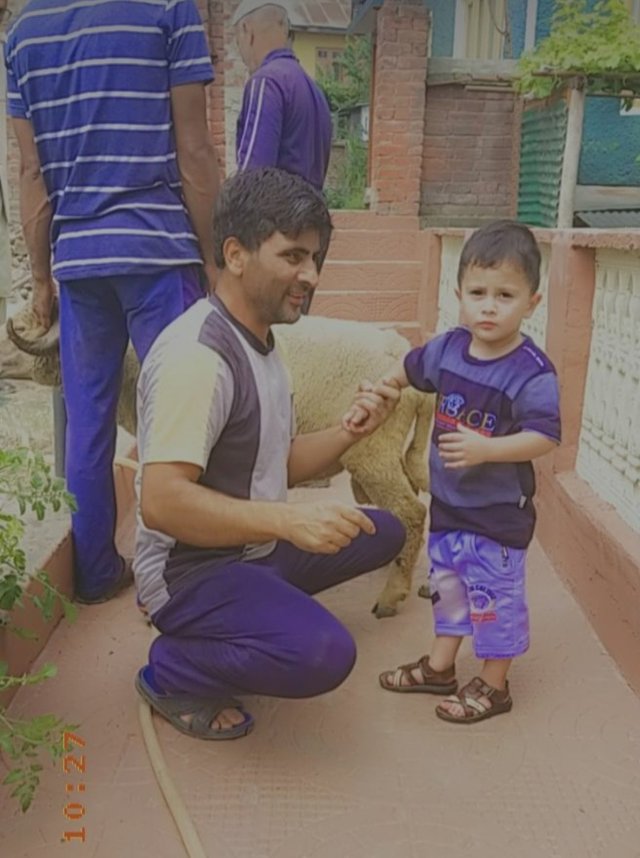 My cousin with his father
Childhood and adulthood are two beautiful stages of life that everyone enters into.Childhood being a stage where we are not concerned about what happens around and adulthood being a stage where we have an influence and we are influenced by what happens around.In childhood we hardly care about what people say and thus enjoy life to our heart's content.In childhood we may wear scruffy clothes without being concerned what other's say but when we enter adulthood we naturally get that feeling like "others notice me ".
Now discussing what the contest demands, here I go:
Who is considered as a child in your country? Include age
A person can be categorised into a child and an adult as per one's perspective ,what one desires to see in that person .Like parents always consider their offsprings as children, doesn't matter how old they are just because of their love and compassion.Same is the case with teachers , doesn't matter how old are you ,your teacher will always consider you a child.
In india a person is considered to be a child if he/she is under 18 years of age.A child being free to do anything ,enjoys freedom from any sort of responsibility and obligations but at the same time children are deprived of some rights that adults enjoy like taking future decisions ,voting for a representative in govt. going on treks and trips 😊😀 etc.Moreover a child gets love from everyone and is has no enmity with anyone.
Who is considered as an adult in your country? Include age
Usually adults are those who can bare responsibilities,take their own decisions,can earn their livelihood and can afford to have a family etc.Here in india a person is considered to be an adult when he/she crosses 18 years of age and is eligible for getting jobs,voting in elections,etc.When a person enters adulthood he is subjected to new laws and does not enjoy that much of freedom as a child.
Childhood or Adulthood, which do you prefer?
Being a working adult i do not like adulthood because of the fact that an adult has huge responsibilities on his shoulders.I can relate myself with the situation here ,as i earn money being a govt.employee i sometimes feel like being a child is very a beautiful experience.Sometimes i work for more than what we are required as per law but the higher ups press hard for some work and i need to wake up till late nights to accomplish the tasks.
Being a child we don't need to work hard to earn money because we have no such responsibilities on our shoulders and we thus don't need to invest our time in searching a job and have enough time to spend with friends and for playing .
Give at least 3 reasons why you prefer childhood or adulthood
My 3 reasons why i prefer childhood over adulthood are :
My first and foremost reason of liking childhood is that i had enough time to go to my maternal home where my grandmother always put something special in her pocket to give it to me.Now being an adult i hardly get any time to go there and get that love from my grandmother who is still ful of love and warmth.

As a child i used to spend most of my time in school along with my friends where we played a lot and these moments are still vivid in our hearts and minds.We used to be very naughty and used to bunk classes and go wherever we wanted within the limits of the village but now i hardly get any time to spend with my friends and need to seek for appointments as my friends are also working and a few are out of state as well.

As a child we always live within the sight of our parents and are always available at their service but when we grow up,responsibilities also grow proportionally and our servive to our parents decreases being busy with the tasks of the employers.I really want to serve my parents always and always remain with them in their good and bad.Afterall parents do a lot for their children and when they need us the most we are busy with earning money and all.I here must say i never support being idle, but i want to say that we must earn only that much which can help us to meet our needs and help us to save enough time to spend with our close ones.
If you have pictures of your childhood and adulthood, we will like to see it.
I unfortunately don't have any pics of my childhood in my mobile.
Conclusion
For me childhood is the most beautiful part of one's life.A child enjoys everything to its fullest and grows up with good memories of almost everything he/she does.But we all had to pass this stage of life to enter into adulthood.If there were only one stage in life that would also be tasteless because one stage only gets significant when we compare it with other stages.Different stages of life are more like different colours of a rainbow,if one colour is missing the rainbow will not be that beautiful.
I would like to invite @ monz122 @ nainaztengra @zeewanee to this beautiful contest.