Steeming Community Contest | "Love and Betrayal" My First Hearthache
Hello steemingzen!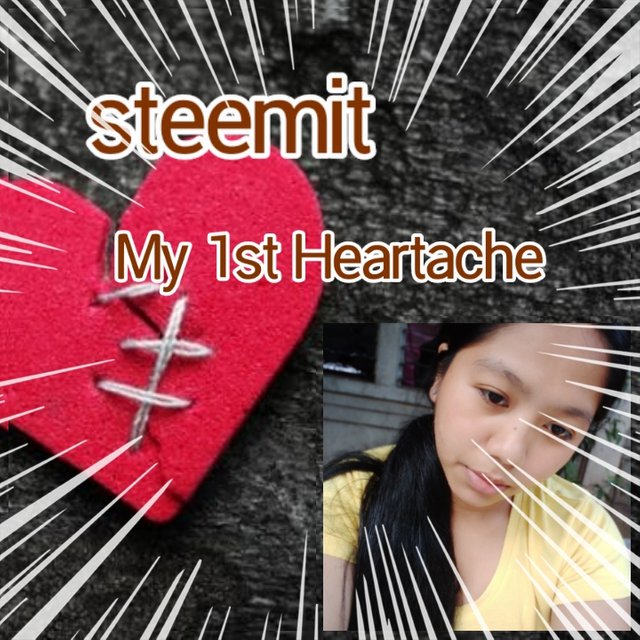 I agree to be part of Steeming Community by committing to Proof of Support 30% beneficiary to @steemingcuration.
Remembering my past hearthache make me laugh because of my stupid feeling i did give everything not even left for myself.
Way back 2018 when i finish my high school year i started working as a sale's lady in a small store wherein i meet my first boyfriend turns into hearthache.
I been noticing him for a couple of weeks.
It was evening and i am busy with my cellphone when someone asking for help if he can borrow my cellphone because he need to text his cousin so as a kind women at that time i let him borrow my cellphone.I didn't know that it was there plan to get my number.It end up courting me for many months until we became couple.
To tell you it was really hard in my part because there are so many against with our relationship they say that we are different because i am a catholic and he is a muslim.But i still continue my relationship with him but until one day her untie visited the store that i am currently working at that time telling me to stop our relationship because i am not good for him.She said so many bad words that can really can affect me.At that time he is under training for policeman.It is so painful for me because i really love him but it is not good to continue it.So i break up with him but he did not aggree with my decision he insisted to continue it.Because i do love him i let our love continue.I thought it was all okay but my beautiful day ruined by a sadden call. It was again her untie telling me to break up with him,at that moment i dont know what to say i just know that i am crying and shaking badly.
At that time our relationship is not in good shape but we still communicate with each other until i just know by his cousin that he has another girl so i was really hurt,i dont know how can i overcome my hearthace.Everytime i am alone i always thinking of him his betrayal and not telling me to stop our relationship.We do not have exact break up even a simple message telling me how sorry he is.But i am still continue my journey,my world and my life did not depends on him.I always thinking of a better days with out him.And i am so thankful with my friends because they are always in my side when i am in my deepest pain.
I am also thankful because it make me strong as a women.
I am inviting @elaijah123 @babyjl @kyrie1234 to participate in this contest.
Strong Women,
#contest #loveandbetrayal #sharing-steeming #steemexclusive #steeming-community #philippines