Coincidence and coexistence at home. || 20 % BENEFICIARY to @steemit-pak ||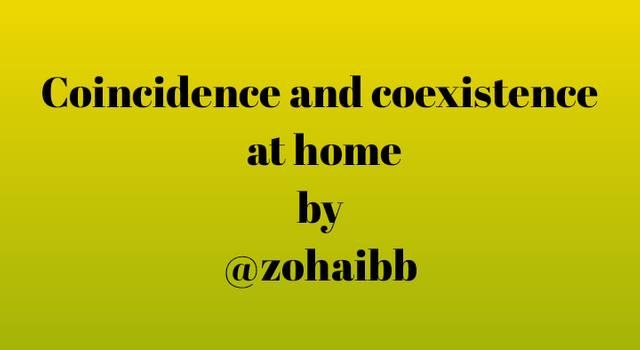 Coincidence and coexistence at home
If he brought something for his wife, he would say, "Go and give it to my mother."
That the daughter-in-law has given it willingly, feeling that the brothers need something, then bring it with your own money and tell the wife to come and let it not be felt that your husband has brought it, but they think that you have brought it.
God willing, 3 years have passed and now my mother and my wife have fallen in love with each other in such a way that it is difficult to live without each other even for a day.
Brothers, if they bring anything, they give it to my sister-in-law before she gives it to me. She also brings things for us. They are siblings
When the wife washes the clothes, she tells her mother to touch her. If my sister is cooking, I tell my wife to sit down and talk. The food will be cooked and my sister will not be bored. If my wife is cooking, I tell my sister to go and talk to her alone. So she gets bored very quickly.
Now Mashaallah .. May Allah protect us from the evil eye. The two have become such friends that there is hardly any work that they do alone, otherwise they do everything together. If I am hungry and my brothers too, I say to my wife, first give food to my brothers, then give it to me later. I have brought clothes for
When the wife goes to the mother, my mother never tires of praising her behind her back. She often says that she did not know what good deeds she had done to get such a good daughter-in-law. When my wife is sitting alone with me, she often swears by God that she did not know what good deeds she had done to get such a good mother-in-law.
All I want to tell you is that if the foundation is well laid, the house will be strong for many years. No mother-in-law wants my daughter-in-law to fight me and no daughter-in-law wants my mother-in-law to fight me
But because of the husband's mistakes, the mother-in-law and daughter-in-law fight with each other. The second is because of the husband's stupidity. All wishes have been fulfilled. Everything will go by itself. Wife and mother will make friends by themselves. Never after marriage. Husband's responsibility increases. You have brought a piece of someone's liver from someone's house. Do you know him? Do you know how sensitive and delicate a woman is? You just know that you have spent the night. You have to go to work in the morning. The rest of the house will run by itself.
No, my brother, the plant that is not watered dries up, the house that is not given time, every good and bad is not taken care of, the house also becomes like withered flowers.
Try to share happiness every moment ...... 🌹 ♥
کوشش کریں ہر لمحہ خوشیاں بانٹیں......🌹⁦♥️⁩🌹
مجھے اپنی دعاؤں میں یاد رکھیں خدا حافظ_

| Name | Description |
| --- | --- |
| My Mobile | Infinx Hot10 |
| Location | Pakistan |
| Photographer | @zohaibb |

Regards


SPEACIAL THANKS
Mentioned especially
@haidermehdi
@vvarishayy
@event-horizon
@hassanabid
@steemit-pak
#coexistence #coincidence #peace #steemexclusive #steemit #pakistan