Kings Of Bernabéu | The Diary Game | 10-Mar-2022
Hey, Assalamualaikum.
How are you all hope you all fine and enjoy your healthy life.
I am very very very fine and very happy.
Because of last night.
So this start from yesterday's evening at 9pm after namaz-e-eisha i went Nadra office with my friend because he had to take CNIC of his father i went with him.
I returned back to home and then went to shop and bought snacks (Lays) party pack and came back home then i slept because i had to see Real Madrid vs Psg match (2nd leg).
Basically i am Real Madrid Fan ❤
In (1st leg) psg defeated Real Madrid with one goal lead.
So Real Madrid vs Psg match had to start at 1am so i slept if i was not sleep that time then I would have fallen asleep.
At 12:30 am i woke up and turned on TV 📺
Match started at 1am i watched match Mbappe (Psg player) scored 1st goal at 39' min before this he scored a goal in 1st leg so Real Madrid needed 2 goals for tie when i was watching match i received messages from rivals team supporters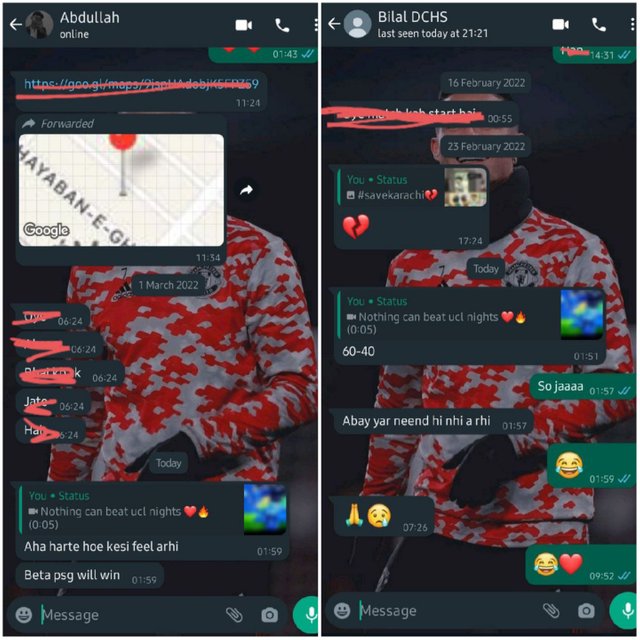 They trolled me i didn't reply them i was just watching the match at 45' min half time i remember that i bought lays for myself so i putted lays in bowl and then watched match.
53' min Mbappe scored another goal i stood up for off the tv then refree raised his flag that was offside (disallowed goal) so i sat back and enjoying lays 60' min benzema scored for Real Madrid in excitement i threw lays in air 😂
Then i got hope 63' min benzema took header but that was just far from the goal post.
75' min benzema scored superb goal with this goal Real Madrid tie the match and after 1 min 77' min benzema scored another goal i did alot of thanks to ALLAH❤
Modric was boss in the field last night also vinicius trolled them (Psg)
And so Benzema scored fastest hat trick in champions League this is most beautiful day of my life i can't forget this.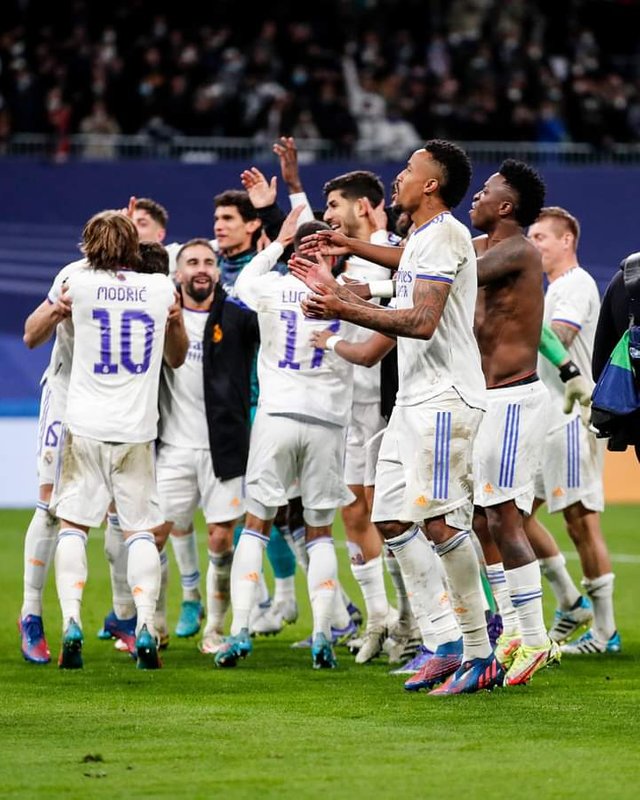 This photo picked by official page Real Madrid C.F. *
And that's how we won the match then i scrolled facebook and sleep and woke up for namaz-e-fajar then took shower brushed my teeth and prepared myslef for college then i did breakfast and left home and went to college.
After attended 3 periods in a row we got halfime we ate samosa and coldrink then went to classroom then we got 3 free periods so i slept in class room because i didn't sleep last might proper so i slept.
And then woke up at 1:30pm performed namaz-e-zohar in mosque and came back to home and joined family for lunch we took lunch "Chicken karahi".
Then i went to my bed for sleep i think this is enough for my happiness i share my happiness with you guys ❤
I am very very happy and I'll not forget this day ❤
At the end i wanna say something if you are football fan you'll agree on this
" Nothing can beat ucl nights"
Thank you for coming on my post, Gracias.