Steemit Engagement Challenge: Share your views about your Country, "The Three Rs and Three Cs" by leonelb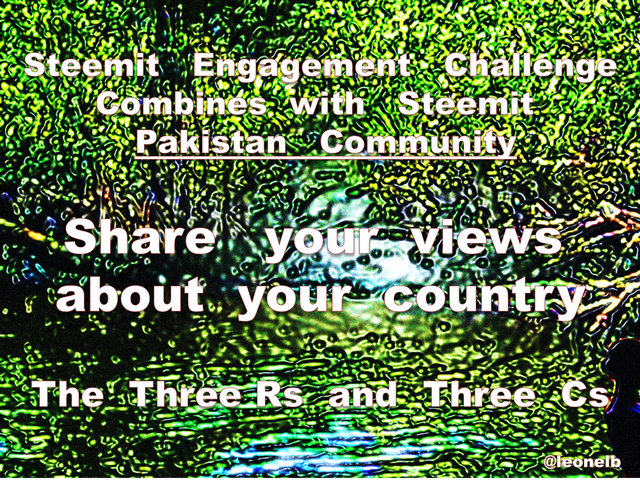 Cover image, 3 reasons and 3 changes - Original image edited with Microsoft Power Point.
Introduction
There are several reasons why a person may love his or her country, from a sense of belonging that develops in the first years of life, according to the experiences that are lived, to a patriotic pride due to the achievements acquired by the country in question and that consequently represent an important part of the image that reflects that nation. However, no country is free of flaws, defects or problems that need to be changed, improved or modified to solve some kind of problematic situation that harms the inhabitants of such country.
Below I would like to expose three simple reasons why I love my native country, Venezuela, and what would be the three changes I would implement in it if possible.
Reason 1 - Because it has always offered opportunities
One of the reasons why I love my country is because it has always offered opportunities throughout history. Foreigners were offered opportunities to live and even study, although this is no longer taken into account or appreciated correctly. One of the virtues that Venezuela possesses, is the so-called "social mobility", a capacity that has been diminished in recent years due to the economic crisis we face, but today it can still be remembered with much affection.
The term I use above can be used to refer to the possibility that some low-income people had to access books, clothes, studies and some benefits that they normally could not obtain on their own. This happens in the following way:
A family that had enough resources to pay for their children's studies usually tended to hire mothers or fathers to perform domestic chores in their home. The family (employer) and the persons hired developed a close bond through their work and a relationship that could be built over time.
Once the bond was built and the relationship was stable, the employer could help the hired person, generally mothers with children who did not have the uniforms, school supplies and other tools necessary to lead a satisfactory school life. Thus, "social mobility" in Venezuela had become an instrument that allowed to conceive opportunities through the construction of a healthy employer-hired relationship.
This situation could occur at the primary, secondary and university levels. Those who could not study, were able to do so thanks to the help of other people.
This situation does not occur in other countries or at least, it is not the most common and those who manage to enter a university have an extraordinary academic record or come from a wealthy family.
Reason 2 - Solidarity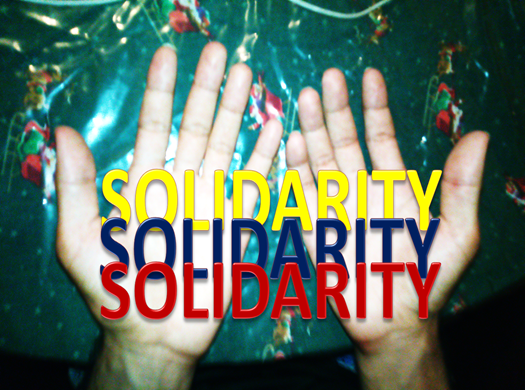 Illustration of solidarity - Original image edited with Microsoft Power Point.
Venezuelans can be proud of many things, but one in particular is our sense of solidarity. I'm not afraid to say that we are always ready to offer a helping hand or reach out to someone, to bite the only bread on our table and share it with a stranger. Thanks to my days in a Catholic church youth movement I have experienced first hand how harsh the reality can be to see people in a very pitiful state, without the economic condition to sustain themselves or even eat something simple.
When I was in the church and was part of that movement called YouFra, we would go out every week to hand out food as an act of charity for those who could not support themselves. As well as making visits to nursing homes, hospitals and helping those people who had personal circumstances that were very difficult to cope with on their own.
We Venezuelans have not been in the best possible situation lately, but if we have the opportunity to reach out to a person and help them to the extent that our ability allows us, we will not hesitate to do so. This is quite true and it is only necessary to search the internet for news of Venezuelans who have risked their lives in foreign countries to save the lives of others regardless of nationality...
This reminds me of the case of a young Venezuelan in the United States who protected his schoolmates and saved them from dying in a shooting, receiving 4 shots as a consequence, I leave you the link to verify the news..
Reason 3 - We always laugh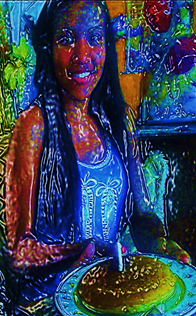 Illustration about the smile - Original image edited with Microsoft Power Point.
Venezuelans have a gift, a virtue that goes beyond any other virtue and allows us to get ahead no matter the situation. This virtue is that we always laugh, and although for some people from other countries this may seem a lack of seriousness with respect to particular circumstances or a kind of mockery, it is not so.
This refers more to the ability to face an adverse situation in a much more fluid way and without focusing on the negative parts. Laughing or making jokes does not change the status quo, but it does help to release tension and allows us to move forward knowing that there are possibilities to solve the problem. Just as we make jokes and laugh at misfortunes, we then use all our abilities to overcome that tribulation.
It is not easy, and sometimes it is impossible to do it alone, for that very reason we always look for a person who can support us in some way. In Venezuela, if you are not able to laugh and smile, be sure that someone else will make you laugh. If you can wake up every day with a smile, then it is possible to face problems and not get dragged down by them as happens in many cases.
Change 1 - Read more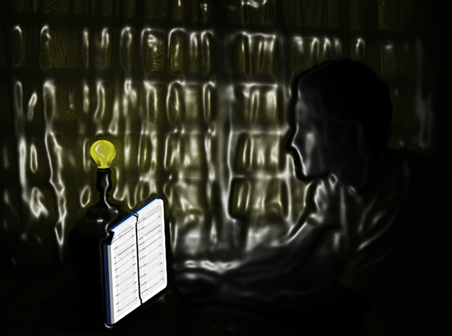 Illustration on reading - Original image edited with Microsoft Power Point.
One simple change I would like to implement would be to promote the habit of reading and writing. We are very successful in the field of sports and science, but I feel that in Venezuela this aspect has not been given enough importance. As I have not personally visited all the states, I will explain this point based on the case of the State of Bolivar - Ciudad Bolivar where I currently reside.
In Ciudad Bolivar there are few bookstores and only one very well known library, which is the Rómulo Gallego Library, I have been there several times and the truth is like a cemetery. Most of the books wait on the shelves filling up with dust and almost no one goes there. Thanks to the rise of the technological era, young people today only care about following the new trends and very few people are interested in reading and going to the library. I think a lot of potential is being lost there and should be tapped somehow.
Some people in the city don't even know that such a library exists and those who do know, are mostly not interested....
Change 2 - Improve transportation
Transportation in Ciudad Bolivar and the rest of the country is not particularly excellent. At least in Bolivar, there are missing routes to be covered, drivers break clear rules overloading the vehicles with people who end up clinging to the windows or doors in order to get on and risk their lives just to get to their destination. This is not fair, there should be more buses, cabs at affordable prices and an established safety protocol that does not allow this kind of situations.
It is also true that the drivers are not entirely to blame because they need to maintain their buses, but it has reached a point where passengers can be in danger and this is not good. I would like to see this aspect improved and the use of fingerprint devices to pay for the bus, a tool that has not been globalized for reasons unknown to me.
Change 3 - Inflation
I know it is a lot to ask, but I would like to see some way to improve the inflation issue. If the economic capacity of Venezuelans is diminished by the inflationary crisis that is eating away at us and that the government is apparently trying to curb, then our quality of life will not improve under any circumstances.
We are all looking for opportunities to live better and by this I do not mean luxuries or anything like that, just normal living conditions. Having a house, food, basic services and some space for leisure and recreation should be part of any human life, but the reality is not so simple and many of us fall into desperation, looking for an opportunity in foreign countries where the situation may be even more difficult and jobs are not easy to acquire in a short period of time.
Somehow, we struggle, we eat any food even if it has no nutritional value and we go on hoping that inflation will decrease, if tomorrow rice does not cost one bolivar or one dollar more than yesterday, then enough reason to celebrate and have a party.
Conclusion
The reasons to love a country are many and the changes to be implemented are varied, but above all we should be happy to have been born and have the opportunity to see the light of day. The reasons given are intangible, but also more valuable because they delve into the depths of the human being and his ability to progress through human relationships. While the changes, although they would not solve all the problems we have, they would help us to move forward, to be better people and to recover the purchasing power that was not sufficiently valued in the past.
---
I would like to invite @maylinch, @enveng and @gabrielagg.
Thank you very much for reading, I hope you liked it.
I sincerely wish you health and success.
And of course, I also thank the rest of the curators, moderators and administrators who strive every day so that there is not a single publication devoid of attention.
---
| Camera | Photographer | Image Editor |
| --- | --- | --- |
| Honor 7s | @leonelb | Microsoft Powerpoint 2010 |