Alice's Adventures in Wonderland Silver Proof 50p Collection: an investment worth making?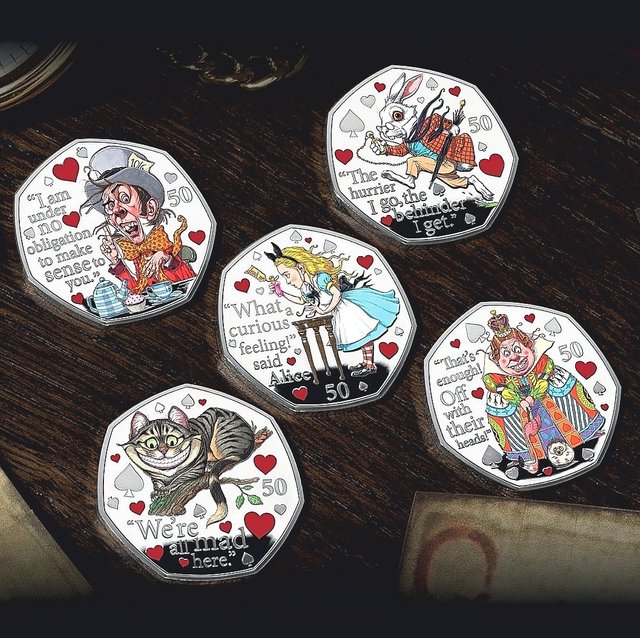 So there I was, minding my own business, when these little gems caught my eye... I think I've made it clear that I'm a sucker for an over priced silver coin?? But as of late, I've kind of lost my mo-jo when it comes to buying these novelty coins. I'm putting this solely down to the Royal mint, who continually pump out poor quality, over minted, annual rubbish!!!
Celebrating over 150 years since author, Lewis Carroll, narrated his tale of nonsense a stunning new Silver Proof 50p coin has been issued for 2021. In fact, it could easily become one of the most popular numismatic releases of 2021.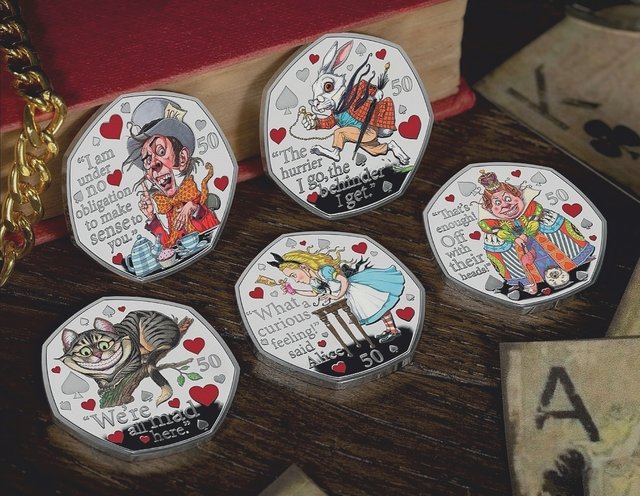 The set features FIVE 50p coins, each with a carefully curated design by renowned illustrator Stephen Lee.

So when is UK tender, not UK tender??
These beautiful 50 pence coins aren't actually mainland UK tender... What I mean is, you can't actually spend them here in Wales, England, Scotland or Northern Ireland, but if one turned up in my pocket change, I wouldn't complain!! This is because they are minted in the Isle of Mann and authorised for release by the Isle of Man Treasury. Although they are fully approved by Her Majesty the Queen, it still doesn't make them legal tender here on the mainland.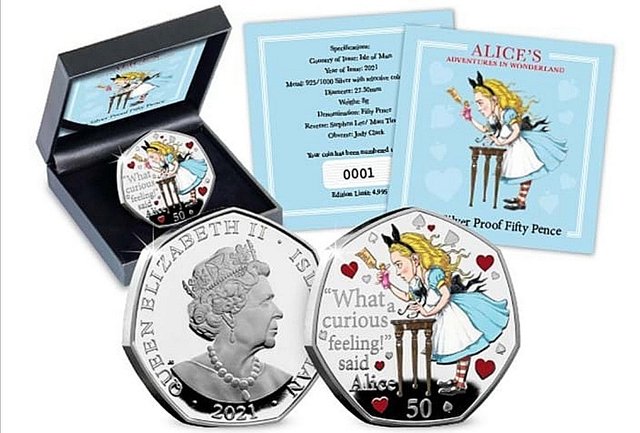 Struck from .925 Sterling Silver, and what's more, your coin will come protectively housed in a presentation box, along with a numbered Certificate of Authenticity confirming its place in the strict edition.
Each coin set has just a mintage figure of 1995.... With the set consisting of:
Alice - "What a curious feeling!" said Alice.
Cheshire Cat - "We're all mad here".
Queen of Hearts - "That's enough! Off with their Head".
The Mad Hatter - "I am under no obligation to make sense to you".
The White Rabbit - "The hurrier I go, the behinder I get".
Coming in at a pricey £325 per set, or £65 per coin (parable to the Royal mints offerings), they are over priced, but something about their design has caught my interest. What do you think of them?? You can find out more information and check out the other coin varieties (gold and base metal) at the WESTMINSTER COLLECTION website.
Want to find out more about gold and silver? Get the latest news, guides and information by following the best community on the blockchain - #silvergoldstackers. We're a group of like minded precious metal stackers that love to chat, share ideas and spread the word about the benefits of "stacking". Please feel free to leave a comment below or join us in the community page, or on discord.