Spotify Officially Launched in Sri Lanka| 5% for SL Charity
I saw the news that Spotify has been launched in Sri Lanka, Pakistan and Bangladesh two days ago. Though I have heard this name before but did not know much about it. But when I saw this news I wanted to find out a little bit about it.
What is Spotify?
Spotify is a music streaming service and through this, we can experience personalized music both locally and internationally. That means we can listen to songs according to our personal taste. Spotify already has over 70 million songs. This is the most popular audio streaming in the world.
It was founded by Daniel EK and Martin Lorentzon in 2006 and launched in 2008. By December 2020, it was reported to have 190 million free subscribers and 155 million premium subscribers according to Wikipedia.
We can get the Spotify premium upgrade for 529 LKR per month. The Premium Family package for 6 people and the Premium DUO package for two people living under one roof is available for 849 LKR and 679 LKR per month respectively and Premium Student is available for 265 LKR per month.
Source
Why Spotify?
The main thing here is to allow us to enjoy, unearth and share new songs locally or internationally according to our personal taste as mentioned above. So Spotify is one of the best platforms that brings together a wide range of music artists and music listeners.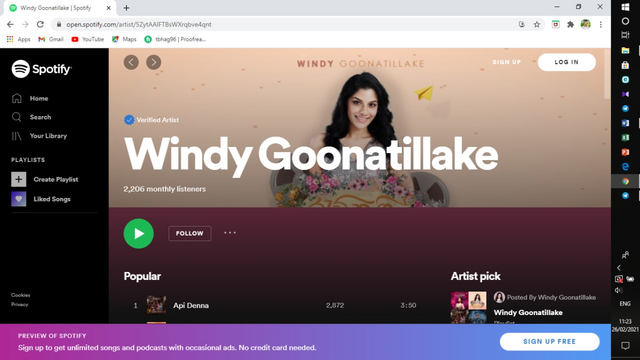 Sri Lankan Artist Windy Goonatillake on Spotify
This is a free app that can be downloaded to our phone, laptop or tablet. You can also connect to Spotify through app integrations such as Instagram, Facebook, Samsung mobile & TV, Apple watch & TV, Google Maps, etc. Premium subscribers also have the ability to download songs online and enjoy them offline and with high audio quality up to 320kbps and they have no ad interruptions. The advantage of this for music artists is that it provides tools that make it easier for them to understand who their audience is and have a good relationship with them and to release new songs.
There is Spotify's team in Sri Lanka which include Sri Lankan music experts in a wide range to update the music playlist in Sri Lanka regularly. This is good news for music fans in Sri Lanka.
This is the information I have read and learned. So if something is wrong, please correct it and also if there is anything that is not written here, share it with everyone.
Thank You!