Time to add Moderators to SPinvest - Let's get this done
Hello and welcome to this SPinvest post
SPinvest is a tokenized investment fund/club for all users of the STEEM blockchain. Everyone is welcome! The concept of SPinvest is to get rich slowly by using time tested methods of earning, saving and compounding long term. This lets SPinvest offer an ROI of 20% per year on SPI tokens. We encourage long term investing on and off the STEEM blockchain. We hope someday everyone will HODL some SPI tokens that can be bought directly from @spinvest are through the steem-engine are dex.steemleo exchanges. Full details about SPinvest can be found here
.
---
Hello everyone, today i will be mostly talking about SPinvest's growth focusing on us nominating and voting in 2-3 moderators to the club. Every great project is run by more than a handful of people and it's time for SPinvest to spread its wings and open up the doors to club members that are interested, excited and passionate about community building, helping others and promoting SPinvests core goals.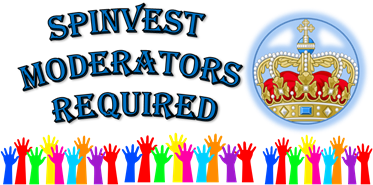 SPinvest Moderators
The club is need of club moderators, this is essential to SPinvest growing as a project and club. Until now, 95% of decisions have been made solely by Mr SP Invest which is not very decentralized. If we had a few moderators that represented other clubs members then, that responsibility would be spread and club members would can more control over how the club and project are being run.
Currently
SPinvest has 1 admin - @silverstackeruk
1 club voting admin - @conradsuperb
2 tribe curators - @jk6276 (Leo) and @underground (Neoxian)
No Moderators
What is required to be a SPinvest moderator?
Each moderator would have a range of standard duties like helping other club members are token holders, showing support, ect but each moderator would also have a key responsibility. Each person is different so i think each moderator that is nominated and voted to have their own skills and passions. Deciding each moderator's key responsibility after they are voted in means each moderator is focussed on something they enjoy instead of being assigned something that soon becomes boring.
I would say that being a SPinvest moderator is a semi-active role. Moderators would not be required to upload content are run a sub-account. It's more when you see questions being asked on SPinvest posts, taking 20 seconds and answering it, small things like this. Moderators will also have a say in everything from planning and launching new services/incentives, building a bigger core membership list to running the project as a whole.
Let's have a look at some of the musts to be a SPinvest moderator.
Must be a confirmed SPI club member
Must have a good knowledge of SPinvest's core concept adjectives, its partnership agreement and all the ins and outs.
Must help and support other club members and SPI token holders
Must attend a fortnightly Discord moderator meeting
Listen, i can talk till the cows come home about requirements and what sort of integrity a SPinvest moderator should have. We are a small club with just over 30 confirmed members and over the past 8 months, must of us will be acquainted with each other, seen each other's posts, comments even spoke on discord for 4 hours one night you had nothing to do.
You will know yourself who is active within the club, who has the knowledge, who's full of BS, who can make things happen for us.
Must attend a fortnightly Discord moderator meeting
This would be a casual 40-60 minute group chat on discord to talk about what has been happening the past 2 weeks and what to do for the next 2 weeks. We will also brainstorm ideas, how to put ideas in action while ensuring SPinvest token holders are all in our best interests. The time what is picked after moderators is voted in.
---
How to pick our Club Moderators?
Easy, we use the self-named voting sandwich. This consists of 2 voting rounds, each vote being a slice of bread and content which is the cheese. The total nomination and voting process will take 4 weeks with a 2-week gap between votes.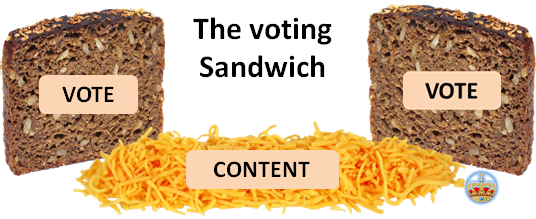 Week 1
Each SPinvest confirmed club member nominates up to 3 other club members that they think would be good club moderators and represent other members as best they can.
Nominations are counted when the post ends after 7 days.
Week 2
Nomination results are released.
The top 10 nominated members will have 1 week to either accept are decline the chance to go to the final vote to become a club moderator.
Week 3
Nominated club members that have accepted have 1 week to upload a post to let other club members why they will make good club moderators.
Club members interact with others in these posts, ask questions, get a feeling for each and see who's about what.
Depending on how many accept, we will know how many moderators will vote in. If 6+ accept, we get 3 new moderators. If 5 are lower accept, we get 2 moderators.
Week 4
The final voting post is released
All confirmed club members can vote up to 2 members to become club moderators
Votes are counted and verified by both @conreadsupreb and @silverstakeruk
Job Done!!!
Day 29
Results are released and the new SPinvest club moderators are welcomed.
---
Questions are welcome
As always questions are welcome and i will try my best to answer them as quickly as i can. We learn from the questions we ask so make sure to ask a

---

Buy SPI tokens directly from @spinvest. Each token is currently priced at 1.00 STEEM and you can send any amount directly to @spinvest and i will issue you SPI tokens to 2 decimal places for the value of STEEM to send. All tokens bought directly will be sent to investors SE wallets within 24 hours but most likely much sooner.


---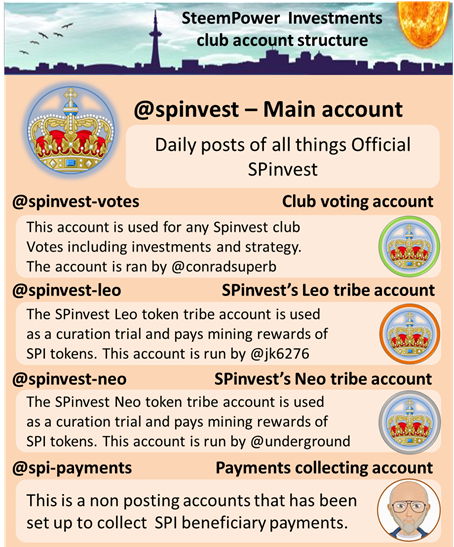 Important Information
| Information | URL Link |
| --- | --- |
| SteemPower Investments Introduction Post | Click HERE |
| SteemPower Investments Club Partnership Agreement | Click HERE |
| How to become a club member | Click HERE |
| How to convert SE tokens into SPI tokens | Click HERE |
| Join the SPI club Discord server | Click HERE |
| Join the SPI curation trail | Click HERE |
| What's best for the SPI Club? Centralized vs Decentralized | Click HERE |
| SPI tokens 95% buyback guarantee | Click HERE |
| SPI Club monthly Fiat to SPI token group buy | Click HERE |
| | |
| | |
All questions are welcome, please ask in the comments below


CLICK here for full details about SPI beneficiaries
Show support to SteemPower Investments through it's Patreon Page
Click here to join the SPinvest community over at beta.steemit.com (Steemit Communities)
.