Armorsmith's support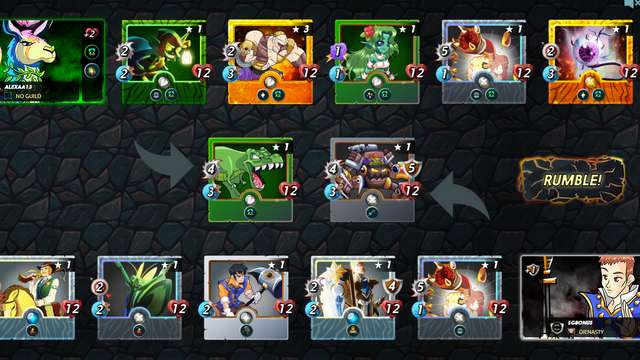 ---
Good Day Guys
Let me share with you one of my battles
Rules
Reverse Speed: Where Monster with the Lowest speed attack first and have the higher chance of evading attacks.
Equalizer: The health of all monsters is equal to the highest base health
Only Earth and Life are active with a mana cap of 50
I decided to go all out with the Goblin Mech in front and used the Shieldbearer as my tank. I had an armorsmith to help repair the shield of my monster that has taken the most damage.
This was my first time facing someone with Scarred Llama Mage's and I was surprised with the summoners buff to the monsters. My opponent had a Gold level 3 Flesh Golem and a Gold Cornealus. I really thought that I was going to lose this battle. My monsters with the sniper did a great job killing their healer and my sandworm went on a rampage.
Going towards the end was the scary part because of the last stand of the Flesh Golem, but my armorsmith came in clutch to defend my Goblin Mech in the end, while the sandworm and Goblin Mech killed that beast that heals.
If you're curious about this game you can check it out at the link below
Thanks for reading and Stay safe always!
The photos used in this post are owned by me .

EARN BITCOIN CASH BY CREATING AN ACCOUNT HERE AND POSTING
---
▶️ 3Speak