Steemit Engagement Challenge - S6W2: Boredom and How to Overcome It.
Hello everyone!
Week 2 has started and there are amazing set of contests from all the selected communities and I am here participate in the contest of Steem Indonesia community.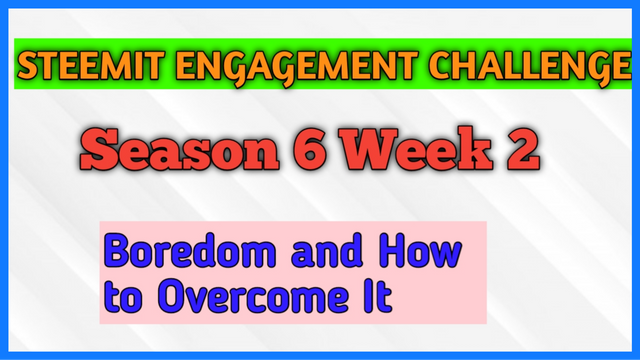 Image edited by PixelLab
---
What causes the feeling of boredom to come, can you identify the cause.
---
There are indeed some reasons which can cause the feeling of boredom to come like If we are doing the same work of following the same routine in some kind of work for so many days or more time, then We can feel bored in that thing.
Another reason I will mention is If we don't have any work to do. We are just free then, We can feel boredom.
If we don't have any close friend or close person near us and We are alone for a longer time then We can also feel boredom at that time.
---
How do you overcome boredom, what activities do you do.
---
When I feel bored, then there are some activities which I can do to overcome boredom and I will also suggest all these activities to everyone as It can really help in overcoming boredom according to my experience.
When I feel bored, then I'll search for some amazing movies or series which can entertain me. I'll check some reviews of critics as They can help us in suggesting good movies or series.
I will tell you my personal experience like before 2 weeks, I was literally bored. And then, I checked some reviews or shorts on YouTube about thriller movies as I really like thriller and suspense movies. Then, I decided to watch 'Truth or Dare' movie after seeing so many positive reviews about it.
And then, I watched it and It was really an amazing movie as It was full of suspense and amazed me with terrific scenes in that movie.
Another activity I will suggest is to make a conversation with our close ones as We can call our close friends or relatives and can spend sometime with them. I usually went outside with my friend for eating some street food when I feel bored.
Another activity We can do is to do Workout. Doing Workout really helps in an effective manner. By doing workout, Our body feels good and We will also feel amazing and It is another good activity to overcome boredom.
---
Share with us tips to prevent or overcome feelings of boredom.
---
There are some tips which can help us to prevent feelings of boredom and It will really help us in our daily life.
We should engage us in some activities everytime. We should not set us free. I am not saying that We should not take rest or engage us in any kind of work. But there are many activities which will help us and We will not feel bored.
We should workout daily for atleast an hour. Workout really helps us and our body to feel good. It also helps in keeping our body fit and active throughout the day.
We should make a time table in our mind like what we have to do in a day. It will help us in reminding the pending work which we have to do and will also help us in overcoming feeling of boredom.
---
I invite @monz122, @steemdoctor1 and @wase1234 to participate in this contest.
---