Steemit Engagement Challenge - S6W2: Boredom and Me - Few tips to kill boredom
Hey Everyone! This is Aniqa Mashkoor from Pakistan. I found this topic and am thankful to the admins of this community to bring this realistic topic to the table. We all can relate this to our lives.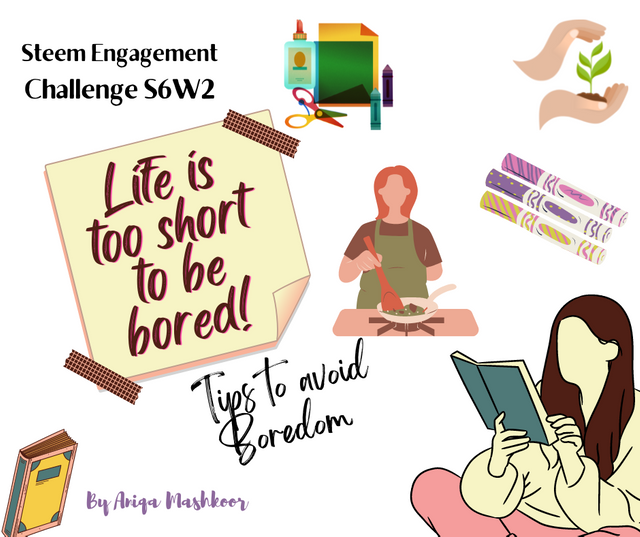 Image created at Canva
I think that in our daily 9 to 5 job sometimes we get bored like there is no chance we are just being a robot and following the same different tasks daily. There isn't any specific reason for being bored it's just so common and sometimes even being surrounded by people makes you feel bored if the company is not enjoyable.
---
What causes the feeling of boredom to come, can you identify the cause?
---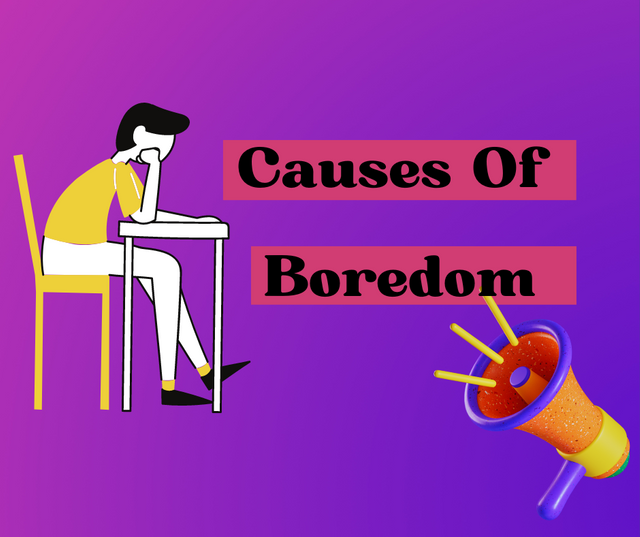 Image created at Canva
There is no specific reason for being bored. Being free also makes us bored or it may be described as anything in which we are less interested or not interested makes us bored. Almost all of us go through it every other day.
If I talk about myself I have a hectic schedule but to be very honest sometimes being busy I get bored with my job I can't concentrate on it and lose interest All I wish to do is to have some fun and make it thrilling.
These are some of the causes according to me which create boredom among us
Lack of Interest: Having an interest or doing it willingly is the most important factor to be contented. Sometimes while performing any task we do not find the task engaging and this makes us feel bored because all we see is just a waste of time and think about what else productive tasks we would have done despite this piece of work. This results in boredom and we wished to just finish it as soon as possible anyhow we just don't put any effort or anything else.

Emotional Breakdown: Feelings play important role in every aspect of life. Sometimes we are surrounded by our favorite people and everything is going on as per our expectations but we feel bored and empty and just can't enjoy the moment. This is where we are on our nerves and unable to accept it emotionally we have negative thoughts and all of the sudden this all feels useless and boredom begins.

Lack of Attention: All of us want to be known and recognized. There is also such a time when we are enjoying and doing everything excitedly but eventually we get lost and start getting bored because our efforts are not recognized by others.
So basically we don't get bored only when we are free but sometimes being busy also makes us bored because of these factors.
---
How do you overcome boredom, what activities do you do?
---
Speaking about myself I do a lot of stuff to avoid boredom. I am a lively person and have a very pleasant nature. I love to read, write, do crafts, cooking, and watch movies.
I am listing below my type of remedies to avoid boredom.
Writing at steemit: I love steemit and enjoy presenting my day and life through my words with different angles here. The best part is there are many different categories that never make me bore here. If by chance I get annoyed and lose interest in the serious post I move towards different communities. Writing makes me happy and I utilize my time in a good manner.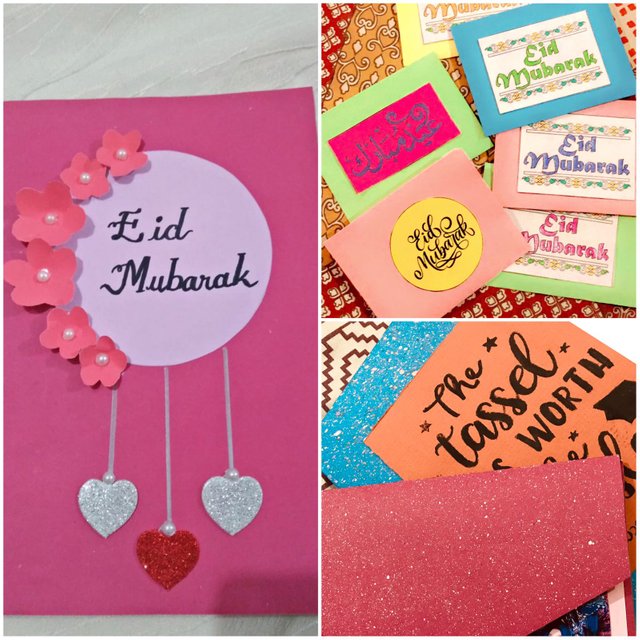 Art and Craft: Crafting makes me happy. It keeps me busy for hours and sometimes for days but still, I love to do it. Making cards or different types of things for others and for myself gives me energy. Previously also I have shared my art and craft with my fellow steemians and I'll suggest others too to try it for once.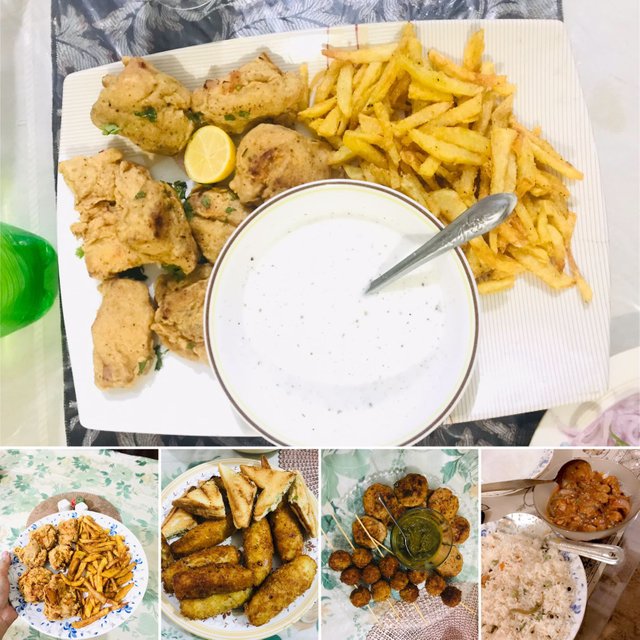 Cooking: I am very choosy when it comes to cooking. love to bake and baking cakes and cookies make me melt like those fresh chocolate buns. Whenever I feel more at home and don't want to do anything I move to the kitchen and start baking. Besides baking, I love to do cooking but not traditional. I enjoy trying different recipes for pasta and always add some spice fusion to make them unique and special. Chinese is my new craze nowadays Fried and crispy chicken with new sauces and many other things.
Watch Movies: I have a very detective nature so as per my taste I love to watch criminal or detective series. The best thing I do to avoid my boredom is to watch such types of movies. It helps me improve my skills too. But this is not limited to serious types only. I watch both types of movies serious cases and some humorous ones too. Recently I watched Enola Holmes on Netflix and before this, I watch HIt- the first case.
---
Share with us tips to prevent or overcome feelings of boredom.
---
One thing I have learned from my life is to find positivity in everything. Even when at times I feel bored and exhausted because of people and their changing behavior I keep myself positive because once negativity rolls you up in itself it's very difficult to clean your heart and mind to accept people and situations.
I'll suggest having some healthy activities and that kinds of things that make our time productive and help us in daily life also. One can adopt the following tips to avoid boredom.
Always look for positivity and keep your brain and thoughts at peace.
Try to adopt healthy activities to avoid boredom and have consistency in them like nature is our best friend if we keep plants they keep us engaging and we spent our time for a good cause. We take care of them and always look towards their healthy growth and the benefits they will give to us once they are grown.
Read articles and increase your vocabulary. It will help you alot in writing here. The use of new words and new sentence formation makes our articles and blogs look attractive and this is how it will help us in life also.
Keep yourself connected to religion. It will help you always whenever you are bored to read your Holy books and try to search for the answers to those questions which you neglected because of your busy schedule. The urge of learning and practice keeps you busy always in making your life a good one.
Pets are like family. You can keep your favorite pet to avoid boredom. I had a cat and trust me it was the best decision of my life to keep him. I take care of him like my baby it never makes me bored. I'll suggest you all t have a pet at home.
Besides this, I'll encourage you all to keep yourself surrounded by people that make you happy and you enjoy their company. Boredom may lead to loneliness also and it's dangerous for us. Life is short and we can't waste it being alone and sorting things out. Find happiness in everything and adopt healthy activities to avoid boredom.
---
In last I would love to invite @kunwal, @Sualeha, and @aaliarubab.
Hope so you people enjoyed reading it and find it helpful in avoiding boredom. Lots of love and prayers your way.
Aniqa Mashkoor!