🗞 Daily Crypto News, July, 9th 💰
Bitcoin Jumps Past $9,400 Despite Weak July Volumes;
Another Bitcoin Stimulus Check Might Be Around The Corner;
BitFlyer Partners With Brave to Develop New Crypto Wallet;
Sergey Nazarov: Smart Contract Adoption by Enterprises About to Take Off;
Bitcoin Transactions: New High for Argentina as Confidence in the Peso Tanks;
🗞 Daily Crypto Calendar, July, 9th 💰
Welcome to the Daily Crypto News: A complete Press Review, Coin Calendar and Trading Analysis. Enjoy!
Weaker bitcoin trading volumes aren't stopping its price from going up.
Bitcoin (BTC) trading around $9,444 as of 20:00 UTC (4 p.m. ET), gaining 2% over the previous 24 hours.
Bitcoin's 24-hour range: $9,202-$9,474.
BTC above 10-day and 50-day moving average, a bullish signal for market technicians, trading volumes on Wednesday are higher than Tuesday.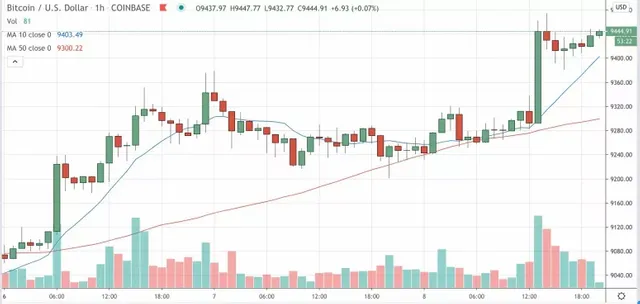 "Bitcoin became oversold from a short-term perspective last week for the first time since mid-March," said Katie Stockton, an analyst at Fairlead Strategies. "This seems to be giving way to an uptick in short-term momentum, which has been weak since late May," she added.
The jump past $9,400 Wednesday came during a time of lower spot trading activity. Volumes have dipped since May on spot exchanges like Coinbase after a month of excitement due to bitcoin's halving, its drop in programmed new supply. The average daily volume over the past three months on Coinbase, for example, is $133 million. In July so far, the daily average has been just $68 million, a 48% drop.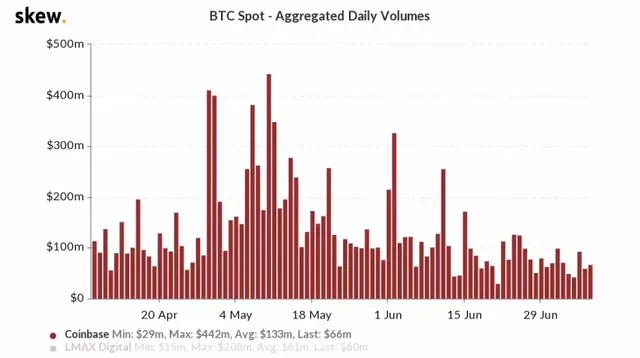 The US government might send out another wave of stimulus checks to their citizens, which some might use to buy bitcoin (BTC) or altcoins - and which would in effect (ironically) mean that the BTC-skeptic Donald Trump, who is seeking reelection this November, might inadvertently help crypto adoption.
Once back from their recess, the US Congress will be discussing the Phase 4 stimulus package at the end of this month. The question raised once more - amidst the pandemic, recession, and general disillusionment - is whether some of this money will pour into crypto as well, as people turn towards investing in their futures.
Proposals now range from a single USD 1,200 payment up to USD 2,000 per month through the end of the pandemic, according to Cnet. The first round of stimulus checks were worth as much as USD 1,200 for individuals.
BitFlyer, the biggest crypto exchange in Japan in terms of trading volume, has announced a partnership with Brave, the privacy-protecting browser.
According to the announcement, BitFlyer and Brave will develop "a crypto asset wallet for Brave browser users".
No further details about the new crypto wallet have been made available. Japanese users of Brave browser are rewarded with Basic Attention Token Points (BAP), due to regulations that prevent them from earning the cryptocurrency BAT, or trading their points for money on exchanges.
A Brave spokesperson told Cointelegraph:
"At this point, we are using 'points' to reward users but there are some limits. [Through the partnership] we think it may be possible to go beyond that"
Enterprise adoption of smart contracts and blockchain technology is coming to a head soon, according to Chainlink CEO Sergey Nazarov and Interwork Alliance President Ron Resnick.
The pair were members of a Unitize 2020 panel earlier today and said they were optimistic that we are moving forward at an exciting rate with both enterprise adoption, and regulation and government acceptance of the technology. However they couldn't say if 2020 will prove to be a turning point in adoption.
"Compared with a few years ago," Nazarov stated, "there are more and more people that are 'fast followers' just waiting for a tech leader to make a first move."
Crisis laden Argentina saw bitcoin transactions worth $1.4 million (101 million pesos) being recorded in the past week, a new high for the country.
According to a report by Vorem, this figure is nearly double the previous high of $0.96 million recorded in the last week of June.
Citizens who have previously "watched their currency lose value are now turning to bitcoin" and those finding it difficult to "transfer fiat money to other countries" now make use of the cryptocurrency.
🗞 Daily Crypto News, July, 9th💰
General Event (CRYPTO), QLC Chain (QLC)
Global Telco Blockchain Summit 2020 held virtually from 11 AM to 6 PM.
General Event (CRYPTO), VeChain (VET)
World Artificial Intelligence Conference 2020 from July 9th to 11th in Shanghai, China.
Three Ardor-based projects (Triffic, Cycle4Value, and Ride2Park) present their use cases at the Mobility Talks online event.
"On July 9 at 19:00 CET, @binance French community will host Telegram AMA with #PundiX @MelcomCopeland and @marcusaleblanc."
Standard Tokenization Protocol (STPT)
"MTO Round 2 July 9th - July 12th:BitMax"
Last Updates
➡️ Publish0x
➡️ UpTrennd
➡️ Minds
➡️ Hive
➡️ Twitter
➡️ Facebook
➡️ Be paid daily to browse with Brave Internet Browser
➡️ A secure and easy wallet to use: Atomic Wallet
Proud member of: